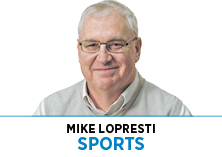 We've had the NFL Draft, so the mock selections, 40-yard dash times and Mel Kiper Jr. can be packed away for another year.
We've had the release of the fall slate. On the top of the ESPN home page the other day was the blaring headline, "Breaking News." Gee, did they catch Tom Brady with another flat football? No, it was just the release of the 2019 schedule. Kickoff is four months away, but the NFL always knows how to draw a crowd.
So here are some main storylines for the Colts looking ahead to the 2019 schedule, with appropriate accompanying music. Music? Beatles songs, of course. What else for the team owned by the guy who just bought John Lennon's piano?
With A Little Help From My Friends …
Does Andrew Luck have enough assistance to move up another level? General Manager Chris Ballard just went looking for defense from Temple to TCU to Tarleton State, in his never-ending quest to find more troops who can aid and abet Luck and the offense. Seven of the 10 Indy draft picks came from that side of the ball. That makes 18 of 29 during the Ballard regime. All the Colts want is Darius Leonard lightning to strike again.
Got To Get You Into My Life …
Luck could use more receivers in his entourage, too, especially given how the Frank Reich offense likes to spread around the football. A quarterback does not live by T.Y. Hilton alone. So how free agent Devin Funchess and second-rounder Parris Campbell—an Ohio State product who can make the stopwatch smoke—turn out will be important for the cause.
Don't Let Me Down …
Noticing the TV screen—with images of what seemed like half of Nashville showing up to see whom Tennessee would take in the third round—Jim Irsay wants Indianapolis to host the NFL Draft, now that it's passed from city to city like a plate of brownies. Maybe the Indiana Sports Corp, which has a pretty good percentage at wooing major events, can add that to the to-do list, so he won't be disappointed. Then again, Irsay has wanted another Super Bowl title, and he's been waiting 13 years.
Day Tripper …
There is incontrovertible evidence that the Colts are considered worthy again by the TV movers and shakers—three prime-time games. It's never a good sign when you're always playing with the sun still up. However, please note that none of those night games are at home, so Sunday afternoon is still pretty much a standing date at Lucas Oil Stadium.
The Long And Winding Road …
Gee, thanks, whoever does the NFL scheduling. The first two Colts games are away. The Chargers, Kansas City, New Orleans and Pittsburgh games are all at their houses. Ouch. Well, it could be worse. When the Raiders are here Sept. 29, they'll be in the middle of the frequent flier portion of their schedule. After they play in Oakland Sept. 15, they don't have another home game until Nov. 3.
Fixing A Hole …
What should be the theme song for the Indianapolis street department also fits the Colts pass defense. Any cavities better be filled. Four of the NFL's top-five-rated passers last season—Drew Brees, Patrick Mahomes, Matt Ryan and Philip Rivers—are on the Indianapolis schedule.
Lucy In The Sky With Diamonds …
Season-ticket sales are reportedly up, so the blue-clad masses seem eager and excited by last year's progress and this season's possibilities. That includes even the lady sitting in the upper deck with expensive jewelry.
When I'm Sixty-Four …
Will Adam Vinatieri still be kicking field goals at that age? He'll begin this season at 46—older than six of the new head coaches in the league—so you have to wonder how much longer he'll be out there. Also, what the Colts will do when he isn't.
Tell Me Why ..
… the Colts have lost five season openers in a row. Theories, anyone? They'll try to ditch that troublesome habit at the Los Angeles Chargers, which is not exactly easing into the schedule, as you would a cold swimming pool. While they're snapping baffling streaks, they might also want to beat Atlanta the third week, which would be their first victory in a home opener since 2013. Bottom line, few playoff teams get away with starting 1-5. Best not to try that trick again.
You Really Got A Hold On Me …
That'd be Andrew Luck, vis-a-vis the Tennessee Titans. In the second game of the season, he'll have a chance to improve on his rather astounding 11-0 record against them.
Yesterday …
Well, it might seem like only yesterday the Colts were ending their season, with a 31-13 playoff thrashing at Kansas City, perhaps drained by the effort it took to get there. That game will get some rehashing when Indianapolis visits Kansas City on Oct. 6. Luck vs. Mahomes? Yeah, that'll do for Sunday Night Football.
Help! …
The Colts could use any they can get on Nov. 3 in Pittsburgh. There is no gentle way to say this: The Steelers have owned them, lock, stock and horseshoes. It's not just the five consecutive Indianapolis losses, but the 2-15 record in the last 17 meetings. The Colts last won in Pittsburgh in 2008, and that's the only time since 1968.
A Hard Day's Night …
… will be Dec. 16 in New Orleans. A decade ago, Brees passed the Saints over the Colts in the Super Bowl, and he's still putting up big numbers. Obviously, they make quarterbacks to last at Purdue. Indianapolis hasn't beaten New Orleans since 2007, and Monday night in the invariably thunderous Superdome won't be the optimum time to end that dry spell.
Hello, Goodbye …
Say hello on Dec. 22 to the Carolina Panthers—who have played in Indianapolis only three times ever, and not since 2011. And say goodbye to the Lucas Oil Stadium regular season. By then, the Colts will be thinking playoffs, or having to explain why they aren't. By the way, Carolina is the only NFL team Indianapolis has never beaten at home.
Not A Second Time …
The regular season concludes at Jacksonville, and certainly, let's have no repeat of that 6-0 mess of a loss the Colts endured in Florida last season. Those game films have been declared unsafe for human consumption. And this being the finale, who knows what the stakes might be?
Just in from the Scheduling Oddity Department: The Jaguars haven't finished the season at home since 2011. The team they beat eight years ago? The Colts, guaranteeing Indianapolis the No. 1 pick in the draft. You can thank that game for Andrew Luck.
Presumably, that issue won't be on the table this trip to Jacksonville. Or else the last song will be … Misery.
__________
Lopresti is a lifelong resident of Richmond and a graduate of Ball State University. He was a columnist for USA Today and Gannett newspapers for 31 years; he covered 34 Final Fours, 30 Super Bowls, 32 World Series and 16 Olympics. His column appears weekly. He can be reached at mjl5853@aol.com.
Please enable JavaScript to view this content.