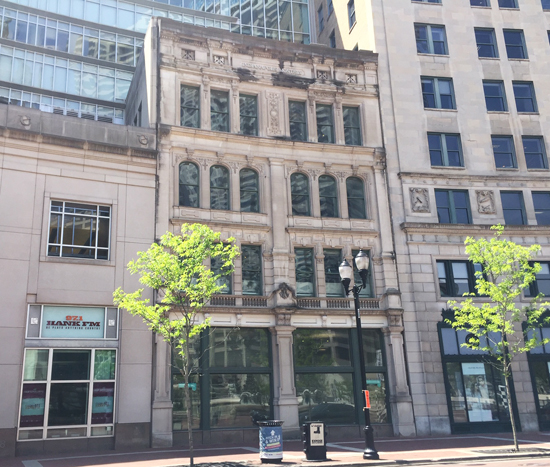 The staff of Indianapolis Monthly soon will vacate the magazine's offices that front Monument Circle to make way for STAR Bank, which plans to open a three-story branch and center for lending services in the space.
The Fort Wayne-based bank expects to invest close to $2 million in the project, not including rent for its long-term lease on the space. Renovation of the 12,000-square-foot building is expected to begin in June.
The Monthly offices are part of the headquarters of Emmis Communications Corp., which owns the magazine. Its offices have a historic façade that juts out from the larger and more modern headquarters at 40 Monument Circle, giving the impression that it's a separate, three-story structure.
The staff of the magazine will move into space in the headquarters formerly occupied by Emmis' NextRadio initiative, Emmis spokeswoman Kate Snedeker told IBJ. The company decided last year to cut funding for NextRadio after tens of millions of dollars in losses.
In December, Emmis CEO Jeff Smulyan said the company had terminated 35 staffers in its NextRadio and related TagStation businesses. With the end of NextRadio, the firm began reevaluating its space needs, Snedeker said.
STAR plans to relocate 30 employees from its offices in the Keystone at the Crossing area to the Monument Circle location, according to Melissa Schenkel, director of corporate and community engagement.
About 750 square feet of the ground floor would be dedicated to a retail bank branch. The remaining space primarily would be used as office space for commercial and private lending operations.
"We couldn't have asked for a better location," said STAR CEO Jim Marcuccilli, in a media release. "Our commercial and retail teams have seen extensive growth in the Indianapolis market, and it just makes sense for us to have an office and employees located in the hub of the city."
The $2 million investment primarily will cover space buildout, technology needs and furnishings. Schenkel said. The work is expected to be complete this fall.
STAR will continue to maintain its Keystone at the Crossing offices, which still will house 50 employees, Schenkel said. With the Monument Circle location, STAR will have 10 branches in the Indianapolis area and 43 overall.
Indianapolis Monthly has inhabited the building since Emmis completed construction of its Monument Circle headquarters in 1998.
The magazine is "going strong," Snedeker said, when asked if the publication was shutting down.
Founded in 1977 as Indianapolis Home and Garden, the magazine became Indianapolis Monthly in 1981 and was sold to Emmis in 1988. It has 41,000 monthly subscribers, according to its website.
Please enable JavaScript to view this content.