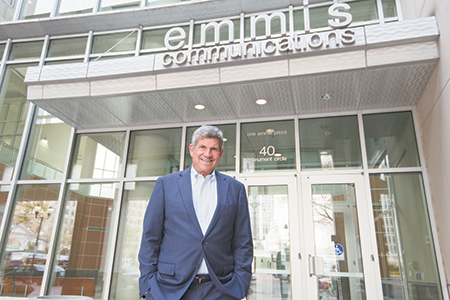 NextRadio—a costly initiative led by Emmis Communications Corp. to make mobile phones act like smart portable radios—appears to be history after the company said it would no longer fund the effort.
NextRadio, which began in 2012 and operated as a subsidiary of Emmis, was intended to be an industry-wide effort. But Emmis boss Jeff Smulyan said Thursday morning during an earnings call that the consortium he had hoped to build never materialized. Instead, Emmis racked up tens of millions of dollars in losses.
Emmis officials announced this morning that the Indianapolis-based radio company has lost $7.6 million on NextRadio in the last 12 months alone.
The type of loss Emmis had this year with NextRadio "has been going on year after year," Smulyan said.
Smulyan said Thursday that there was considerable support for NextRadio, which allowed cell phones using an app to tune into FM radio with various enhancements not available through a traditional radio, and allowed advertisers to more directly target listeners with tailored messages. But Smulyan admitted that support "was 10 miles wide and a tenth of a mile deep."
After years of negotiations, Emmis finally got buy-in from a number of major cell phone carriers to allow their cell phones to activate a chip so the FM radio app would work. 
But Emmis' negotiations with other radio operators weren't as successful. Some within the industry said cash-strapped radio operators didn't have enough money to support the effort. Two of the nation's biggest radio operators—Clear Channel and Cumulus Media—have been in bankruptcy.
"I had a lot of lengthy debates with our board about this. Our board has said 'this looks like the most significant research and development work being done in the entire American radio industry,'" Smulyan said. "'Why is one small company doing all of it?' It was a question I couldn't answer.
"Everybody [in the industry] unanimously said we have to have this," Smulyan added. "But when it came time to pitch in and help fund this, we just couldn't get enough support. We can't do this ourselves. We can't fund R&D for the entire industry."
Getting radio stations to provide enough aggregated data needed to make the platform work was also a major challenge, Smulyan said.
The company said it planned "to dramatically reduce the operations" of NextRadio and related business TagStation, and "explore other means of eliminating the operating losses from these businesses in the coming months."
It's unclear what will happen to Next Radio President Paul Brenner and his staff. Emmis officials did not immediately respond to an email asking how many people are locally employed at NextRadio.
"It really is painful for me to move in a different direction," Smulyan said. "I don't know what the future holds for that team, but they are owed a heartfelt debt of gratitude."
Smulyan added that the staffers working on the NextRadio initiative produced "some of the most innovative and groundbreaking work I've ever seen. They're brilliant, hard-working and dedicated."
While Smulyan was disappointed about the next NextRadio news, he said there was much to be upbeat about the company's most recent quarter.
Emmis on Thursday announced results for its fiscal second quarter ending Aug. 31.
Emmis' radio net revenues for the quarter were $30.7 million, down from $41.8 million in the prior year. Sales of radio stations (KPWR in Los Angeles in August 2017 and four radio stations in St. Louis on April 30, 2018) made results not comparable year-over-year, Emmis officials reported.
Smulyan said while June was a "tough" month, he added that revenue—pushed partly by the placement of political ads—was up in July, August, September and October. "October was the best month we've had in four years," he said, adding that it's pacing up by a double-digit percentage over the same quarter a year ago.
Smulyan also noted revenue for magazine Indianapolis Monthly was up 9 percent, which "bucks a trend." 
Overall revenue for the quarter was $32 million, down from $42.8 million, a year ago.
The company lost $373,000, or 3 cents per share, during the quarter, down from a profit of $70 million, or $5.59 per share, in the same quarter of 2017.
Emmis shares rose 1.1 percent Thursday morning, to $4.84 per share, during a poor morning for the overall stock market.
Please enable JavaScript to view this content.