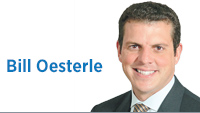 Purdue University should build a space elevator. For those not familiar, a space elevator is what it sounds like, an elevator into space. Theoretically, one could carry very large payloads about 70 miles above the earth, or high enough for them to be put into orbit. If successfully built, a space elevator would revolutionize commercial activity in outer space.
NASA has funded multiple projects in recent years to explore feasibility. (See YouTube for additional information.) I'll grant you the idea is far-fetched. But our federal government is about to open a firehose of infrastructure cash and Purdue is well positioned for space innovation. Plus, Indiana could use a big, audacious project.
Late last month, we all witnessed a nearly mythical, rare moment of bipartisanship between President Trump and the congressional Democrats. Of course, it had to be big spending that brought them together, but together they were. Their plan is to spend $2 trillion on infrastructure. That's trillion with a "t." In spite of our perilous national debt, this plan looks like it will happen. The lunatics have taken over the asylum, and infrastructure is their pet project.
Assuming the proposal passes, Indiana ought to come up with some clever ways to put some of the cash to good use. The state has been historically humble about asking for gigantic infrastructure grants. Meanwhile, California, Florida, Massachusetts and others have cashed in on projects like high-speed trains, hyperloops and even a giant tunnel under Boston. Indiana should propose some type of enormous project with strategic potential. If Elon Musk can use federal money to build rocket ships, we should try to give him some competition.
Building a space elevator is an enormous project, and Purdue is the place to do it. No one knows quite how to build it because of the serious engineering obstacles that need to be addressed. The project will require exceptional interdisciplinary engineering to innovate in material science, aerodynamics, structural design and software. To no surprise, a knowledge of space will also help.
Purdue has all of this. It is almost uniquely qualified. It also has the benefit of being in the Crossroads of America. The point of a space elevator is to become a highway to space, substantially reducing the cost and logistics of moving things there. Indiana is a national logistical hub for terrestrial shipping. Why not add a third dimension?
Finally, Indiana needs a big idea. Thirty years ago, my friend and mentor Mark Lubbers gave his "Indiana, get radical or die" speech. He offered some big ideas like removing the speed limits on Interstate 65 or creating rural immigration zones. Sadly, none were adopted. Former Gov. Mitch Daniels certainly had big ideas, but he first had to contend with a broken state budget and the Great Recession.
After all these years, I think we are still looking for something radical. The difference now is that the federal government appears ready to throw money at lots of radical things. Preliminary estimates for space elevator development are $6 billion to $15 billion. As a point of reference, Boston's Big Dig ran $24.3 billion.
It's a good time for Indiana to try something, something huge. Maybe a space elevator is a bad idea, but if so, let's find a good one. If you have one, send it to me at [email protected]•
__________
Oesterle is the CEO at Tmap LLC. He managed Republican Mitch Daniels' first run for governor. Send comments to [email protected]
Click here for more Forefront columns.
Please enable JavaScript to view this content.