To hear state officials, site-selection experts and local tech execs tell it, a new tax break has made Indiana an instant player in the national data-center scene.
State lawmakers last month passed a much-ballyhooed law that exempts sales taxes on equipment, infrastructure and electricity costs for sizable data centers constructed in Indiana.
Those tax breaks could amount to $1.75 million to $10.5 million in savings for each Indiana-domiciled data center that qualifies. While a portion of the incentives—namely the forgiveness of sales taxes on electricity—would come over a number of years, facility operators would see much of their savings at the front end of a project.
Some of the law's provisions take effect July 1, though others are retroactive to Jan. 1.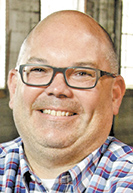 Gigerich
"Indiana was not in the game before this legislation," said Larry Gigerich, executive managing director at Ginovus, a locally based site-selection firm that works with clients across the United States and Canada. "It is now."
According to the National Conference of State Legislatures, Indiana joins at least 25 states with similar incentives for data centers, which house computer systems, servers and digital storage.
Indiana is "not playing catch-up anymore," said Tom Dakich, a local attorney and partner in a massive data center project under construction in Hammond. "In no way is Indiana less than a top-five site in the country for data centers after the passage of this legislation."
Indiana is already attractive—tech experts and officials for the Indiana Economic Development Corp. say—due to its proximity to underserved areas of Chicago and Louisville as well as a pent-up demand to have the facilities in central Indiana. In addition, the state is known to have relatively low electricity and water rates, key needs in running a large power-intensive data center.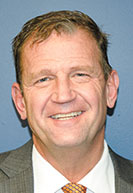 Dakich
The tax-incentive bill garnered wide bipartisan support, clearing the House 95-1 and the Senate 46-0. Gov. Eric Holcomb, fast becoming a darling among local tech companies, eagerly supported the bill and signed it into law.
"Data centers can be billion-dollar projects that greatly enhance the economies of the cities and states they locate in through the creation of jobs and strong investments in the community," said Rep. Ed Soliday, R-Valparaiso, who authored the bill. "In order to encourage development of this caliber in Indiana, we have to make ourselves competitive and give these companies a reason to choose us over another state."
But the impact of the bill is somewhat unclear—partly because the future need for goliath data centers is uncertain, tech experts told IBJ, and partly because the state's prize will be difficult to quantify since data center operations, and locations, in many instances are cloaked in mystery.
There's good reason for some secrecy, according to data center operators. Most centers contain data and servers that are vital to the operations of transportation, finance, health care and other crucial sectors. Some data centers contain large caches of classified digital information.
"Many data centers are thought to be significant targets for terrorists," one local data center operator told IBJ. "Crippling the country's data centers could be catastrophic."
In the chase
So counting the data centers in Indiana is a tall task. Most familiar with the local industry say the state has a handful, although none are the size of those run and occupied by giants such as Google, Amazon, Microsoft and Facebook, which sometimes occupy more than 500,000 square feet and cost $500 million to $1 billion.
Locally based Lifeline Data Centers runs two local data centers, including an 80,000-square-foot center at the former Eastgate Mall. A number of smaller centers are near Lucas Oil Stadium; and Hammond, Fort Wayne and South Bend each have one.
"Our data center inventory is not very robust right now," said Dakich, whose company, Digital Crossroads of America, plans to open a 100,000-square-foot data center by Nov. 1. "I would not be surprised if we didn't quadruple our present capacity within five years."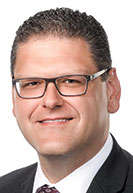 Roberts
It's been just a few weeks since lawmakers approved the data center tax breaks, yet already the Indiana Economic Development Corp. has had multiple "official and unofficial inquires," said David Roberts, IEDC's chief innovation officer.
"I would be surprised if we don't see at least one $500 million-plus project within the first year," he said.
The lack of tax incentives until now has put Indiana behind in the chase for data centers, especially the much-coveted mega centers being built in strategic locations across the country—including in some neighboring states.
Iowa and Ohio have become leaders in luring data centers. Both already offer sizable tax breaks and have low electricity costs. Iowa, Des Moines in particular, has become a data center powerhouse, with most or all of the nation's largest tech companies building operations there over the last decade.
Other data center hot spots are in parts of Idaho, Arizona, Nevada, Oregon, Texas and Washington state. Data center operators are keen on regions not prone to natural disasters such as hurricanes, earthquakes and blizzards. That, Gigerich said, knocks out many locations on the East and West coasts.
A look inside
So what exactly is a data center and what is pushing the growth?
In some respects, data centers are nothing more than massive warehouses full of digital storage with precise environmental controls—state-of-the-art heating and air conditioning systems are essential—and a high level of security. Many are gated, some are bomb-proof, and all are guarded 24/7.
"Data centers are weird animals," said Alex Carroll, co-founder of Lifeline Data Centers. "On one hand, it's a real complex world. On the other hand, it's just about keeping the electricity on and the computers up and running."
Dakich said once his Hammond project is completed, he and his partners will rarely set foot inside the facility, explaining that operations are best left to companies that rent space in the facilities and technical experts.
Data centers are generally filled with rows and rows of servers and other computer hardware that enables internet connectivity, streaming and other functions of cloud computing.
Carroll explained his data center infrastructure in plumbing parlance.
"If you think of the interconnectivity that connects all computers to the internet and the cloud, you could think of the pipes in residences or even many businesses as being a few inches" in diameter, he said. "You can drive a truck through the pipes of a commercial data center like ours."
At its two central Indiana data centers, Carroll's company has 20 generators, about 100 HVAC blowers and 15 uninterrupted power-supply devices.
"If you're not already in the data center business, you're probably not going to get into the data center business," Carroll said. "It is extremely capital-intensive to launch a data center."
The growth in data centers over the last five to 10 years has been pushed by the explosion of ever-more-advanced mobile data devices, increased demand for cloud computing, and the swift growth of the internet of things—which is essentially devices connected to the internet, anything from household appliances and lawn mowers to HVAC systems and traffic lights.
Data centers vary widely with respect to occupancy. Many boast multiple occupancy, like the ones run by Dakich and Carroll, in which several companies share the space. Dakich hopes to have seven or so occupants at his Hammond center, maybe a few more when it expands to its full size of 400,000 square feet.
Lifeline Data Centers at Eastgate has about 150 occupants, Carroll said.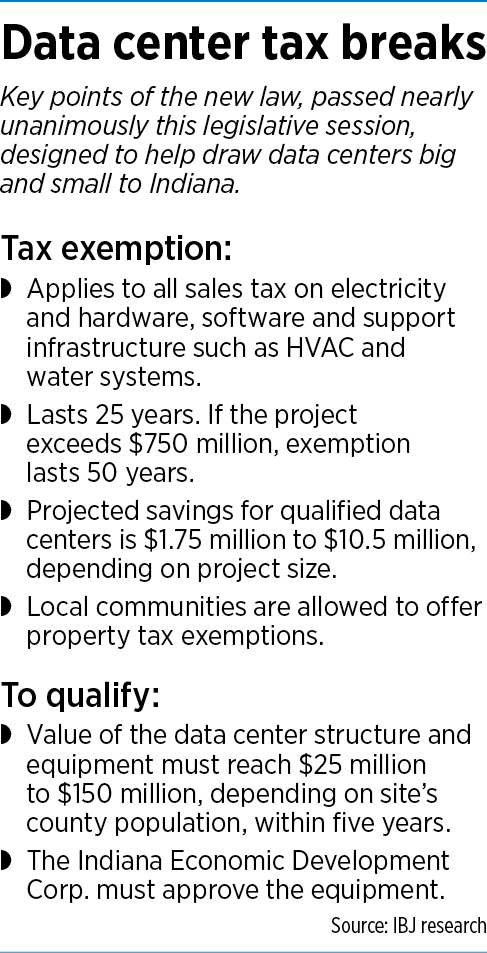 Not major job creators
While the facilities are sometimes massive, they don't create a huge number of jobs.
When Dakich's data center reaches 400,000 square feet, it will require about 45 employees to man it around the clock. Carroll's Lifeline Data Centers employs about 30 total at its two central Indiana facilities and will have eight more at its 70,000-square-foot Fort Wayne data center when it's completed later this year. Some of the smaller centers in Indianapolis have fewer than 10 employees working around the clock.
But the low unemployment numbers don't deter the IEDC's interest.
"While jobs are vitally important to our economic growth, capital infrastructure also has a very large economic impact," the IEDC's Roberts said. "These are very big projects. And even though they don't have huge employment numbers, a $1 billion data center project can have a $200 million fiscal impact over 10 years."
A recent CBRE study concluded that—based on a typical state and municipality tax structure, as well as economic and demographic characteristics—a $1 billion data center could generate upward of $200 million in tax revenue over 10 years, including construction and ongoing operations. That's an impact equivalent to a corporate headquarters creating 1,700 jobs with a $130,000 average salary and making a $40 million capital investment, the study concluded.
The impact from data center projects comes from the construction itself—which can employ 150-plus people for up to two years—plus property tax revenue and energy use, tech experts said.
"The power consumption of these facilities is very considerable," Carroll said.
While the jobs associated with data centers are not vast, the pay can be quite handsome.
"For every 1,000 square feet of equipment we put into our data center, there's at least one $100,000-a-year job created to take care of that equipment," Carroll said. "These are big, powerful computers that are difficult to boot up, so we need experts in network operations—hardware and software. We also need specialists in diesel power, HVAC and electronics."
Data centers also create a good number of support jobs for people not working directly for the data center.
"We're confident we're going to see a second-tier impact," the IEDC's Roberts said. "We think these data centers will draw not just tech companies who want to be near data centers to reduce latency and increase connectivity but for a whole host of service companies data centers rely on—anything from electricians and HVAC technicians to security and monitoring firms."
Data centers, Roberts added, also are attractive to tech-enabled companies like Cummins Inc. and Eli Lilly and Co. and other large companies that might be recruited to the state.
Uncertain future
But data center growth might not be a slam dunk. With the rising popularity of edge computing—which brings digital storage closer to where the data is used—some experts say the pendulum is starting to swing away from reliance on massive data centers.
"We're not seeing the growth in revenue for our data centers that we once did," said Carroll, a longtime tech expert who has been working in data center operations since 2001. "Revenue has been mostly static the last few years."
But Dakich disagreed.
"I think the growth of the internet of things—and we're still really at the beginning phases of that—and the launch of 5G [wireless service] will unleash another growth wave for data centers," he said. "And the growth to come is going to be substantial and Indiana is now in a great position to take advantage of that."•
Please enable JavaScript to view this content.