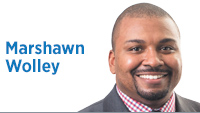 Sen. Richard Lugar's legacy as a statesman is well documented, but his legacy as a mayor offers more important lessons as it challenges us to fight to win the future.
As the legend goes, a 30-something Lugar returned to the city at a critical moment and—with a group of young professionals—assessed, organized, engaged and recharted the future of Indianapolis.
Historian Richard Pierce, in "Polite Protest: The Political Economy of Race in Indianapolis," captured the political force of nature that was then Mayor Lugar, as he was able to get the Legislature to pass Unigov, created the IUPUI campus, and dealt with the Interstate 65/70 interchange downtown.
But when we reflect back on changes like Unigov, we can see they were more about a willingness to try things that had been successful elsewhere than they were about innovation. Several communities—including ones as close as Nashville-Davidson County and as far away as Jacksonville-Duval County in Florida and Baton Rouge-East Baton Rouge Parish in Louisiana—had implemented government consolidation. And according to Pierce, 18 municipalities would have city and county consolidation by 1972.
Democrats had attempted city-county consolidation four years earlier and failed. Lugar got the job done, which likely injected the city with a "can do" attitude. But although the major government reform established the tax base to support development of the city, it also diluted the black vote at the countywide level, which most affected the mayor's race. Meanwhile, the move to City-County Council districts—and away from citywide elections for seats on the legislative body—led to increased black representation on the council. There hasn't been a black mayor in this city, but there have been six black presidents of the City-County Council.
Other actions from the Lugar administration contributed to inequity in the city.
Critics say such decisions were likely due in part to the lack of diversity in the decision-making backrooms in those days. For example, open-housing regulations and a consolidated school system were excluded from Unigov, due to the racial mores of the time. (Interestingly, Lugar would benefit from significant black support in his 1971 re-election effort). Mayor Lugar understood those issues would be challenges to passing the Unigov bill at the Legislature. But I wish he would've fought for those changes—for a more equitable Unigov.
He would later nominate the first black federal judge in Indiana. He also championed public housing.
But the story of IUPUI, and its displacement of a black neighborhood, is instructive. Pierce notes, "No one could easily dispute that the areas surrounding IUPUI and Indiana Avenue [were] in tremendous disrepair." But the historian also notes, "It is equally indisputable that too often the price of urban renewal, especially in black neighborhoods, was the clearing of land and the dislocation of residents."
We are reminded of inequities in various systems and the vulnerabilities of the disconnected, even as we recognize IUPUI has produced many professionals our city and state rely on of all races, including black, for 50 years or more.
The combination of IUPUI and the placement of I-65 by state and city officials was the "death knell of the physical community surrounding Indiana Avenue," according to Pierce.
While I wish these and other decisions might have happened differently under Mayor Lugar's administration, the more recent discussion of I-65/I-70 and the organizing that went into the group Rethink I-65/I-70 demonstrates another important legacy Lugar left us. He reminds us to assess, organize and engage as we continue to fight to win the future.•
__________
Wolley is a lecturer at the School of Public and Environmental Affairs at IUPUI. Send comments to ibjedit@ibj.com.
Click here for more Forefront columns.
Please enable JavaScript to view this content.