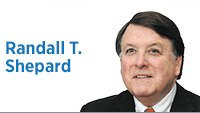 We're all indebted for the extraordinary ways in which Richard Lugar improved the nation and the world. We celebrate the fact that his contributions were so widely recognized and praised while he was still alive.
He also played a substantial role in changing Indiana, leading us toward a new idea of just what our state is.
Dick Lugar believed in American leadership in the world, supported our multiple alliances, and led internationally on everything from ending apartheid to lowering the nuclear threat.
That our senator was so energetic on such fronts was not always universally applauded. As late as the 1980s, we tended to think of Indiana as a rural state for which international relations was a little bit above our pay grade. Was it really appropriate that our senator worked on such matters?
Lugar's opponent in the 1988 election thought such critique might be the key to preventing a third term. His televised debates ran something like: "If Sen. Lugar spent as much time working for Seymour as he does for Senegal, we'd be a healthier state," or, "If Sen. Lugar cared as much about Lafayette as he does about Lithuania, Indiana would be a better place."
The people of Indiana re-elected Lugar to a third term with 68% of the vote.
Beyond his leadership as an elected official, Lugar helped new generations learn about world relations through the Hamilton Lugar School of Global and International Studies. He's provided similar opportunities for students at his alma mater, Denison University in Ohio.
Lugar and other leaders like Bob Orr and John Mutz have helped us understand the importance that our connections to the world are to our state's future. Today's Indiana is certainly a part of the international agricultural economy, but it is also a largely urban place that leads America in the proportion of its workforce engaged in manufacturing. More than half of those jobs are part of advanced manufacturing, like high-performance computing, robotics and sustainable green processes.
Our connections to the world are more important than ever.
Gov. Eric Holcomb recently completed a trade mission to France, Belgium and Germany. He's expanding our connections to European markets that purchase some $10 billion a year in Hoosier exports. This followed visits to China, India and Japan.
Indiana's chambers and others do a better job than ever before. Greg Zoeller and Doris Anne Sadler have created a global trade organization in Indiana, part of the World Trade Center Association. They help small and medium-size businesses in purchasing and selling goods internationally through market research, access to the global WTCA network and vetting possible trade partners.
As another example, just weeks ago, the Indiana Council on World Affairs staged a well-attended speech on tariffs and trade by Thomas J. Duesterberg. Duesterberg is a native Hoosier who built a remarkable career in economic research, led the Manufacturers Alliance, and served as assistant secretary for international economic policy at the U.S. Department of Commerce.
And this month, the Sagamore Institute will host the launch of Legatum Institute's Global Index of Economic Openness. This will feature officials from both the United States and the United Kingdom, including a member of the House of Lords, as well as other policy experts. The objective? How can we measure open markets and improve international trade as "an essential ingredient to Indiana's prosperity"?
Ongoing efforts like these are the very definition of Lugar's legacy. We are so grateful that he propelled us toward a better future. Richard Lugar did, indeed, care a lot about Seymour and Lafayette—and the rest of Indiana.•
__________
Shepard, formerly Indiana chief justice, now serves as senior judge and teaches law. Send comments to [email protected]
Click here for more Forefront columns.
Please enable JavaScript to view this content.