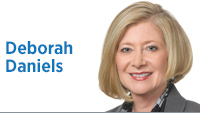 It is still difficult to fathom our recent loss of Dick Lugar.
Throughout his stellar career, he embodied the best about American public service. He has taught multiple generations the imperatives of virtue, patriotism, integrity and concern for the well-being of Americans and people throughout the world that he demonstrated daily.
While it is easy to say there are far too few Dick Lugars in today's politics and government, the truth is there have never been many. He was a man who put his significant intelligence to use on behalf of the people of Indiana, the nation and the world; who was able to reach compromises with political opponents for the greater good, despite being a staunch Republican throughout his life; who was willing to stand up for the right thing even when it meant disagreeing with his allies; and who made the world a far better place as a result.
Lugar was a loyal supporter of President Reagan, yet it was Lugar who helped defeat the president's veto of aid to South Africa in the days of apartheid. By his willingness to recognize the truth about South Africa and act on his convictions, he might have done more than anyone other than Nelson Mandela to help bring apartheid to an end.
He is perhaps best known for "Nunn-Lugar," the initiative on which he partnered with then-Sen. Sam Nunn, D-Georgia, after the fall of the former Soviet Union and championed for years after. The effort succeeded in deactivating more than 7,600 nuclear warheads formerly aimed at the United States and in vastly decreasing the chance of nuclear material falling into the hands of terrorists.
Before all this, though, he started Indianapolis on the path that has led to its current vibrancy. Unified government was not easy to accomplish—but he envisioned and accomplished it within two years of taking office as mayor. He was behind the initial efforts to develop downtown and turn Indianapolis into a first-class city, starting with Market Square Arena and the Indiana Convention Center. As Indiana's senior senator, he continued to support Indianapolis and the entire state through his quiet but effective efforts.
I was but one of thousands of people who were impacted by Dick Lugar's approach to public service. My first job out of college was in the Mayor's Office, where I was able to see firsthand his absolute commitment to those he was elected to serve. He taught us all that "good government is good politics"—that what is most important is doing the right things, not just the politically expedient things, and making a positive difference for his constituents. Unlike so many of today's politicians, he did the right and noble thing throughout his career, always keeping the welfare of his constituents and those he was elected to serve top of mind in his public actions.
Unfortunately, as our society has moved away from appreciation of statesmanlike behavior and toward celebration of politicians who seek to build their reputations by degrading others, appreciation for men like Dick Lugar has turned to disrespect. His treatment in the 2012 Republican primary was sad to watch; and predictably, the candidate who excoriated Lugar essentially for being insufficiently provincial lost in the general election to Joe Donnelly, a Democrat who was more like Lugar in his approach to public service.
Our city, state and nation have lost a giant. The best tribute we can offer is to try to demonstrate the principles by which he lived his own life, every day.•
__________
Daniels, a partner at Krieg DeVault LLP, is a former U.S. attorney, assistant U.S. attorney general, and president of the Sagamore Institute. Send comments to ibjedit@ibj.com.
Click here for more Forefront columns.
Please enable JavaScript to view this content.