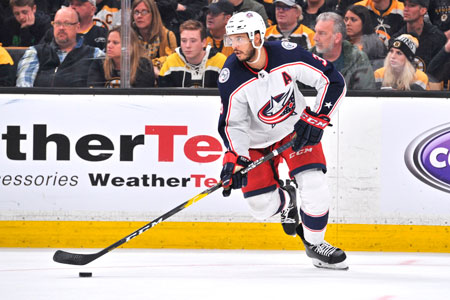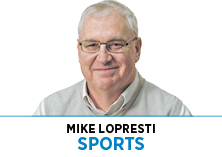 Let's talk hockey.
Oh, please don't go. True, this region isn't exactly a puck hotbed. Chances are, you haven't wandered back here to page 39A for a conversation about the Carolina Hurricanes' power play. But if you have a thing for drama, you should notice what's been going on in the Stanley Cup playoffs. Someone in the offices of the Indiana Pacers has certainly noticed. But we'll get to Indianapolis' top hockey dad in a moment.
You think March had madness in college hoops? Consider April and May in hockey.
The four NHL division champions all lost in the first round. All four. That's never happened before.
The Tampa Bay Lightning, who won 62 games to tie an all-time league record, stormed into the playoffs intending to cap off a historic season—and were promptly swept in four games by a wild-card team from Columbus.
Canada, where they like their hockey, has seven teams in the NHL. None survived the first round.
In January, Carolina had the 12th-best record in the Eastern Conference. In the playoffs, the Hurricanes knocked out defending champion Washington, swept the New York Islanders, and rolled into the Eastern Conference finals.
Through Tuesday, home teams in the playoffs were barely above .500 at 37-32. Thirty-three of the 69 games were decided by a single goal, 15 in overtime. Three game 7s went overtime—for the first time in history—with the latest won by the St. Louis Blues to advance to the Western Conference finals. In January, the Blues were in last place.
Still no hockey fever? Popeye Jones has it.
He's spent his whole life in basketball, including a decade as an NBA player and the past six seasons as a Pacers' assistant coach. He's the father of three sons. Know what two of them do? Play professional hockey. Now there's something you don't hear every day about a 6-foot-8-inch African-American basketball player from Tennessee.
"You're just a proud father and you just sit back and watch. Let them grow and let them learn," he said the other day over the phone, on his way west to see Caleb play for Bakersfield in the American Hockey League Calder Cup playoffs.
Meanwhile, Seth has been an emerging star for Columbus in the NHL and developed into one of the best defensemen in hockey, as was shown in the Blue Jackets' shocking rout of Tampa Bay. His stick was all over that sweep. Take a look at his contract—he's in the middle of a six-year deal with Columbus for more than $32 million. And he's only 24.
Could Popeye Jones ever have imagined all this for his sons, back when they were little kids tagging along during his NBA travels?
"To be honest, no. I grew up playing basketball, football and baseball in a small town in Tennessee. Those were the only team sports."
But his NBA career journey through six franchises took him to cities where the NHL shared the stage. He was a Dallas Maverick when he first noticed hockey. "I met Mike Modano [a key player for the Dallas Stars] and made an appearance with him. For some reason, we kind of hit it off and he told me to come to a game, and I found myself at a game, not knowing anything about hockey.
"I started to understand the rules—the casual rules, like offsides or what's a penalty and what's not. But in terms of positioning and things you're supposed to do, I probably didn't learn that until the kids started playing. It didn't hurt things that I was traded from Dallas to Toronto, and there was Hockey Night in Canada. So I learned a lot from [famed commentator] Don Cherry."
It was during Jones' Denver days that Seth and Caleb learned to love the game.
"For some reason, when they tried hockey, it just stuck. They just continued to get better and had fun doing it. When they were kids, I would always ask them, 'Are you having fun?' If they weren't having fun, it was time to move on, but they were really passionate about the sport and all that hard work is paying off now.
"The [Colorado] Avalanche had a big influence on them wanting to play hockey. One year, the All-Star game was in Denver and I got them tickets down on the glass."
They also saw Colorado win the Stanley Cup. That really grew their dreams. One day, Jones ran into Avalanche star Joe Sakic in the weight room. "I told him, 'My kids want to play hockey; I don't know what to do.' He looked at me up and down and said, 'All they need to do is know how to skate … '"
So Popeye Jones became a full-blown hockey dad. He even tried to skate. Once.
"When they were young, I got some size 15 CCMs made. I got out on the ice one time, got off, and to this day I don't know where those skates are.
"Just to try to skate—it gives you a whole other appreciation of the game, how great you have to be as a skater to be in the NHL."
The stereotype of a hockey dad is a fire-breathing zealot in row 5, ready to pounce on any referee or coach who offends. Not Popeye Jones. "I've been the same way ever since they were little boys. I'm quiet. When they were young in the rinks, I used to just stand on the glass back in the corner, just kind of standing still watching. If it was a goal, I'd clap. I'm not that crazy fan."
And he's watched his sons mature into professional players. Caleb saw some NHL time this season with Edmonton. Seth is now one of the faces of the Columbus franchise, after starting his NHL career in his father's native state.
"At 19, him being drafted to Nashville, as a father I was scared to death," Jones said. "I know how physical the sport is, for a 19-year-old to be on the ice with grown men. But also, you know this is what he wants; this is his dream. All you can tell him—which he already had it in him when he got to the NHL—was [to] just keep working. He's always done that."
The Blue Jackets' playoff ride ended May 6 against the Boston Bruins. Last check, Caleb's Bakersfield team was down 2-0 in its second-round series. Meanwhile in Indianapolis, Popeye Jones is helping the Pacers prepare for the off season, while keeping tabs on the sport that has come to mean so much to his family.
"It's nuts," he said of all the surprises so far in hockey's playoffs. "But there's more parity in the NHL right now than the NBA."
He has his own hockey dream, by the way: a son bringing home the Stanley Cup.
"I always wanted to drink out of the Cup, so hopefully I get to be able to drink a cold beer out of the Cup one day."
How many other guys in the NBA have a reason to say that?•
__________
Lopresti is a lifelong resident of Richmond and a graduate of Ball State University. He was a columnist for USA Today and Gannett newspapers for 31 years; he covered 34 Final Fours, 30 Super Bowls, 32 World Series and 16 Olympics. His column appears weekly. He can be reached at mjl5853@aol.com.
Please enable JavaScript to view this content.