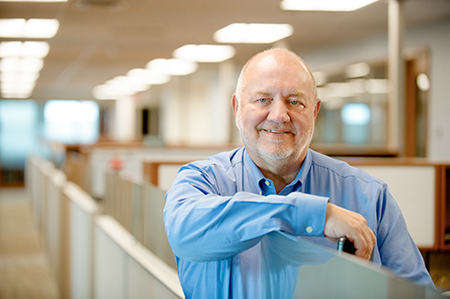 On its 20th birthday, First Internet Bancorp has a lot to celebrate.
The Fishers-based internet-only bank has had strong double-digit percentage growth in recent years, while most banks are growing in the mid-single-digit range.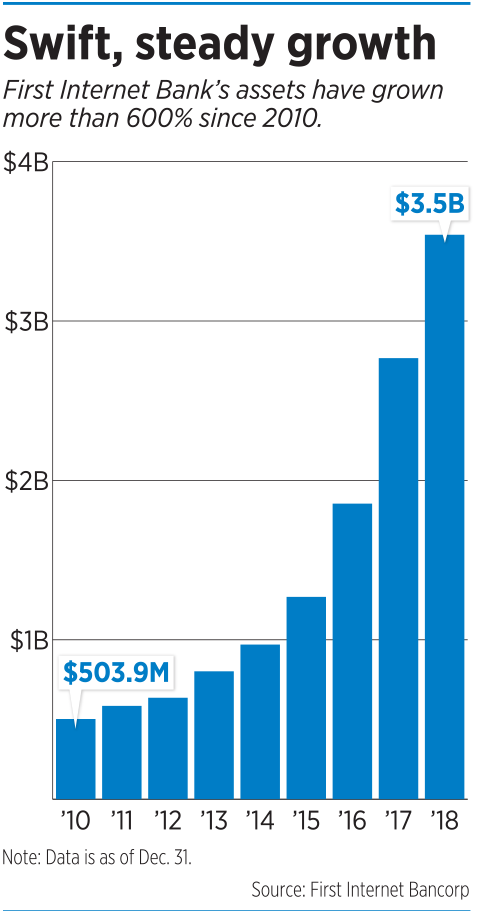 Its assets topped $3.5 billion in 2018, up nearly 30% from the year before. And assets have more than quadrupled in the past 15 years.
First Internet's loan portfolio grew from $732.4 million in 2014 to $2.7 billion last year. Profit during the same period grew from $4.3 million to $21.9 million.
And its two loan areas launched in 2017—public finance and health care—already represent a combined 30% of all the bank's loans.
Home mortgages have also become significant. While commercial lending still represents a majority of First Internet's business, its 2007 acquisition of Landmark Financial Corp.—a move made specifically to develop a mortgage business—has proven successful. The bank had nearly $400 million in residential mortgage loans on Dec. 31, 2018.
All the recent growth has come with a mostly word-of-mouth marketing approach, and the number of First Internet account holders and the bank's virtual footprint continue to expand, along with the bank's brand identity, company officials said.
And the explosion of digital technology, especially mobile gadgets, means internet banking is likely to continue outpacing the industry.
"The market has moved our way," said First Internet Bank founder and CEO David Becker.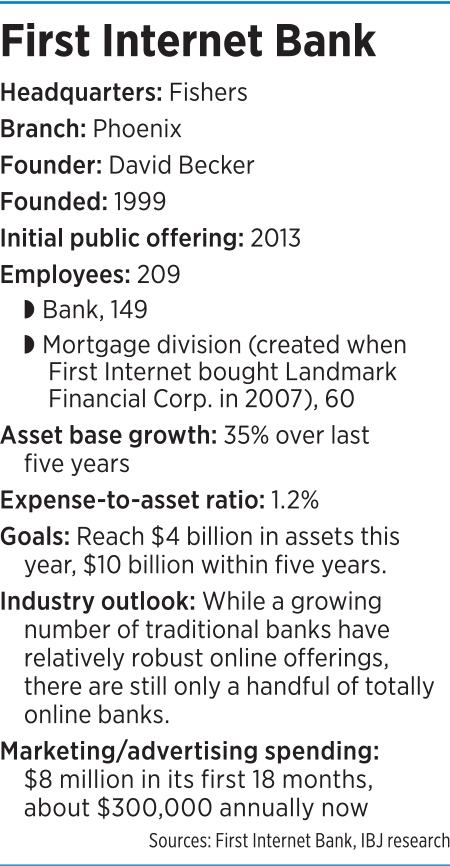 But the bank's rosy future wasn't always so obvious.
When First Internet opened its virtual doors in February 1999, with no branches and no branded ATM machines, people were still getting America Online discs in the mail. Many folks still got their movies at Blockbuster video stores, and just about the only smartphone was the newly introduced BlackBerry. The iPhone was eight years from hitting the market and the iPad another three years behind that.
Fewer than half of all Americans, and only 5% of the world's population, had internet access. Only about one-fourth of U.S. banks had websites and very few offered any kind of online banking.
"The market awareness for us at first was a challenge," Becker said. "That's probably an understatement."
A big one.
"It was a whole new way of doing business," he said.
First Internet Bank was the first wholly online based bank in the United States. It was followed later in 1999 by Atlanta-based Net Bank, but still today, there are only a handful of internet-only U.S. banks.
Banking experts faced a learning curve about what Becker's creation would mean for the industry. And Becker, who came from the world of tech, not banking, also had much to learn.
Mold breaker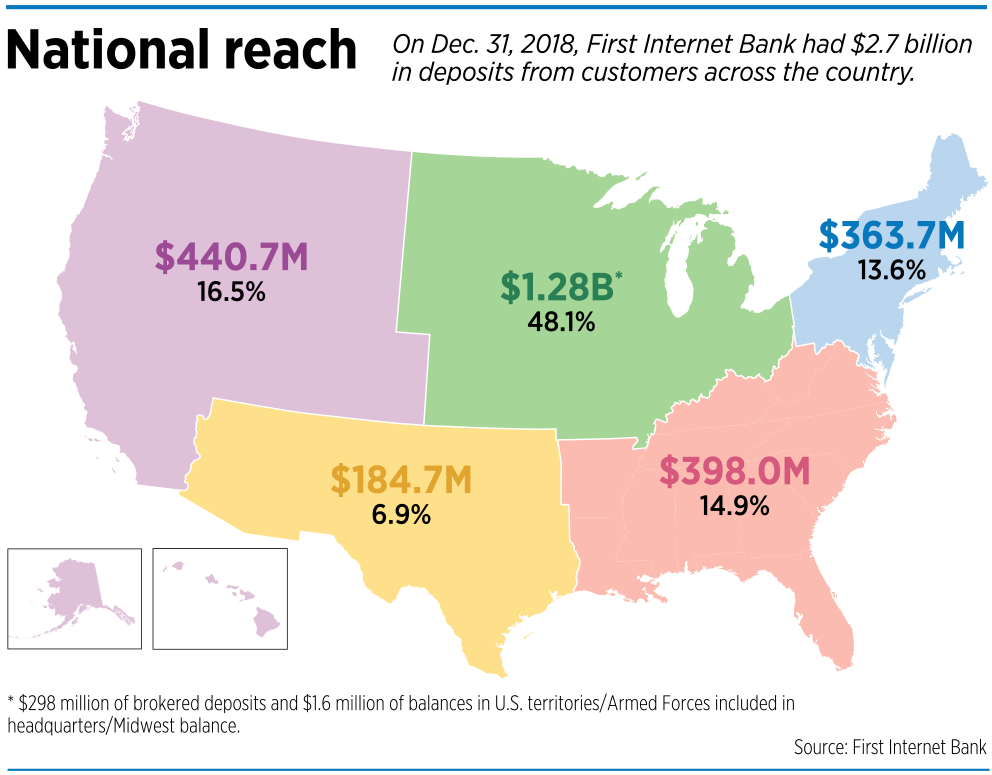 Those who know Becker said his tech background and unorthodox approach to the banking business are what has made his bank—which went public in 2013—a hit.
"David is a very good tech entrepreneur. He's someone who sees where the puck is going. Because he didn't come from the banking arena, it allowed him to think outside the box," said Don Aquilano, managing director of locally based Allos Ventures. "That approach allowed him to build his platform way ahead of its time."
While Allos doesn't invest in financial tech firms—and therefore hasn't invested in First Internet Bank—Aquilano said: "I always pay attention to successful entrepreneurs, and I've definitely watched David's career with interest."
"David has gotten a lot of companies off the ground without lots of funding," he said. "He's always been very capital-efficient."
Becker's idea for a bank without walls was so different from anything the industry had seen, it took him and his lieutenants 3-1/2 years to get through the regulatory process.
Some of the steps seemed absurd. For example, federal regulations require a bank to have a vault. So Becker went to Sam's Club and bought one—although most of the money coming in and out of First Internet Bank was going to be represented digitally, not by paper decorated with the faces of dead presidents.
With no branches to maintain and lower overhead than most traditional banks, First Internet—like many online-only banks still do today—set out to differentiate itself by offering higher interest rates on deposits and charging no fees for the vast majority of its services.

There is some concern that, as the Federal Reserve pushes up the interest rate, online banks will lose some of their edge.
"I understand the industry feels that will hurt First Internet Bank more than most other banks, but everybody forgets the efficiencies we have," Becker said.
First Internet Bank, he said, has a 1.2% expense-to-asset ratio. That's less than half the industry standard.
"The beauty of First Internet Bank is, they keep their costs so low they can offer better rates on deposits and better rates on loans all day long," said Michael Renninger of the Carmel-based financial consulting firm Renninger & Associates. "That's gained them a lot of business."
As well as First Internet Bank is doing, Becker said he's been told his bank "is leaving millions of dollars on the table in fees."
But he won't start charging them, he said. "One of the main reasons we started this bank is to have a different kind of bank."
Surprise demographics
The pace at which First Internet has grown has surprised even Becker.
The bank aimed to carve out a niche with college students, who often spend time living in two different cities, as well as other—primarily young—people who were open-minded enough to try something different.
But its core customer has actually turned out to be a mid-50s male who is a so-called road warrior—essentially sales representatives and others who travel for work. Customers also include a strong number of self-employed people, ranging from doctors to contractors and entrepreneurs, Becker said.
While the majority is still men, First Internet's average customer has become a bit less gray in recent years. Now, Becker said, more are in their upper 30s and 40s.
"It became about having a bank for anyone who couldn't get to a bank during regular hours," he said. "This was a great alternative."
First Internet Bank's customers were also drawn to a cadre of services—including the ability to move money from one account to another in real time with no charge, interactive chats the bank offered from the beginning, and online statements, which few brick-and-mortar banks offered at that time. First Internet Bank even has a real-time feature that shows its customers which bankers are available.
Although First Internet Bank has no ATMs, it is part of a network that allows customers to withdraw cash from other banks' ATMs—and First Internet rebates a chunk of the ATM user fees. But the big draw remains its digital services.
"The only constant we have is change in a sector that is pretty stoic," Becker said. "There's not a quarter that goes by that we don't change our software. We're looking for constant improvement as needs change."
Becker said one of the big reasons his bank is growing so fast is that its market isn't restricted by geography, unlike the "brick-and-mortar branches" of traditional banks.
"We can draw customers from the entire nation," he said. "We're not just slugging it out in the local market with all the other banks in the same market."
With its initial marketing blitz—$8 million spent nationally in its first 18 months—and its cadre of unique offerings, First Internet Bank scored customers in all 50 states within 90 days.
About 15% of its clients are in Indiana, its strongest market, followed by California, Oregon, Washington, New York, Georgia, Florida and Texas.
The bank now relies on a modest $300,000 annually for marketing and advertising, a fraction of the budget of traditional big banks.
Becker, a 1975 DePauw University graduate who has been CEO of several local tech companies, has handled much of the tech side of the company.
"I built the platform I thought was best for the consumer, and that has been a driving force," he said. "I knew the frustrations [with banking] I had, and I tried to solve as many of those as I could."
The company now has 209 employees—about 20 in its information technology department—to keep the bank humming.
Though some people might have security concerns about an internet-based bank, Becker is confident First Internet Bank's defenses are more than adequate.
"Our security is as good as any financial institution in the country," he said. "One thing that helps is, we have a lot fewer access points than most banks."•
Please enable JavaScript to view this content.