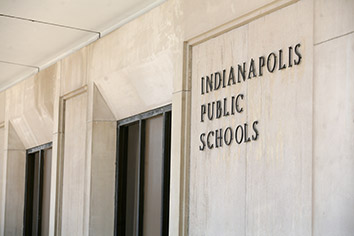 Eleven candidates have applied to be the next superintendent of Indianapolis Public Schools.
Now the school board will begin evaluating which of the applicants may be a good fit for the district. The board will meet in executive session this week to review the applications, identify finalists, and determine next steps. The window for applications closed at 5 p.m. Friday.
The names of the candidates will not be released to the public. But the district will release the names of finalists and conduct public interviews.
One applicant for the position is already publicly known: Interim Superintendent Aleesia Johnson, who has been leading the district since January, announced that she applied for the permanent position in a letter last month.
The school board intentionally cast a wide net by limiting the required qualifications for the post and deciding to keep applicant names secret unless they are finalists.
Getting 11 applications is pretty typical for a district of IPS's size in the spring, when many potential candidates often have jobs lined up, said Max McGee, president of Hazard, Young, Attea and Associates, a firm that helps districts hire superintendents.
Having a well-qualified interim in place who is seen as a shoo-in can also discourage some applicants, he said.
"It's what I expected for Indianapolis," McGee said. "If they get two or three really well-qualified ones, they are doing really what you would expect."
The next superintendent of IPS will oversee the state's largest district, which educates about 31,000 students. The last chief made nearly $300,000 per year including perks when he left, and Johnson is currently paid $222,380.
Indianapolis has a high profile nationally. Former Superintendent Lewis Ferebee gained national attention when he led the district. He left in January to take the helm of the Washington, D.C., school district.
Chalkbeat is a not-for-profit news site covering educational change in public schools.
Please enable JavaScript to view this content.