The governor has traveled more on trade missions than his predecessors. Is it too much?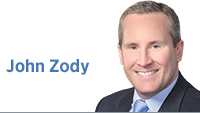 Think what you will about first-term Gov. Eric Holcomb's international flight log, but it's a symptom of a larger failure.
Yes, Holcomb has spent more time overseas in two years than Gov. Mitch Daniels logged in eight. Yes, you have to squint to pretend like taxpayers don't, in some way, bear the cost of his international junkets. Yes, Holcomb's eyebrow-raising decision to travel during the 2019 legislative session sidelined him from influencing the hate crimes bill, a supposed priority his GOP colleagues ultimately watered down.
But more to the point, all that time up in the air and out of office has Holcomb misfiring on the key aspect of economic development: growing talent.
There's no question the economic development approach forged by a decade-plus of Republican control underinvests in human capital and fails to create quality jobs. Since 2015, Indiana's economy has grown at 55% of the national rate. In the last four decades more people moved out of Indiana than moved in and 66% of outbound moves are for career purposes. Kentucky has more workers with college degrees. The probability an engineering graduate of one of our public universities moves out of Indiana in five years is nearly two out of three.
College isn't always the answer, but Holcomb, as state GOP chair, backed Gov. Daniels' attack on organized labor, where skilled labor is recognized with wages matching those earned skills. Holcomb's decision to chase headlines and attract any job at any cost isn't translating into higher wages and better opportunities for most Hoosiers.
Sure, the governor will argue it's his duty to showcase Indiana to the world and the frequent flier miles are just a perk of that responsibility. But I believe businesses are competent, will see through any glossy sales pitches and ultimately locate where they can recruit a qualified workforce in a place that offers a good quality of life for its residence. And on that front, Holcomb is missing badly.
Indiana actually moved backward in a national ranking on access to early childhood education this year. Per-pupil funding for K-12 education was higher in 2009 than it was in 2017 when you adjust for inflation. Inflation, too, will eat up the lion's share of funding increases for public schools in 2020-21, leaving them treading water. In an economy President Trump calls "the greatest in the history of our country," Holcomb has largely left his hands in his pockets when in comes to investing in human capital.
Frankly, we should expect more from Holcomb. Hoosiers deserve a governor willing to take a bold approach to right an Indiana economy that is making it harder and harder for working Hoosiers to get ahead. Can you blame the graduates that Holcomb pleaded with to stay for leaving when Hoosiers earn just 88 cents for every dollar the average American makes? Sadly, Holcomb looks more eager to rack up passport stamps than admit his approach isn't working.•
__________
Zody is chairman of the Indiana Democratic Party.
Send comments to [email protected]
Click here for more Forefront columns.
Please enable JavaScript to view this content.