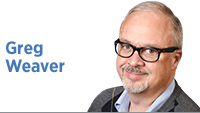 Think outside the box. Push the envelope. Be cutting-edge.
All these overused phrases call for creativity in community affairs, business and elsewhere. But how can Indiana power true innovation and new ways of thinking that go far beyond these tired words?
Poetry is one answer, and Indiana Poet Laureate Adrian Matejka has struck upon ways to spread the word.
Last month, Matejka won a $100,000 fellowship from the Andrew W. Mellon Foundation, part of the inaugural round of more than $1 million in funding for the Academy of American Poets Laureate Fellows. Thirteen poets laureate in states and communities across the nation shared in the honor.
Matejka plans to use part of the money to expand the free "Poetry for Indy" workshops he's been offering at the Center for Black Literature & Culture at Indianapolis Central Library.
He's excited about the money because it will allow him to provide food and writing supplies for the participants and to pay stipends to other poets interested in leading workshops for economically diverse audiences in other parts of the state.
"Having food there can matter," said Matejka, who grew up in Indianapolis and was a 2014 Pulitzer Prize finalist. "People create better when they're happy."
Matejka's workshops have the potential to unleash the kind of empathy and creativity that result in new insights and innovative solutions to community problems.
Academic studies support this conclusion.
In a study published in 2017 in the Journal of Business Research, South Korean scholars found that people who read poetry or experience other forms of art perform better when taking on tasks that call for creative solutions and feel more inspired in their daily lives.
A 2007 study of UK-based workers found poetry provides "opportunities to access new organizational knowledge and understandings and learning."
For Matejka, the Ruth Lilly professor of poetry at Indiana University in Bloomington, the real joy of his workshops is witnessing the forging of new friendships.
"If you can get a community to invest in writing, especially poetry, the community will communicate better with other communities and each other," Matejka said. "Language isn't just a weapon anymore; it can be a celebration. It can be a tool to honor and to praise, instead of attack."
Matejka's fellowship grant also holds the promise of bringing attention to Indiana as a hub for poetry and creativity.
A portion of the money will fund INverse, a digital and physical archive of poetry written by people who have lived in or are associated with Indiana. He said the project is being developed in partnership with the Indiana Arts Commission and the Indiana State Library.
Matejka wants to use the archive to show the vitality of Indiana's poetry scene and provide a home for anyone who writes a poem. He wants to bring attention to poets such as Etheridge Knight, Mari Evans, Yusef Komunyakaa and more. He wants to show the vibrancy of Indianapolis.
His reputation as a rising star in the poetry world certainly will help. "The Big Smoke," Matejka's 2013 collection of poems on the first African-American world heavyweight boxing champion, won the Anisfield-Wolf Book Award and was a finalist for the Pulitzer Prize and the National Book Award. He's currently working on a graphic novel based on the collection about boxer Jack Johnson.
Now, with any luck, Matejka will help make poetry Indiana's new paradigm for success.•
__________
Weaver is the director of communications for Indiana Humanities and a former editor at The Indianapolis Star. Send comments to ibjedit@ibj.com.
Click here for more Forefront columns.
Please enable JavaScript to view this content.