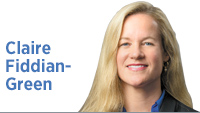 National Public Radio recently aired a story about female activists in Saudi Arabia who have been jailed since 2018 for advocating for freedoms for women in their country, including the ability to drive a car and the right to travel abroad or marry without the consent or presence of a male guardian. Some activists were recently released and claim to have been tortured while imprisoned by waterboarding, electrocution, threats of rape and more.
I feel simultaneously horrified about what these courageous activists have endured and grateful that my family immigrated to the United States when I was a child. As a woman living in America, I have the right to be educated, pursue a career, and live autonomously—all without regard to my gender.
In passing, I shared this story with a female friend and reflected how lucky we are to be women living in America today. Her reply was sobering: Some women are lucky, but the fact remains that too many people in Marion County—women and men alike—would not consider themselves lucky.
The sad reality is that many of our neighbors endure a sort of second-class citizenship based on the circumstances into which they were born. Equipping our fellow Hoosiers with the necessary tools to overcome these circumstances is critical if we're going to thrive as a city and state.
A little digging into the numbers on poverty, health and education illuminates some key barriers.
First, the poverty rate in Indianapolis is appalling. Almost one-fifth of the city's population—about 182,000 people—lives below the poverty line. And data show that poverty disproportionately affects women in Marion County.
Second, there are significant racial disparities when it comes to health. Even after controlling for socio-economic status and educational attainment, black women in Indiana face a greater risk of pregnancy-related death. And black infants are more than 2-1/2 times as likely to die before their first birthday than white infants.
Third, gaps in educational attainment exist by race, income, disability and language proficiency. For example, low-income students in grades 3-8 in Indiana scored almost 31 percentage points lower on the ISTEP+ in 2018 than did their more affluent peers.
These statistics exemplify the harsh realities too many people in our community face. And when confronted with so many challenges, it can feel daunting to know how to help.
I am inspired by Indiana's own history and the upcoming 100th anniversary of a woman's right to vote. It took 70 years of advocacy from courageous Hoosiers exercising their constitutional rights of free speech and peaceful assembly before Indiana ratified the 19th Amendment in January 1920, granting a woman's right to vote.
And I stand in awe of the Saudi activists who persist in advocating for gender equality despite harsh consequences. Their efforts are beginning to bear fruit: The ban on women drivers in Saudi Arabia was lifted last year, ironically after the activists were jailed.
As Americans, we have ample freedom to seek change aimed at addressing inequalities. Imagine what we could accomplish in Indianapolis if each of us worked to tackle the obstacles that make it harder for our fellow Hoosiers to escape poverty or advance in today's economy.
This is not an improbable dream: Each of us can educate ourselves about the issues and speak up about necessary changes, even when faced with criticism. Because history has taught us this lesson well: If you don't speak up and take action, who will?•
__________
Fiddian-Green is president and CEO of the Richard M. Fairbanks Foundation and a former adviser to then-Gov. Mike Pence on education issues.
Click here for more Forefront columns.
Please enable JavaScript to view this content.