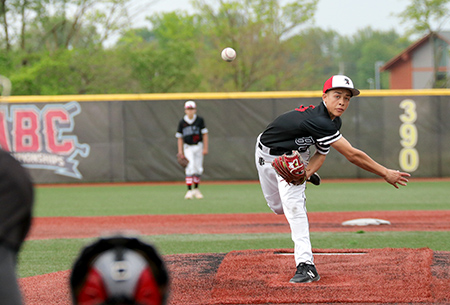 As Grand Park Sports Campus in Westfield approaches its fifth anniversary, the $85 million taxpayer-built project appears to be paying off in terms of visitors and associated economic development.
But the campus still faces challenges. While development has revved up recently in the tax increment financing district created to pay the campus's debt, it started out slower than anticipated. And in the past five years, other cities have copied Westfield's approach, creating competition in the youth sports arena.
City officials say Grand Park is just starting to show its full promise, and they're hopeful the TIF district generates enough revenue by 2023 to fully cover Grand Park's debt payments. Also, they say they're focusing on customer experience to ensure the campus continues to grow for the next five years and beyond, despite the competition.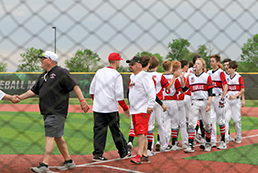 Teams paid as much as $695 to participate and fans paid $10 per day to attend. (IBJ photo/Lesley Weidenbener)
When Grand Park opened for business in June 2014—amid some skepticism—the youth sports mecca was billed as an economic development tool, one that would help the city of roughly 35,000 diversify its largely residential tax base.
The city borrowed $45 million to fund construction. Another $13 million was spent acquiring the necessary 400 acres of land, and the city later assumed a private developer's $26 million loan when it purchased the Grand Park Events Center in 2016.
The nearly 400-acre campus features 26 softball and baseball diamonds, 31 soccer fields, 10 miles of multi-use paths and the Grand Park Events Center—a nearly 400,000-square-foot indoor facility that opened in July 2016.
Today, events are held at the campus 45 weekends a year. And it will be home to the Indianapolis Colts training camp through 2028.
City officials deem it a success.
"Is Grand Park doing what we envisioned? Yes, and more," Westfield Chief of Staff Todd Burtron told IBJ.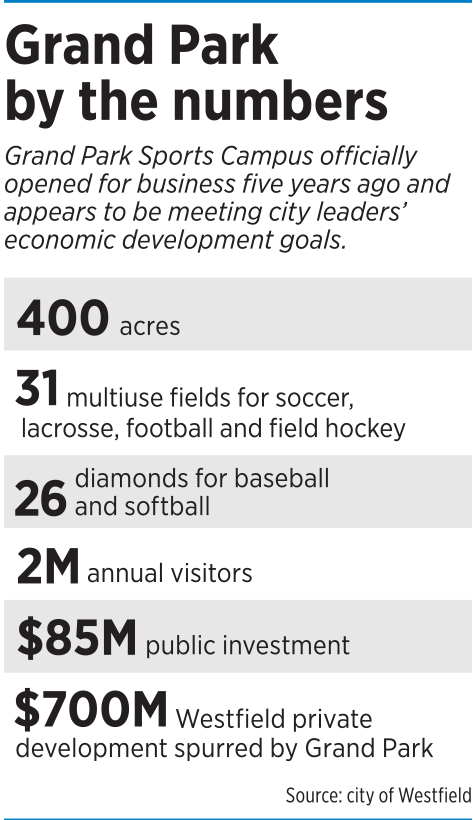 Diversifying a tax base
It was 2008 and the town of Westfield had just transitioned to a city when Mayor Andy Cook pitched the bold idea for a massive sports complex.
The city needed an identity. Cook wanted to build one out of youth sports and hospitality, a risky move.
"The fringes were full of critics in 2011" when construction began, Burtron said. "People will challenge the strategy of Grand Park, but I think each passing year—the criticisms won't ever go away—but I think they're being muted."
Westfield expected the campus to attract commercial development to largely undeveloped swaths of land near State Road 32, west of U.S. 31. The city set a goal of attracting $92 million of private investment by 2016. Those new businesses would generate the tax revenue needed to make the bond payments.
The TIF district encompassing Grand Park—the Grand Junction Economic Development Area—covers 2,200 acres, and since Grand Park opened, developers have constructed projects there valued at more than $105 million, according to the city. They include the Cambria Suites hotel, the Grand Park Shoppes and the Wellbrooke of Westfield senior living facility.
Still to come is Grand Park Village, a YMCA, residential development and plenty more restaurants.
There's no doubt Grand Park has been transformational for Westfield, said Tim Monger, who previously served as executive director of the Hamilton County Economic Development Corp. and is now senior vice president at Indianapolis-based Resource Commercial Real Estate.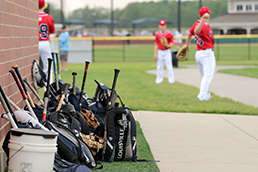 The 400-acre campus is buzzing with activity now that spring has arrived. (IBJ photo/Lesley Weidenbener)
"Certainly when you look at [S.R.] 32, west of [U.S.] 31, you can see what's taken place out there in that area," he said. "Before that, we could count on one hand … the significant businesses."
Still, there's a long way to go before Westfield sees the $1.6 billion of private investment it projected for the area over 30 years.
Eventually, Westfield plans to tap into the TIF district to also make payments on the $35 million of bonds associated with Grand Junction Plaza, a public park planned for central Westfield.
For now, there's not enough TIF money to cover the annual Grand Park debt payments—which will total $6.3 million this year. Today, 28 percent of those payments comes from TIF revenue, and the rest from the city's local income tax revenue and surpluses.
But officials say TIF revenue is not the only measure of success.
Citywide, Westfield credits $700 million of economic development activity to Grand Park. And in the past five years, the city's net assessed value has increased 62 percent, more than any of Hamilton County's three other cities.
City leaders hope Grand Park will eventually further diversify the tax base by attracting research and development companies involved with the business of sports.
But that could be hard to pull off, Monger said, because many of those types of companies are in coastal cities and Grand Park on its own might not be enough to draw them to Westfield.
Paying off?
Over the years, Grand Park's operational finances have improved, too.
Expenses outweighed revenue in 2014 and 2015, and Grand Park had a $73,670 deficit in 2015. Since 2016, however, the campus has brought in more than it's spent on basic operating expenses.
Revenue for the first four months of 2019 is more than $1.4 million, according to data provided to IBJ by the city. Expenses have tallied $683,500.
But Westfield's financial statements don't include $900,000 in salaries to be paid to Grand Park employees or the $6.3 million in debt payments for this year.
Eventually, they will, Burtron said.
Beyond the impact on private investment, Grand Park had 2 million visitors last year, who spent $14 million in the region, according to figures from Hamilton County Tourism.
For Hamilton County, the campus is equivalent to a convention center, tourism leader Brenda Myers told IBJ.
Grand Park visitors stay in Hamilton County hotels, but they also stay in other cities when hotels near Grand Park fill up, she said. Marion (especially the Keystone at the Crossing area), Boone, Hendricks and Howard counties all benefit.
"It has impacted regional tourism in a huge way," Myers said. "I'm not sure that everyone is fully aware of just how impactful Grand Park is."
Before the sports park opened and after the U.S. 31 freeway project led to a Best Western being demolished, Westfield had just one hotel.
Since then, two have opened—a Hampton Inn and the Cambria Suites—and a third, Springhill Suites, is nearing completion.
And Grand Park visitors now book 90,000 hotel nights a year. The city's initial goal was for the campus to generate 55,000 nights by 2016.
Those visitors spend an average of $160 per person per day, according to a 2016 intercept study that captured almost 400 visitor interviews at Grand Park and has since been adjusted for inflation.
Intense competition?
A challenge Grand Park leaders face today and will continue to face is competition from similar facilities.
When Westfield announced the city would publicly fund the project, the idea was novel. But since then, more municipalities have planned their own complexes to nab part of an industry economists have argued is recession-proof.
Just as Grand Park was finding its footing, developers proposed similar facilities in Portage, near Lake Michigan, and Fishers, although those complexes weren't to be paid for with tax dollars. Neither project came to fruition, but there are plenty of other youth sports campuses in the Midwest. Any that offer similar playing surfaces pose competition to Westfield, experts say.
Burtron said Westfield recognizes the competition, but city leaders aren't worried. One advantage Grand Park has, Burtron said, is the volume of playing surface. Families want to go to one location and stay there for a tournament rather than spreading across multiple facilities in a metropolitan area.
"When others are trying to implement what you are doing, that's also a metric of your success," he said.
To stay competitive, Grand Park will need to offer a top-notch customer experience, said Michael Diacin, an assistant professor of sports management at the University of Indianapolis who previously worked with publicly owned ice arenas.
Grand Park's challenge will be retaining its existing customer base, he said.
A new, upscale facility will draw in tournaments and events, but once that facility begins to show its age, it will need to find other ways to stand out, Diacin said.
"If a problem comes up, is it being rectified in a reasonably quick and satisfactory matter or does the customer or individual bookers perceive that their concerns are being met with an indifferent shrug of the shoulders?" he said.
Burtron said visitor experience is a top priority for the Grand Park team and the city.
Earlier this year, the city sent representatives to learn from the Disney Institute, the training arm of the Walt Disney Co.
Those representatives are now training others, including folks in the hospitality sector, about the Disney way, hoping everyone who leaves Westfield feels special.
"Nobody does it better than Disney," Burtron said. "We want to make sure that … at the end of [teams'] tournaments, win or lose, they're loading back up, they're heading back home, and they're telling their tournament director, 'We've got to get back here.'"•
Please enable JavaScript to view this content.