This month, we'll hit a quartet of recent restaurant arrivals near the already competitive culinary intersection
of 86th Street and Ditch Road.
Our first stop, the Rusty Bucket Corner Tavern, part of an Ohio-based chain, has a misleading name if
you are looking for parking. Situated nowhere near a corner, it's ensconced in a strip center whose
parking lot isn't connected to its neighbors, which can make for a frustrating turn off 86th. (I got it right; my guest
got it wrong.)
Once inside, we felt comfortable not just because of the friendly staff and relaxed environment, but
because we felt like we'd seen it all before: The multiple flat-panel sports-churning TV screens (mercifully turned
down), the framed Manning jersey, the wacky menu fonts, etc. The Rusty Bucket's challenge doesn't come from doing
anything badly—at least, not that we found—it comes from doing everything rather unimaginatively.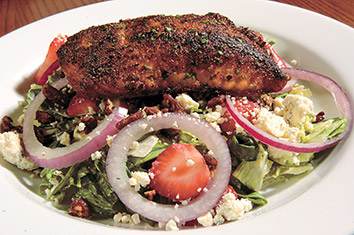 Blackened Salmon Salad highlighted an overly familiar meal at the new-to-the-city Rusty Bucket. (IBJ Photo/Robin Jerstad)
The Rusty Bucket of Wings, for instance, comes in one-pound ($7.95) or two-pound ($13.95) batches,
with a choice of four sauces. If you are going to limit options like that, shouldn't they be exceptional?
We ordered the small and picked two sauces—Joe's Regular and the Sweet Chili. The wings were
slickly coated and unmemorable, but still edible.
The Blackened Salmon Salad ($9.95) won points for its sizable slab of fish and its pleasant mix of baby
spinach, iceberg and romaine lettuces, strawberries, candied pecans, red onion and blue cheese crumbles,
but in hindsight I wish I had avoided the honey vinaigrette dressing.
Fish 'n Chips ($11.95) offered sizable planks of Atlantic whitefish whose flavor I barely noticed
over the course of lunch conversation. The side fries performed admirably. My guest was equally satisfied but unenthusiastic
about his provolone-covered Chicken Parmesan ($12.95). We were both baffled by the contrast of the red sauce on the chicken
and the alfredo sauce on the pasta. We liked them both, just not on the same plate.
Jacked-up soft drink charges ($2.50 each) aren't likely to land any lunchtime fans for this acceptable
eatery, but I might return to see if Rusty Bucket can make an impression with its hand-pattied burgers.•
—Lou Harry
__________
First in a month-long series of 86th and Ditch dining reviews.
Please enable JavaScript to view this content.