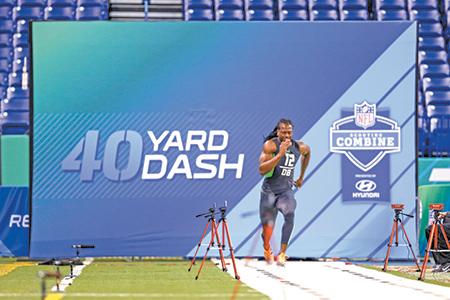 Indianapolis has received a one-year extension to host the NFL Scouting Combine though 2021, the National Football League announced Wednesday.
The combine—a five-day showcase featuring 300 of college football's top players—has been hosted by Indianapolis since 1987 and had been slated to be held at Lucas Oil Stadium through 2020 as part of a five-year deal with Indianapolis. The 2021 event is set for March 4-8.
The event would be subject to "a series of annual options beyond that," NFL spokesperson Brian McCarthy told IBJ in an email.
The NFL also approved schedule changes starting next year for certain combine activities, with a goal of boosting ratings and fanfare.
Many of the on-the-field drills generally slated for the morning and afternoon are expected to shift to the afternoon and prime-time slots, with hopes of bringing in more television viewers, he said.
The league will evaluate the combine's status in Indianapolis following the 2021 event and could extend its relationship with the city.
Interest in the event from other cities has grown in recent years, according to tourism and convention officials.
Visit Indy Vice President Chris Gahl said he is "elated" the combine is remaining in Indianapolis after 18 months of negotiations.
"We are proud they have decided to stay here through 2021," he said. "We hope this relationship continues well past that, certainly, but we're glad to know we're keeping them."
Please enable JavaScript to view this content.