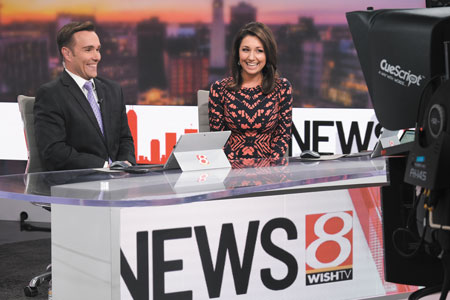 Getting young adults to watch television news has long been a challenge.
But in the past, news directors and station executives could wait until the youngsters got a job, bought a house, got married and had children. Eventually, they'd tune in.
"When those lifetime milestones happen—and you start paying taxes—people often mature … and gain an interest in the daily news," said Bruce Bryant, president of locally based Promotus Advertising. "TV news has often been a medium people turn to."
But with the growth of the digital world and the explosion of mobile technology, that "traditional maturation process in terms of consuming TV news has been interrupted," Bryant said.
While TV news has seen audience declines across many age categories, the biggest losses are with younger viewers.
Just in the last two years, Nielsen Media Research shows viewership in the 18-34 age group for all Indianapolis stations' TV newscasts combined is down:
◗ 15% in the 6 a.m. time slot
◗ 29% at 5 p.m.
◗ 22% at 6 p.m.
◗ 42% at 10 p.m.
◗ and 46% at 11 p.m.
The percentage losses outpace those in the 35-54 and 55-plus age groups—and in some time slots, the percentage decline is twice as steep.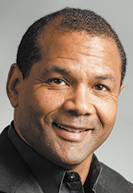 Bryant
WXIN-TV Channel 59, a Fox affiliate, and WTHR-TV Channel 13, an NBC affiliate, have done the best job of making their newscasts appealing to younger viewers, but that only means they've been losing that demographic more slowly than other stations.
"Fox stations, due to Fox's youth-oriented programming, have always done a bit better with millennials," Bryant said. "And they've done a good job finding a slightly different, sometimes more sensational, slant to the news. They don't hesitate to go with younger on-air personalities. … But let's be clear, no local TV station is doing great at attracting young audiences to their newscasts. We generally wouldn't go to the local TV news to advertise a product aimed at a young audience."
Despite the challenges, local stations still have strong general appeal.
"TV has a much broader reach than any other medium," said Rebecca Peters, senior media planner and buyer in MKR ad agency's Indianapolis office. "It's still very valid, especially for awareness."
But "the trend is definitely down [with younger audiences], especially in the last five years," Peters said. "We've seen a big drop."
Millennials want news
Research shows that young people today are at least as interested as previous generations were in consuming news.
In a recent study by the Media Insight Project, a collaboration between the Associated Press-NORC Center for Public Affairs Research and the American Press Institute, 85% of millennials said they keep up with the news and 69% said they consume news daily.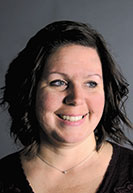 Peters
"The stereotype of millennials not being interested in news doesn't stand," said Jennifer Benz, principal research scientist and deputy director of the AP-NORC Center at the University of Chicago. "Data shows the opposite. Millennials are interested in the news and across several measures. Millennials are tuned in."
The bad news for TV executives is, young people aren't getting that news through their TVs.
A recent study by Deloitte found that people age 14 to 30 spend only 40% of their media-consumption time (including, but not limited to, news) watching television. Meanwhile, Generation Xers use a TV for 70% of media viewing, and baby boomers consume media from a TV almost 80% of the time.
Almost half of adults 22 to 45 years old are watching absolutely no content on traditional TV platforms, according to a new study by Omnicom Media Group agency Hearts & Science.
WRTV-TV Channel 6 Vice President and General Manager Lana Durban Scott isn't surprised.
"I have a lot of employees that have teenage children that have never watched TV news," Scott said. "It's the same for a lot of college students. Never ever."
According to the Media Insight Project research, 83% of millennials are consuming news through YouTube and 50% through Instagram, both formats that just a decade ago were non-factors in generating news.
"It's not clear if that audience will ever come to TV for news. That's a lost generation, and a big blow," Bryant said.
Advertising sold during local TV newscasts has historically made up 40% to 70% of a station's revenue, because the station controls all the ad inventory and keeps all the revenue. Much of the revenue from ads run during network or syndicated programming goes to the network or syndicator.
Even though producing TV news is almost always more expensive for a local station than airing network or syndicated shows, the cost has historically been offset by the greater ad revenue.
Many advertisers sought "the engaged audience that tuned into the local newscast," Bryant said.
If TV news viewership and revenue see a steep decline, those expensive newscasts could become an albatross for station owners, industry experts said.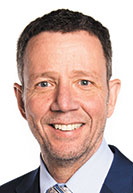 Carl
Taking action
TV executives—local and national—aren't sitting idly by hoping for the best.
"We think about this every single day, and we are constantly adjusting to meet today's fast-changing demands," WRTV's Scott said.
WRTV, an ABC affiliate, is making a big push into what is called "over-the-top," or OTT, content—free, online, on-demand content on streaming outlets such as Roku, Amazon Fire, Apple TV and Android TV.
"We just hired an over-the-top content manager. That's a new position. We're putting a lot of focus on that," Scott said. "A lot of young viewers don't want to sit through a linear newscast and wait for what they want, and we have to respond to that."
"We offer live streams of our local newscasts, weather updates, recent stories and extended coverage exclusive to OTT," said WRTV Digital Director Jen Brown. "The goal is to allow our audience to view our content on demand, choosing which stories they're interested in at a time that's convenient."
Scott said making money from over-the-top content is definitely possible, noting that, while the audience is still in its developing stages, average time spent watching WRTV's OTT platforms is more than 20 minutes per viewer per day.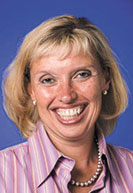 Scott

Many local and national broadcasters are extending their business online like never before. And on that front, there's some good news. Associated Press' research shows 62% of Americans are willing to sit through short ads to access free TV content on internet-connected devices. That, Bryant said, shows there's an opportunity for TV stations to capitalize on online programming.
In 2017, the Pew Research Center reported digital news had come even closer to eclipsing TV's dominance as a news provider. The portion of Americans who now get their news online stands at 43%—just 7 percentage points behind TV—and some analysts think online will eclipse broadcast television for news by the end of next year.
Long reliant on police scanners to generate crime and traffic news, along with weather and a smattering of sports, local TV stations are making major changes in delivery and content.
"We're not just looking at this as an issue with young people. This is an evolution in the way people consume information," said Al Carl, WISH-TV Channel 8 news director.
Carl, a 30-year TV news veteran, said a key thrust of WISH's strategy is "meeting viewers where they are."
That means a heavy dose of digital news and an increasing social-media presence.
"In some ways, we now have more opportunity to reach younger viewers, and viewers of all ages, because we're on so many more platforms," he said.
WISH, like other local stations, has adopted a policy of breaking news in whatever form necessary. In other words, the station no longer waits for the next newscast to shout out breaking news.
Carl said it's important not merely to see the web and other forms of digital communication as a means to push people to the TV newscast.
"It's a push-pull strategy," he said. "We push and pull people to and from both the website and the TV broadcast. We realize, too, that most people these days watch the TV news with a phone or tablet in their hand or a laptop at their side. … We are no longer merely TV producers. We're content producers for all of our platforms."
TV still delivers
But the TV newscast is still the biggest moneymaker for most stations.
WISH, a CW affiliate, certainly isn't abandoning TV. The station delivers 11-1/2 hours of news each weekday—more than any other local station—and that is growing by an hour this fall when the station adds a 4 p.m. newscast. Last year, WISH spent $1.5 million on a new set with the idea of reflecting the modern digital era, something Carl is confident will help the station resonate with younger viewers.
WISH has increased its focus on community news and features such as WISH Patrol, where the station finds people and organizations in the community doing good work—and gives them a helping hand.
"We can't just go after low-hanging fruit. We have to cover community news and give the news more context," Carl said. "Our research shows breaking news is still very important, but we have to go beyond that."
WRTV's Scott echoed that.
"We're trying to do less commodity news—the bank robberies and car chases and other news you can see everywhere—and we're focusing more on generating content you can only find on our station or platforms," she said. "We've launched programming like our Hiring Hoosiers [feature], and we think that's making a big difference."
National networks are changing course, too.
CBS, which, according to Nielsen, has the oldest TV audience among the major U.S. networks (average age 58.7), recently launched CBSN, a free, 24/7 live-streamed digital news channel that can be viewed on computers, tablets, smartphones and smart TVs.
The site follows a 60-minute format where news is updated from 9 a.m. to midnight every day. In addition to news reports, CBSN features special reports and content from CBS affiliates like Entertainment Tonight and CBSSports.com. Viewers also have the option to toggle between live programming and archived segments.
NBC followed suit by launching its own streaming service, which offers all of its content—news programming and other shows. To access the NBC content, viewers need to subscribe to a cable provider, so the service isn't free.•
Please enable JavaScript to view this content.