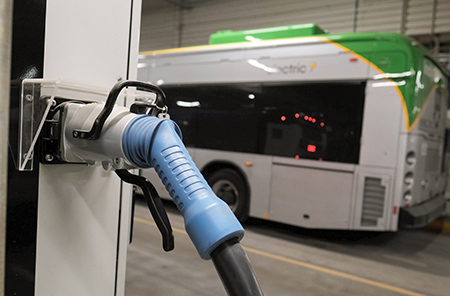 BYD Ltd., which is supplying the electric buses for IndyGo's Red Line route, has agreed to foot the bill for in-route charging infrastructure to compensate for shortcomings in the vehicles' charging ranges, IndyGo announced late Thursday. 
BYD, which is based in China but is producing its IndyGo buses at its plant in California, will install and pay for wireless charging hardware for each of the 13 Red Line buses, plus three charging pads to be installed at locations to be determined by IndyGo. 
Of those three charging pads, two will be installed along the Red Line and one will be installed along the planned Purple Line, said IndyGo spokesman Bryan Luellen. 
"We worked hand-in-hand with IndyGo to come up with a solution that ensures our buses will meet range requirements without delays," BYD said in a prepared statement. "IndyGo has been a terrific partner throughout this process, and we look forward to continuing successes as their fleet modernizes." 
The equipment will allow the buses to charge for 10-20 minutes during the day while drivers take scheduled breaks with no passengers aboard. These short charging sessions will be enough to keep the buses going during the day before returning to IndyGo's headquarters to fully charge overnight, the transit agency says. 
"This charging strategy will maintain the 10-minute service we've promised on the Red Line at no additional cost to taxpayers," Luellen said in a prepared statement. 
When IndyGo ordered the vehicles from BYD, one of the requirements was that the buses be able to travel 275 miles on a single charge—enough to allow them to operate all day between charges.  
But in cold-weather range testing, IndyGo was unable to achieve the promised range. On the coldest test day Jan. 30, when temperatures dropped as low as minus 10 degrees, the bus's range was only 152 miles. In 22 tests between Oct. 22 and March 19, the best that IndyGo drivers could achieve was a range of 256 miles. 
IndyGo says the buses' charging ranges have improved now that warmer weather has arrived. The buses no longer need to divert energy to providing heat in the buses, so more of the battery capacity can be devoted to propulsion.
"Numerous test days this spring resulted in range performance at and above the contractually required 275 miles on a single charge," IndyGo Vice President of Capital Projects and Planning Justin Stuehrenberg said in a prepared statement. "To date, the best range of any one test was 307 miles on a single charge." 
The Red Line, which is expected to open Labor Day weekend, will run between Broad Ripple and the University of Indianapolis.  
After the Red Line opens, IndyGo will begin construction on the 14.8-mile Purple Line, which will run between Lawrence and downtown Indianapolis. 
Please enable JavaScript to view this content.