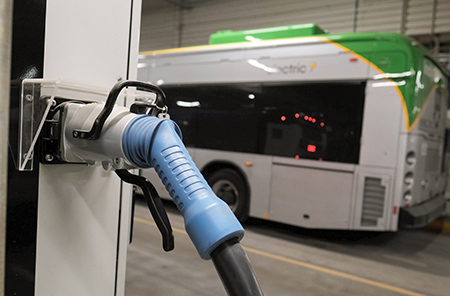 IndyGo says the electric buses it intends to use on the Red Line are falling short of expectations in an important way: Drivers have been unable to squeeze more than 256 miles out of a fully charged vehicle, despite the 275-mile charging range promised by manufacturer BYD Ltd.
And on the coldest days, the range falls well below 200 miles, IndyGo test results show.
IndyGo says it's working with BYD to resolve the problem, which will likely involve adding in-route charging stations and additional buses—at BYD's expense.
In soliciting proposals for Red Line buses, one of IndyGo's requirements was that the vehicles be able to run at least 275 miles on a single charge. In its proposal to IndyGo, BYD represented that its K11-model 60-foot electric buses met that standard.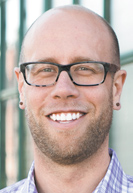 Luellen
"We're absolutely holding the contractor accountable to what's in the contract," said Bryan Luellen, IndyGo's vice president of public affairs. "We're actively working on a resolution."
In response to an IBJ query, BYD sent a statement that read, in part, "BYD continues to work together with our partner IndyGo to make sure the community receives buses that meet or exceed IndyGo's specifications and requirements."
BYD declined to address IBJ's specific questions, including why the buses are failing to reach the expected 275-mile charging range and what it is doing to address the problem.
"BYD is working to ensure all buses delivered to IndyGo will meet the range requirements of the original [request for proposals]. The model K11 is affordable and dependable and can be easily integrated into the IndyGo transit fleet," the company's statement continued.
Indianapolis is not the first city to have problems with BYD buses. Albuquerque, New Mexico, also ordered the 60-foot electric BYD buses for its new bus rapid-transit line, but the city sent them back to BYD in November, citing range shortfalls and other problems.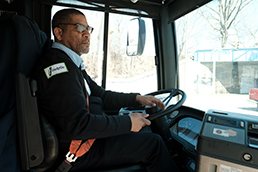 Terrence Harding, the lead driving instructor for IndyGo, has been helping to test the range of electric buses and found they are not meeting expectations. (IBJ photo/Eric Learned)
But news about problems in Albuquerque came after IndyGo had already ordered 31 60-foot electric buses from BYD, a China-based company whose initials stand for Build Your Dreams. The buses—13 to serve the Red Line, and another 18 for IndyGo's planned Purple Line—are being made at BYD's Lancaster, California, plant just north of Los Angeles. The factory began production in 2014.
IndyGo received its first bus in September, and as of last week had received five of the vehicles, Luellen said.
The buses won't go into official service until the Red Line launches, which is expected to happen on Labor Day weekend. But IndyGo has been doing range testing over the past several months—with disappointing results.
In 22 local range tests between Oct. 25 and March 19, the best that IndyGo drivers have been able to achieve is a range of 256 miles. On half of those tests, the buses have made it less than 200 miles before running out of juice.
Varied results
Electric-vehicle range is affected by numerous factors, including weather, terrain and driver behavior. How a driver uses the brakes, for instance, makes a difference because use of the brakes helps regenerate the battery.
But in general, the IndyGo tests show the buses' range diminishes as the temperature drops.
When each test began, the vehicle's battery was charged to a level of 95 percent to 100 percent.
On the coldest day of testing, on Jan. 30 when the temperature was minus 10 degrees, the bus began its test with a battery that was 98 percent charged. After only 152 miles, the charge had dropped to 5 percent.
On the six test days where the outside temperature was below 20 degrees, drivers never achieved a range of more than 196 miles.
IndyGo conducted 12 days' worth of testing when the temperature was in the 20s and 30s, achieving ranges of 178 miles to 256 miles.
On the four testing days when temperatures were in the 40s and 50s, drivers achieved ranges of 214 miles to 243 miles.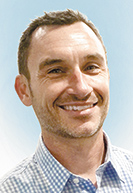 Hiott
"The major factor is the cold," Luellen said.
This is typical performance for electric buses, said Jeff Hiott, assistant vice president of technical services and innovation at the American Public Transportation Association.
"In colder climates where the heater is used, the range will be affected," Hiott said.
Electric buses generally have a higher charging range in warm weather, he said, in part because use of the vehicle's air-conditioner does not drain the battery as much as heater use does.
According to National Weather Service data, Indianapolis' coldest months—December, January and February—have average temperatures of 31.6 degrees, 28.1 degrees and 32.1 degrees, respectively.

But even in warmer temperatures, the buses have not achieved the 275-mile range IndyGo desired so they can run all day on a single charge, then recharge in a garage overnight.
That won't be possible based on the results IndyGo is seeing, Luellen said.
"Any solution is going to require in-route charging," he said. "We're working with BYD on the installation and location of those charging points."
The Red Line is a 13-mile north/south route that runs from College Avenue at East 66th Street in Broad Ripple to the University of Indianapolis.
What's likely to happen, Luellen said, is that, after each 26-mile round trip, a bus will pull up to a charging station and juice up for about 20 minutes while another vehicle leaves the charging station to continue serving the route.
More buses
According to BYD's proposal to IndyGo, its 60-foot electric buses take two to four hours to fully charge. The in-route pit stops will not charge the buses fully, Luellen said, but will provide enough charge to keep the buses going all day.
IndyGo has promised that Red Line buses will arrive at stops every 10 minutes during peak service hours. "Whatever solution we work out with BYD has to be to maintain that level of service," Luellen said, so adding midday charging stops into the schedule means IndyGo will likely need additional buses.
IndyGo is in conversations with BYD to provide two additional vehicles at BYD's expense, he said.
IndyGo's existing fleet can't easily run on the Red Line, because some of the Red Line's boarding platforms will require passengers to board from the left and existing buses have only right-side doors, Luellen said. The BYD buses have boarding doors on both sides.
Per its contract, IndyGo is to pay $1.2 million per bus, but it hasn't paid BYD yet.
IndyGo is using federal grant money to help fund the Red Line. And because the 60-foot electric bus is a new model for BYD, the Federal Transit Administration requires that it go through durability testing before federal dollars can be used to pay for the model.
The testing, known as Altoona testing, takes place at Penn State University's testing facility in Altoona, about 45 miles southwest of its campus. Altoona testing on the K11 is now in progress, BYD says.
IndyGo hasn't yet decided what to do about the 18 additional BYD buses it has ordered for the second phase of its bus rapid-transit project, the Purple Line.
IndyGo has the option to cancel its contract with BYD, Luellen said, but the transit system hasn't taken that step. "It's an option, for sure, but we're still working with the vendor to meet this September target date [for the Red Line]. We believe that there is a path to deploy the end-route charging and make these vehicles work."
Developing technology
Electric buses represent a small but growing number of U.S. transit vehicles, the American Public Transportation Association's Hiott said.
The association's most recent survey of transit systems, conducted in the summer of 2018, identified only 169 battery-electric buses, representing 0.5 percent of the buses in the survey.
That number is increasing as transit systems purchase additional electric buses, motivated largely by concerns about climate change and the need to comply with state and local mandates regarding vehicle emissions.
As the electric-bus market expands, Hiott said, there's also a growing realization about how much the operating environment affects a vehicle's charging range.
"The industry and the manufacturers are just having to learn that there's a lot of variation," Hiott said. "It's new, and the industry is learning. The technology is improving, but there's going to be some issues that sometimes don't live up to the advertised range."
However, battery technology is evolving rapidly, he said, and year by year, batteries are becoming more efficient and capable of storing more energy.
Meanwhile, Albuquerque is so unhappy with BYD that the city has taken the bus maker to court. The city got its first BYD buses in October 2017 and sent them back to the manufacturer in November 2018, filing a breach-of-contract suit the following month.
"We've exhausted our options with BYD," Albuquerque Mayor Tim Keller said in a prepared statement issued in December. "Through the legal process, we will professionally dissolve this relationship."
In the statement, the city said it was able to achieve only 177 miles per charge from the buses, despite higher temperatures there. It also cited safety concerns, including concerns with the brakes, doors that opened unexpectedly, cracked or improper welding, and exposed high-voltage cables.
The lawsuit is now pending in U.S. District Court in New Mexico. BYD has not yet filed its legal response to the suit. It has until April 8 to do so.
Jessie Damazyn, a spokeswoman for the city of Albuquerque, said she couldn't comment on the case while it's pending.
Luellen said IndyGo's concerns with the BYD buses are all related to charging ranges. The city has not experienced any of the safety-related issues Albuquerque reported, he said.
Both BYD and IndyGo said the 60-foot electric buses have passed the requirements of the Federal Motor Vehicle Safety Standards test and are safe for use in public transportation.•
Please enable JavaScript to view this content.