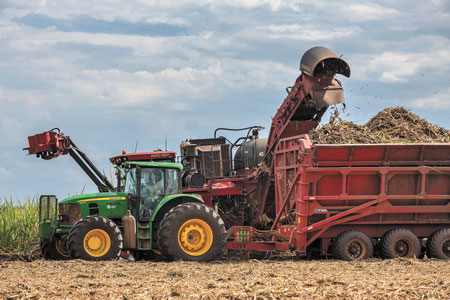 A Brazilian digital agriculture company that has set up its North American offices at Purdue Research Park in West Lafayette is pursuing one of the holy grails of 21st-century farming.
Solinftec wants to create a data-aggregation system powered by artificial intelligence that allows U.S. farmers to closely monitor everything from rainfall to tractor-fuel consumption, and use that data to develop ways to save money and increase yields.
The company has grown quickly over the last few years by offering data-crunching products to increase the efficiency of sugarcane farms in Brazil and now hopes to broach the North American market by expanding its expertise into crops such as corn and soybeans.
"Multiple technologies and practices in agriculture were born in North America and then shared across the globe," said Solinftec Chief Operating Officer Daniel Padrao. "In order to continue growing as a leader in digital agriculture, we needed to have a presence here."
Snagging the firm's U.S. headquarters was a coup for Purdue University and West Lafayette, which hope to turn the Research Park into a hub for high-tech agriculture companies and startups.
"It's definitely one of our ideal ag bioscience firms to attract to Indiana," said Beth Bechdol, president and CEO of Agrinovus Indiana, a public/private partnership charged with luring such companies. "We would categorize it very much as a big win."
The company has moved a handful of employees to West Lafayette and plans to have as many as 334 local hires by 2022.
It will likely need them, given the complexity of what it hopes to accomplish.
For years, farmers have been bombarded with digital products offering real-time info about pretty much every aspect of their operations. Most of these are available as phone apps, and it's not unusual for today's modern sodbuster to have a dozen or more on his or her phone. The apps range from GrainTruckPlus (which tells farmers how and when to deploy farm vehicles) to Pocket Spray Smart (which helps determine optimal field-spraying conditions) to Pocket Rain Gauge (which is self-explanatory).
However, there are only so many hours in the day, and the typical farmer needs to spend that time working—not staring at his or her phone, trying to find practical applications for myriad uncorrelated data streams.
"Developing a platform that can pull all of that data together into one location, so that a farmer can actually make a decision based on that information, is very difficult right now," said Laurie Bedord, executive editor of the trade magazine Ag Technology.
Making sense of the data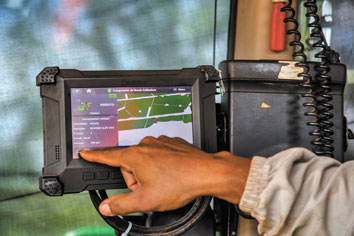 Farmers in Brazil use Solinftec internet-of-things platforms integrated into their farm equipment to harvest sugarcane. (Photo courtesy of Solinftec)
That is where companies like Solinftec come in. They're offering what amounts to information aggregators, which use artificial intelligence to synthesize torrents of data into practical suggestions on everything from how to save fuel to when to plant. Think of it as an Alexa for the farm.
Solinftec's product even has an Alexa-like name: Alice. It's a little black box you can mount in your tractor, if you so desire. And yes, it talks.
The company that corners this particular market will make a great deal of money. In this race, Solinftec acted early and has an advantage. The Brazilian company began by crunching data for sugarcane farms, where it now has 2.4 million hectares (just shy of 6 million acres) under management.
"We foresaw that the next bet would be the U.S.," said Renato Hersz, Solinftec's strategy and corporate development director. "We already operated in sugarcane, citrus, coffee, forestry and perennials. Now we wanted to focus on soybeans, corn and cotton.
"The plan is to adapt our solutions to the needs of a given crop in a given region. But it's the same hardware and software across the board."
The company expanded carefully into North America, because the market, though lucrative, is very different from that of their native country. Weather conditions are much more changeable, the crops are different, and the operators are, in general, much smaller than Brazil's massive corporate sugarcane farms. Which is why one of their first linkups was with 17,000-acre Tom Farms in Leesburg, which grows corn and soybeans near the Indiana border with Michigan.
The farm's managing member, Kip Tom, has for years advocated for advanced ag technology. A member of numerous farm organizations, and a board member of the Indiana Economic Development Corp., he's also served as a crop production consultant for companies in Argentina, Chile and Brazil. Last month, Tom was confirmed as the new U.S. ambassador of agriculture at the United Nations.
When Solinftec sought out a pilot farm to test its concepts in the United States, Tom Farms was a logical choice. Their work there is still ongoing.
"There are quite a few differences in the U.S. and Brazil between crops and farm management practices," said Tom Farms partner Kris Tom. "I believe they were hoping to adapt and learn how we can utilize our systems, methods and operations to be more efficient with our assets, such as equipment, fields and crop-care products."
The hard sell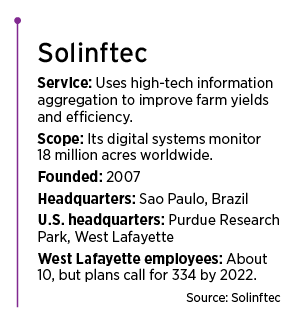 Kip Tom, who is now based in Rome and didn't respond to interview requests, was also instrumental in bringing Solinftec to Indiana. The pivotal moment happened in March 2018, at an Ag Tech conference in San Francisco. Tom was having dinner with the Solinftec management team and invited Agrinovus Indiana's Bechdol along.
Over the course of the meal, the Solinftec team members were asked when they planned to come to the United States in a big way, and where they hoped to set up shop.
"Their response was, 'We're coming ASAP and we're thinking about Champaign, Illinois,'" Bechdol recalled. "That's when I decided to assert myself."
Thus began a multipronged sales pitch that included state officials, businesses, and regional and statewide farming organizations. Agrinovus orchestrated the effort, which reached its conclusion with gratifying speed.
"We continued to serve as a liaison and a clearinghouse for them for a lot of different conversations," Bechdol said. "Next thing you know, they're moving people from Sao Paulo to West Lafayette."
"We visited Purdue, and got our minds absolutely blown," Hersz said. "While we were driving there, all we saw were rows of corn and soybeans. It's a bit in the middle of nowhere, but that's exactly where we need to be to be close to our clients."
The long list of groups that worked with Solinftec included the Wabash Heartland Innovation Network, a consortium of 10 north-central Indiana counties that, with a $40 million Lilly Endowment grant, is pushing the use of internet-enabled sensors to advance digital agriculture. The fact that the group's mission closely mirrors that of Solinftec helped close the Indiana headquarters deal.
Wabash Heartland Innovation Network "is launching a program connecting progressive farmers together and facilitating opportunities for them to adopt new technologies that can advance their operations," said the group's CEO, Johnny Park.
The network is providing Solinftec technology to each of its members.
"The technology will be installed in the farmers' equipment with the goal of proving that Solinftec's data and the insights they have gathered through the Brazil sugarcane industry is applicable to the U.S. agriculture market," Park said.
Real-life applications
If Solinftec is the one, or even one of the ones, to get all this data aggregation right, the increases in farming efficiency and productivity could be game-changing. For instance, in Brazil, the company was able to reduce fuel consumption at one farm simply by jiggering the way trucks followed harvesters around. And it has been able to cut the amount of herbicides and insecticides used on crops by applying them only at optimum times.
"If you spray at a high wind speed, you get drifting," Hersz said. "If you spray during high temperatures, you get evaporation. If you spray during high humidity, some chemicals can burn the plant. We capture weather data in real time, and we trigger the spraying process based on that.
"By doing that, we managed to reduce the volume of chemicals applied by between 10% and 20%."
Not that there aren't problems. The company is racing larger, deeper-pocketed competitors ranging from John Deere to IBM. And many farmers are averse to sharing their proprietary data, just as the average Alexa user isn't thrilled about having a digital assistant nose through his or her contact lists. But to get the full benefit of a Solinftec-like system, farmers need to surrender data that, in their eyes, amounts to trade secrets.
"Data ownership and data privacy are big issues with farmers when it comes to their information," Bedord said. "They all have their own 'secret sauce' on how to grow a crop. Who can you trust with that information? And if I give a company all my data, what happens if they disappear a couple of years from now?"
And then there's the necessity for fast, efficient internet connectivity. That's essential for fast processing of ag data. And in much of the American hinterland, it's unavailable.
"This is a real challenge to rural Indiana," said Wabash Heartland Innovation Network's Park. "This deficiency is creating a widening gap for productivity and quality of life. WHIN has formed key partnerships to support the effort of providing high-speed broadband access to every home and business in the north-central region."
As of now, only about a dozen people work in Solinftec's West Lafayette office, but that number—and the programs in which employees are involved—will soon balloon. They will have to, if the company wants a slice of North America's informatics boom.
"Every time we enter a new market, it's like we're looking at a new canvas," Padrao said. "We put ourselves in a position that allows us to learn the problems farmers face in that market and then develop solutions for those problems with measurable results."•
Please enable JavaScript to view this content.