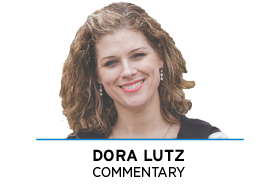 Every week I am privileged to spend time with a variety of social entrepreneurs who are building world-changing organizations. Each has innovated to build financially-sustainable business models that address some of our most pressing environmental or social concerns.
A few thrilling examples:
◗ A device that can prevent the spread of cholera in emerging markets.
◗ Biodegradable drinking straws that function like plastic (at the same price).
◗ A reporting tool and training program to enhance diversity and inclusion training.
These social entrepreneurs don't choose between profit and social impact. They pursue profit by making social impact and then use those resources to further expand their impact. Not only are these smart business models with the potential to become hugely profitable, they're fun, meaningful and inspirational.
The good news: If you've considered the role of your business on the community while also considering profit, you've engaged in social innovation, regardless of your mission or your tax-status.
The great news: These tools are accessible to businesses at any point in your organization's lifecycle.
Social innovation affects businesses and community by:
1. Driving internal alignment.
About 86% of job seekers say they want to work for a socially responsible employer, and they are willing to put their money where their mouths are. Evidence shows that socially minded employees are willing to take up to a 27% pay cut to have a job that makes a meaningful difference. They are more loyal, work harder and are less likely to become injured on the job.
2. Creating a global market.
In 2016, members of the United Nations identified 17 sustainable development goals that must be addressed to enhance human wellbeing. Understanding these goals makes it easier to communicate your vision for social impact—and to identify who else needs your product or solution.
3. Identifying meaningful solutions.
Many times, innovations tend to relate to small technical improvements or pricing advantage. Social innovation creates an entirely new way to identify pain points we can solve. It also challenges us to think bigger and understand how our product or service could have a positive impact on the world, not just gain a marginal standard of improvement over our primary competitor.
4. Sparking collaboration.
Social innovation changes the game from fighting over a slice of the market share to understanding how to increase the potential available market. This work allows us to shift the conversation from cost-increasing competition to revenue-increasing opportunities for an entire industry or community.
5. Identifying creative funding sources.
Socially focused businesses achieve market rate returns and make a positive impact. In fact, the Global Impact Investment Network shows that 91% of social investments achieve expected financial returns while meeting impact goals. These dual metrics mean funding sources can be found anywhere financial or social impact is important, including from individuals, mutual funds or foundations.
Social innovation holds possibilities for every business. More importantly, social innovation holds possibilities for Indiana. Hoosiers have long valued philanthropy and common-sense business leadership. We are deeply indebted to the not-for-profit leaders and funders that have helped us to thrive, and these groups have important work that must be continued.
But there is also room for social innovation to create sustainable solutions for the challenges that persist.
Want to learn more and move these efforts forward? Here are three ways to drive impact in your business and your community:
◗ Engage your teams. What resources or skills exist in your organization that could be used for social impact? Challenge them to understand their role in your organization, and to seek out world-changing innovations.
◗ Attend an event where business leaders are sharing best practices for building impact. There are many: Engage Indiana, Conscious Capitalism and trueU are three organizations all gaining momentum.
◗ Participate in innovation showcases and pitch contests where social enterprises are encouraged to share their business models. Even better, invest in these organizations.
It's time for us to think bigger.
Indiana is positioned to be the place people choose to live when they want to change the world, and that investors seek out when they want innovative social investment opportunities. And where the socially minded have a community that supports their world-changing ideas.•
Lutz is founder and president of GivingSpring.
Please enable JavaScript to view this content.