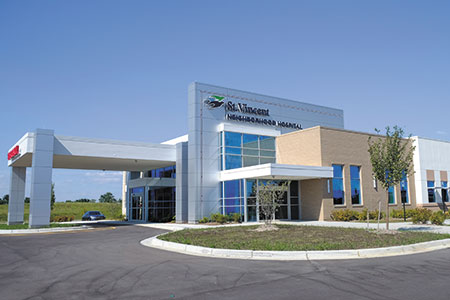 St. Vincent's tiny "neighborhood hospitals," which specialize in offering emergency care without long waits to see a doctor, are adding 24-hour urgent care to their lineup.
St. Vincent now operates five such hospitals in Noblesville, Avon, Castleton, Plainfield and the south side of Indianapolis. It also has built three others—in Brownsburg, Greenwood and a second location in Noblesville—but they have yet to open.
The Indianapolis-based health system said Monday that adding 24-hour urgent-care services for less serious ailments, such as ear infections, minor cuts and sports injuries, will make health care more helpful and convenient to patients who are unsure which level of care they might need. St. Vincent already operates more than a dozen urgent-care centers in central Indiana, but those are open 13 or fewer hours per day, not 24.
"This 'one-stop shop' approach is designed to help consumers avoid confusion when deciding whether to seek treatment in an emergency room or an urgent care facility," St. Vincent said in a statement. "The St. Vincent Neighborhood Hospital locations will also offer patients a price advantage when a visit qualifies as urgent care versus emergency care."
It's the latest example of St. Vincent's aggressive push into alternative settings for health care, as it looks for ways to serve patients beyond the traditional full-service hospital. Two years ago, it opened its first tiny hospital, in Noblesville. The building measures about 17,000 square feet—less than one-tenth the size of a traditional hospital. The tiny hospitals are so compact you could build three of them side by side on a football field with enough room left over to park a dozen ambulances.
The neighborhood hospitals each include a pharmacy, laboratory, and X-ray and CT-scan machines. They initially were set up to treat broken bones, chest pain, deep cuts, head injuries, heart attacks, heavy bleeding and other emergencies. They also have seven overnight beds.
It's unclear how quickly the small hospitals have caught on with patients. St. Vincent did not immediately provide figures on emergency visits, overnight visits or average length of stay. It did not make hospital officials available for an interview.
St. Vincent initially built the hospitals as a joint venture with Tandem Hospital Partners, based in Houston. That company went out of business last year, and St. Vincent took over all operations and ownership. St. Vincent has marketed the tiny hospitals as more convenient and quicker than traditional hospitals, with an average "door to doctor time" of less than 10 minutes.
Critics have said the tiny hospitals—sometimes called "micro-hospitals"—will add unneeded hospital beds to a region already suffering from a glut of them, and will allow owners to game the system by charging full hospital rates to Medicare and private insurers. Defenders say the move is all about providing convenient service and putting patients first.
In its announcement, St. Vincent initially said it is also planning to rebrand the neighborhood hospitals, but did not offer details. It later said that announcement was premature.
St. Vincent is owned by St. Louis-based Ascension, the nation's largest Catholic health system. St. Vincent's flagship hospital is on West 86th Street in Indianapolis.
Please enable JavaScript to view this content.