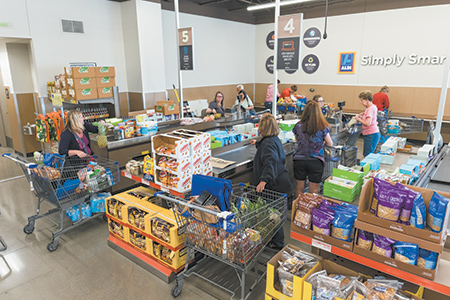 Discount grocer Aldi is seeking approvals from the city of Fishers to take over a retail space vacated last summer by The Fresh Market at the busy intersection of 116th Street and Cumberland Road.
The Germany-based discount grocery chain has asked the city's Planned Unit Development Committee for permission to make architectural changes to the façade of the roughly 24,000-square-foot store space in the Delaware Commons retail center. The Fishers Department of Planning & Zoning is recommending approval of the request, which will be heard Wednesday.
The store at 9774 E. 116th St was one of 15 that Greensboro, North Carolina-based Fresh Market announced it was closing last July for underperformance. Fresh Market has two others area stores, at 2490 E. 146th St. in Carmel and at 5415 N. College Ave.
The store would the first for Aldi in Fishers, although it does have a location just south of Fishers on East 96th Street, just east of Interstate 69. Aldi has at least 23 stores in the Indianapolis area and is in expansion mode.
In a recent email to IBJ, Aldi said its new locations are part of a $3.4 billion investment the company is making to expand to 2,500 stores nationwide by the end of 2022. It currently has about 1,600 U.S. stores.
Founded in 1913, Aldi historically has been known for its no-frills approach to grocery shopping, mostly selling non-perishable items under its own brands direct from the packing boxes. As part of its growth plans, it is taking aim at more upscale buyers by expanding its meat and wine offerings while jumping into the organic and gluten-free markets.
The Fishers location is in the same center as LA Fitness and across 116th Street from a Kroger that underwent a multimillion-dollar expansion in 2017.
Crew Carwash sought city approval to develop the outlots along 116th Street in front of the center into a $5 million carwash, but Fishers rejected the petition. Instead, Crew decided to build a 40,000-square-foot headquarters and 5,700-square-foot carwash nearby on five undeveloped acres near the northwest corner of 116th Street and Exit 5 Parkway, next to Top Golf and behind a Riverview Health urgent care center.
Please enable JavaScript to view this content.