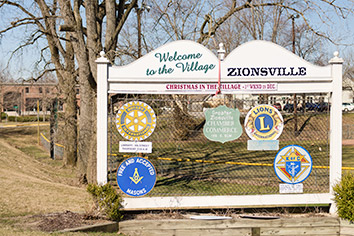 The Zionsville Town Council voted 4-3 Monday night to reject a controversial proposal to build a 184-unit apartment project just south of the town's quaint downtown village.
The vote came about a month after the council deadlocked in a vote to rezone a site near the southwest corner of Sycamore and Second streets for a project called Sycamore Flats that includes luxury apartments and about 5,000 square feet of commercial space.
Jason Plunkett, the councilor who missed last month's meeting—leading to the tie vote—voted against the rezoning. The remaining councilors repeated their previous votes. Councilors voting in favor of the rezoning were Susana Suarez, Elizabeth Hopper and Tom Schuler. Also voting against were President Josh Garrett, Bryan Traylor and Kevin Spees.
But first, councilor Susana Suarez made a motion to continue the decision, which also was rejected 4-3.  
Carmel-based JC Hart Co. Inc. had requested the town rezone 4.3 acres of land from the village business district designation to a planned unit development to facilitate the $40 million project, which would include a parking garage in addition to the apartments and retails space.
Neighbors opposed to the project took issue with its density (46 units per acre), the potential burden it would place on town resources and its likelihood to create traffic issues in the downtown area.
Those in favor of the project said it would create an economic engine for area businesses while creating new living options for millennials and empty nesters.
At least three other projects have been proposed for the site in the last three years. Two included multifamily residential development and the other was solely commercial.
Prior to the vote Monday night, the town council heard testimony from three people against the project and two in favor.
The residents who spoke against the rezoning reiterated much of what had already been discussed.
Shari Jenkins, who owns two restaurants in the area, said customers come from all over Indiana to eat at her restaurants and they visit because of the village's unique quaintness. She called the project a "concrete jungle" and said building a project that large in that location is like "putting an elephant in a hamster cage."
"Although I'm not at all opposed to growth or development, this project … is not what this village needs," she said.
The two residents who spoke in favor of the project were both plan commission members who voted to send a favorable recommendation on the rezoning to the town council. Both spent time defending the plan commission's vote and the role it plays in rezoning decisions.
Commission member Larry Jones said the town has a history of driving good developments out, citing the Little League International Central Region headquarters project that would have been built in Zionsville but was opposed by residents because of a residential development tied to it.
Before voting, councilors took turns reading statements defending their positions, while also chastising some residents who were disrespectful in the process. Councilors cited negative interactions they had with residents who were unhappy with their previous vote. Suarez said someone approached her children at the grocery store, telling them their mother "had been sold." 
They called for more civil discourse going forward.  
Once the vote was final, residents who packed the council chambers and an overflow room erupted in applause.
Please enable JavaScript to view this content.