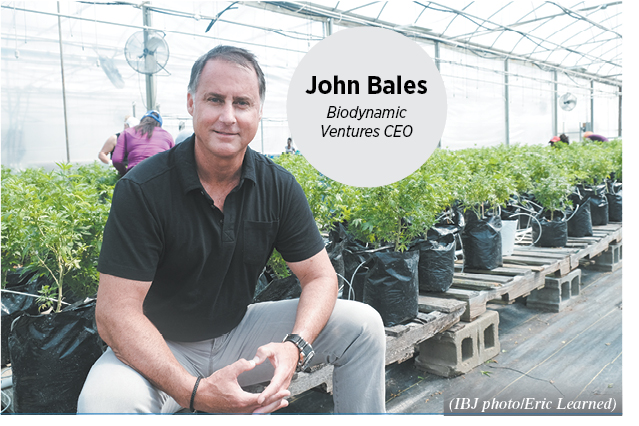 John Bales, founder and CEO of Biodynamic Ventures, is among a growing number of entrepreneurs trying to get in on the ground floor of what is being called the "green rush" by those who predict hemp will be the cash crop of the future.
Bales, 52, started his company in cannabis-friendly Colorado four years ago and moved operations to his home state of Indiana last year when it became apparent that hemp farming was on the verge of being legalized.
Biodynamic Ventures and its subsidiaries operate two greenhouses in Colorado and four in the Indianapolis area, plus a research and operations center in a former Osco drugstore on the south side of Indianapolis, where they are developing mother plants. Hundreds of thousands of clones from those plants will be sold to farmers who will grow hemp, harvest it, dry it and sell it back to Biodynamic Ventures, which will process it to remove the cannabidiol, or CBD oil.
The company plans to open a $15 million to $30 million hemp-processing facility in the Indianapolis area by October where it can extract CBD oil from the incoming harvest of hemp.
The oil will be used in Biodynamic Ventures' Denver CBD products and sold to other CBD product manufacturers. Biodynamic Ventures opened its first local Denver CBD retail store at 8235 E. 96th St. on May 31.
Bales said he became convinced of the viability of CBD when it helped his mother find relief from her fibromyalgia. He feels strongly that being involved in every step of his product's production from start to finish will set Biodynamic Ventures apart in the fledgling industry.
What are you finding out about hemp growth in Indiana as opposed to Colorado?
In Colorado, you can do really well indoors. In Indiana, it's the complete opposite. We're doing really well outdoors, which is super encouraging, because these plants love Indiana. We're hopeful and pretty optimistic that we're going to get big production out of Indiana.
What's been the reaction from farmers in Indiana when they hear about hemp?
Part of what's happening is that farmers are now learning that hemp is legal and it can provide a lifeline, because you can put this plant in the ground in mid-July and still harvest a crop. So, when bad weather affects soybeans and corn, like it's doing this year, it really doesn't affect us.
The Food & Drug Administration isn't regulating CBD, but there is a lot of talk about it. Do you see that coming?
Absolutely, and it needs to. This is a product that you're putting directly into your bloodstream. If you put it underneath your tongue or vape it, you're absorbing it directly. Last I checked, arsenic is not good in your bloodstream, and there will be CBD products out there that will have it. It needs to be regulated to food-quality standards.
You have a long resume. You have been in real estate a long time and you've started a number of businesses. Why hemp?
I believe in this product. It's good for the environment, it's good for the earth, it's good for the farmer, it's good for the economy, and it's good for the consumer—if it's done right. I've never been in an industry that's so positive and touches so many people. I've developed real estate; I've been in the oil business, in the dry-cleaning business, the restaurant business. This one gets me out of bed because I'm super-happy to go do it. Coupled with the fact that we're going to make a lot of people a lot of money.•
Please enable JavaScript to view this content.