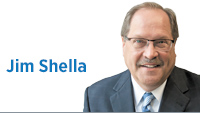 I was watching the local news the other night and saw a blurb about a new housing complex on the westside. It has been built on the site of the abandoned Central State Hospital, the news reader said. I wondered: How many people even remember Central State at this point?
The institution once labeled as "hospital for the insane" closed 25 years ago because of funding problems and changing views regarding mental health treatment, among other things.
Well, views regarding mental health treatment are still changing. And the problem with homeless panhandlers in the downtown area is all the evidence you require to understand there is a dire need for progress to be made.
I was recently given the opportunity to witness one effort to improve the situation when I was invited to take a tour of the Circle City Clubhouse. Chances are you have never heard of it. I hadn't, until I was filled in by a neighbor who volunteers there.
The clubhouse resides in a onetime insurance office near the Lafayette Square Mall. It's a rundown building in a rundown part of town. But what goes on there is uplifting.
Everyday dozens of people who experience mental illness come to spend eight hours, a period designed to mimic a normal workday. Some of them show up five days a week, some less often. They get structure, companionship, guidance, recreation and more. Some take classes. Others receive job training.
The clubhouse assists them in gaining employment. Goodwill, Second Helpings and others now employ Clubhouse members.
All those members take responsibility in the operation of the facility by cooking, cleaning and even raising chickens in the backyard. The members manage a website at centralindianaclubhouse.org and they create a newsletter, which recently featured a member saying, "Try to realize that we're all trying to be productive members of the community."
It's a time-tested concept, started at Fountain House in New York City in 1948. A training program for the clubhouse model was created in 1977 and now there are clubhouses in more than 300 locations around the world, according to the Clubhouse International website. All those clubhouses follow an established set of standards. Every clubhouse gives assistance to about 500 people who experience mental illness.
The clubhouse is a not-for-profit. It does receive Medicaid payments for some of its services, but it needs people to donate and it needs employers to hire members. More than anything, it needs more people to know it exists. That way it can attract more members and expand services.
On the day I visited, so did Vop Osili, the president of the City-County Council. A couple of state legislators have also visited, and more will be invited. But the limited staff is sometimes torn between a need to assist members and the job of getting the word out. And so, I'm trying to help by writing this.
President George H.W. Bush once talked about the concept of a thousand points of light regarding the way that volunteers and not-for-profits can improve life in America. I know that President Donald Trump ridiculed that concept when he ran for office, but I also know that there are points of light in our community that make this a brighter place for all of us. I believe that the Circle City Clubhouse is one of those.•
Click here for more Forefront columns.
Please enable JavaScript to view this content.