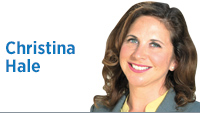 Take a deep breath, stretch, look a teenager in the eye and ask how he or she feels about politics these days.
You probably have already imagined the kind of answer you're likely to get. Just like you, most of our young people are soured on the vitriol—party flavor notwithstanding. Young and old, as we head into the upcoming presidential election season, you might feel the need for civic inspiration. Remember when you felt enthusiasm for this time? It can engage your mind and heart almost like the Olympics. Yet, for too many of our friends and neighbors today, it's more like dreading a dental appointment when you've been feeling a painful ache for far too long.
Here in Indiana, there is a force for civic health you might not know about that can also recharge your patriotic batteries as we head into silly season.
Indiana's very own Benjamin Harrison was an American statesman, Civil War hero, and U.S. president. There is much to be learned from his story, but leaders at the Benjamin Harrison Presidential Site have collaborated with local funders and other partners to build on his legacy to benefit generations to come.
For the past several years each June, they have convened young teens from our community in a five-day program to support their civic engagement while they are still too young to vote, serve their country in the military, or run for office. The leadership camp is called Future Presidents of America. And these kids are nothing short of amazing.
Focusing on citizenship, leadership, personal development and history, these young people choose to wake up early and spend their days actively engaging in meaningful classwork and activities rather than lounging around playing Fortnite.
Using a historical American presidency as a lens of understanding is particularly effective now as these young people come of age in a time when America is so politically divided. It is easier to venture on a personal path to discovery when present-day politics are neutralized through debate of history made vivid and relevant by thoughtful presenters from various perspectives and political affiliation.
This is also an important question for teens to ask themselves as they react to today's latest news reports, but also as they watch us adults casting votes—making decisions on their behalf that will impact their lives for years to come.
Together, the class of students from all income levels, and of many backgrounds, begins each day together with a flag-raising ceremony. I can only imagine how this ceremony gains meaning for each participant as the days pass and the lessons of the week begin to blossom in their hearts and minds.
Just before the graduation ceremony, the teens will hold a wreath-laying ceremony at the grave of President Harrison. Formally honoring the man and his legacy to our country while they set aside political differences seems the perfect capstone for these young patriots. It certainly inspires me to honor them and their good example as we navigate our own way through the divisive politics of today.
Not only are they an antidote to bilious partisan bluster, they and other young people like them motivate us to be better citizens ourselves.
So, if you are under 16, be sure to inquire to the Benjamin Harrison Presidential Site about applying next year. And if you are over 16, like I am, perhaps we should gang up and plead for them to create a similar program for adults. We sure do need it more than ever these days.•
Click here for more Forefront columns.
Please enable JavaScript to view this content.