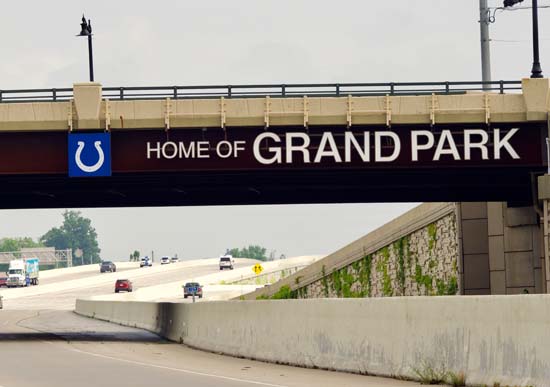 The Indianapolis Colts have struck a multiyear naming-rights deal with a local tech firm to sponsor the team's training camp at the Grand Park Sports campus in Westfield, the team announced Wednesday morning.
The partnership between the Colts and Kerauno LLC, a communications software-as-a-service company founded in Indianapolis last year, will allow the team to utilize the firm's products as part of a larger marketing strategy.
Terms of the deal were not disclosed, but the sponsorship is expected to last "several seasons." A source told IBJ the deal will last at least three seasons, with a one-year option. The team's training camp was previously sponsored by Verizon.
The Colts plans to use Kearuno's Launch platform throughout training camp and the 2019 season, relaying updates, events and promotions to fans. Launch provides clients with business-engagement and data-gathering tools.
"The Colts are all about connecting people through the power of sports," Roger VanDerSnick, the Colts chief sales and marketing officer, said in a written statement. "Likewise, Kerauno specializes in connecting people with businesses through their innovative technology, and we are excited to join forces with them and Indianapolis' thriving tech community."
Fans and attendees to the team's 2019 training camp, slated for July 25 to Aug. 15, can sign up to receive updates about players, events and various camp-related activities, the Colts said.
There is no cost to attend training camp, though fans and guests are required to have a ticket to enter each day. Those tickets can be obtained for free at Colts.com/Camp.
Please enable JavaScript to view this content.