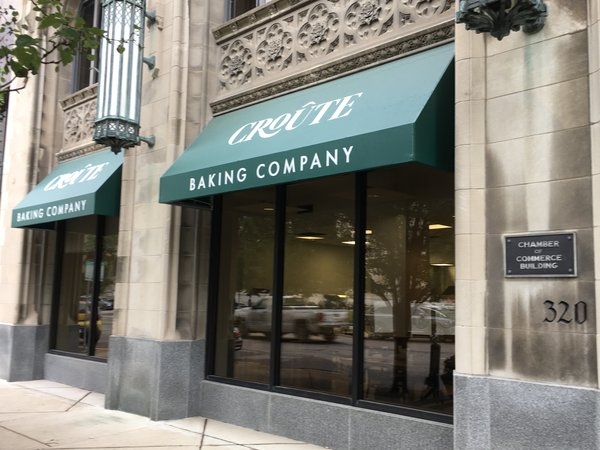 Indianapolis-based Cunningham Restaurant Group is preparing to open a new downtown establishment—not a restaurant, but a multipurpose facility called Croute Baking Co. that will include a developmental kitchen, production bakery and a small retail operation that serves a limited menu of to-go foods.
Croute has taken over 3,000 square feet on the ground floor of the Chamber of Commerce building at 320 N. Meridian St., in a space recently occupied by Sunrise Cafe and, before that, Ed and Marge's Cafeteria. Part of the operation is already up and running, with other elements to follow in coming months.
"We're going to accomplish four things in this thing," said Cunningham Restaurant Group President and CEO Mike Cunningham.
The restaurant group operates 31 restaurant locations in Indiana, Ohio and Kentucky, including Bru Burger, Stone Creek Dining, Livery, Nesso Coastal Italia and others. 
Croute will include a research and development kitchen for all of Cunningham's properties, as well as a 10-seat chef's table where customers can book 12-course dinners to sample the chefs' creations.
"It really just gets our chefs cooking for people and getting feedback on what they're doing," Cunningham said. "This is a first for us."
The research and development kitchen is up and running now, with the exception of an oven that needs to be delivered and installed, Cunningham said.
The chef's table will likely begin accepting bookings in October.
Croute also will include a bakery—a place where Executive Pastry Chef Hattie McDaniel will oversee the production of bread, pastries and desserts for use at Cunningham properties.
The fourth component of Croute will be a small retail operation selling coffee, pastries and a limited selection of grab-and-go sandwiches and salads. The retail component should open in August.
Having the new dedicated space will allow baking and the research and development operations to function more efficiently, Cunningham said. 
Currently, Cunningham said, McDaniel works out of a large kitchen at Nesso Coastal Italia in the Alexander Hotel in downtown Indianapolis. And chefs work between a few different Cunningham properties when developing new recipes.
But creating new menu items can be difficult to do in a working kitchen, Cunningham said. "You start to get in the way."
About the name: Croute is the French word for "crust." The phrase "en croute" refers to food that is baked inside a pastry crust.
 
Please enable JavaScript to view this content.