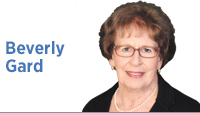 Having spent 24 years in the state Senate and more than six years as a layperson working on state commissions, I am now looking through the other side of the lens.
What I see is far different from what I experienced the previous 24 years. For example, unlike legislators, those serving on commissions must take an online ethics course and are tested on it. As a member of the Environmental Rules Board, I am not allowed to let someone who might have an interest in actions of the board so much as buy me a cup of coffee. That's quite different from policies that let lobbying expenditures exceed $18 million from November 2018 through April 2019.
The sway of special interests was never clearer to me than when I chaired the 2017 Alcohol Code Revision Commission and then observed the 2018 commission. The lack of legislative actions taken on many of the commission's recommendations was highly disappointing.
Then-Senate President Pro Tem David Long asked me to chair the first year of the commission primarily because these were issues I had never had a stake in. Legislative leaders directed the commission to study retail issues in the first year, while wholesale issues would be tackled in the second year.
The commission was made up of eight current legislators, several of whom were in a position to control outcomes of most alcohol legislation. Additionally, there were eight lay commission members, plus me as chair. The lay members had varied professional backgrounds and, I found, were outstanding thinkers and dedicated members.
The retail issues focused primarily on two concepts that typified Indiana's "Prohibition era" alcohol laws—the ability to sell alcohol for carryout on Sunday and the ability of drug, grocery and convenience stores to sell cold beer.
Following many meetings, including hours of testimony, it was clear from commission discussion that there was a willingness to allow Sunday sales and possibly cold beer at convenience stores, if steps were taken to increase enforcement, modernize the Alcohol and Tobacco Commission, implement more effective intervention programs through the courts, and reform the escrow process for alcoholic beverage permits.
The 2017 commission supported a comprehensive package that included alcohol reforms (cold beer and Sunday sales) in exchange for increased restrictions on alcohol sales and additional dollars for enforcement. The cold beer vote was 8-7 but nine votes were needed for majority recommendations. The Sunday sales vote was strongly in favor of that change. The 2018 Legislature enacted Sunday sales but failed to consider the other recommendations.
For the 2018 commission deliberations, House Speaker Brian Bosma selected respected former state Rep. Jim Davis as chair. Davis had chaired the House committee that controlled the outcome of most alcohol legislation. Surprisingly, the Legislative Council, at Bosma's request, directed the commission to focus solely on three specific issues. All three were important but were far from the original intent of focusing on wholesale issues. During the 2019 legislative session, legislation was enacted reforming the escrow process for liquor licenses. Some accountability measures for the ATC were also enacted.
Throughout the process, it was abundantly clear that the liquor-store lobby was in control and had been for years. Policies have not kept pace with current marketing trends, while prevention and intervention programs are still inadequate.
It must be discouraging to the commission's lay members who spent countless hours over two interims listening to expert testimony to see so much of their work ignored. For real reform on high-stakes issues like this, recommendations need to come from committees where money and campaign contributions are not a factor.
As I stated, the view looks different from the other side of the lens.•
__________
Gard is a former Indiana state senator and chairs the Environmental Rules Board and the Indiana VW Mitigation Trust Fund Committee. Send comments to ibjedit@ibj.com.
Click here for more Forefront columns.
Please enable JavaScript to view this content.