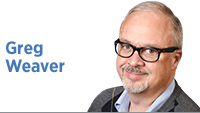 There's no question that Neil Armstrong's walk on the moon 50 years ago was a giant leap for mankind. But many scientists and entrepreneurs will tell you many more steps are needed to take full advantage of this achievement.
As museums, libraries and Armstrong's own Purdue University mark the momentous anniversary next month of the Apollo 11 mission, some believe it's time to renew a push to the moon to build a new economic frontier.
Vice President Mike Pence has been one of the biggest cheerleaders for a return to the moon. In April, he said it was the stated policy of the Trump administration to send the first woman and the next man to the moon by 2024.
A confusing tweet by President Donald Trump earlier this month cast a bit of doubt on his commitment to moon travel. But administration officials later reaffirmed a commitment to a moon landing as an important next step in a bid to reach Mars.
Clive Neal, a lunar scientist at the University of Notre Dame, said he is encouraged by recent developments at NASA that he says could help jump-start the lunar economy.
The agency has awarded $254 million in contracts to three companies to develop robotic lunar landers that NASA and other customers will essentially buy a ride on for their research.
The winning companies are Astrobotic of Pittsburgh; Intuitive Machines of Houston; and Orbit Beyond, in the New York City area. But there's no reason Indiana companies couldn't benefit one day from a burgeoning space-exploration economy.
"Nowadays, we need to show the taxpayers there's a return on this investment and I think that's what the [NASA] administrator is now doing with the commercial payload services," Neal said.
"The problem is that the public thinks that, when we send astronauts back to the moon, it's a drain on the government budget because that's how it was with Apollo, and it doesn't have to be that way," he added. "It can actually be used to stimulate the economy and invest in your company."
Lunar missions also will provide a job market for college students who have been trained in space science and engineering and can't find jobs in their chosen professions.
What will we be able to accomplish if we encourage commercial ventures to go to the moon?
Some believe we could potentially mine the moon for valuable resources such as rare metals and helium-3, a clean and non-radioactive energy source.
We also could make further steps toward a Mars mission by mining lunar water ice. It can be converted to oxygen, liquid water and rocket fuel and, if plentiful, could help sustain space colonies on the moon that might serve as a way station to Mars.
But, most of all, it would open up a whole new economic sector, an endless sky full of astronomical opportunities and risks.•
__________
Weaver is the director of communications for Indiana Humanities and a former editor at The Indianapolis Star. Send comments to ibjedit@ibj.com.
Click here for more Forefront columns.
Please enable JavaScript to view this content.