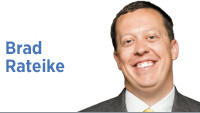 Recent news that Rep. Susan Brooks will conclude her service in the U.S. House of Representatives at the end of her fourth term has generated an incredible amount of buzz in Indiana political circles. One simple reason is that, because it's the middle of summer in an off-cycle year with no statewide or federal elections, your average Indiana politico is bound to be looking for something to discuss. Another reason is that, in Indiana, it is rare for our federal representatives to bow out on their own terms. Once a candidate, always a candidate.
With nine members of Congress and two U.S. senators, there are only a few exceptions in recent memory (Sen. Dan Coats, Reps. Jon Hostetler, Steve Buyer and Dan Burton) when a member of the Indiana delegation stepped down on his own terms. Usually, our congressional delegation has run for re-election or for election to another office.
In all fairness, I should include former Sen. Evan Bayh on that list, but I would use an asterisk because even he came back to run for the Senate in 2018. This trend might be common among the 50 states, and I could speculate as to why running for federal office, or running for office in general, is appealing, but I'm blessed with not having the piece of DNA that enables/allows/inspires a person to run for office, so I'll never know.
I'm thankful for Brooks' distinguished service. She ran for office to do something, not just be someone. She believed the voters of the 5th District shouldn't be represented by someone who runs just because he or she thinks being in Congress is a good gig. She knew the responsibility is so much more than that.
During her time in Congress, she made sure the job was not all about her. That's one reason she can walk away on her own terms. Congresswoman Brooks stays connected with her constituents, resisted the urge to grandstand on issues just to make headlines, and doesn't insert her opinion or judgment on an issue over the individuals she swore to represent.
She appeals to a broad group of voters (Republicans, independents and Democrats), not just a narrow group of ideologues. And she takes a pragmatic approach to a role that does not always lend itself to anything but divisive rhetoric and tactics. Those are qualities we should expect, but often don't get, in our elected officials (and candidates).
As names are floated to reporters and GOP insiders of who wants to run for the Republican nomination for Indiana's 5th Congressional District, we should focus more on whether those individuals possess the qualities of someone who should run. Politics isn't always about smart, it isn't always about ideas, it isn't always about marketability, but it's always about timing. "Is (insert name) the right person at the right time to serve in (insert office)?" If you believe that answer to be yes, then the, "Why me, why now?" narrative should be compelling. If you can't give a definitive answer, better luck next cycle.
In the meantime, let's thank Brooks for her career of selfless service and wish her the best as she concludes her term and determines her own future. As we do that, let's hope the citizens of the 5th District use an appropriately discriminating eye when evaluating who should represent them in the next Congress. Hoosiers deserve that.
Thank you, congresswoman Brooks.•
__________
Rateike is founder and owner of BAR Communications and served as director of cabinet communications for President Donald Trump. Send comments to ibjedit@ibj.com.
Click here for more Forefront columns.
Please enable JavaScript to view this content.