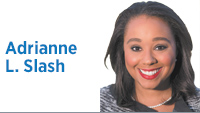 We're approaching the part of election season when we should all become comfortable asking our incumbents seeking re-election, "What have you done for me and my community lately?" And with asking new candidates, "What do you plan to do that improves upon what is being done for me and my community?"
Municipal election years should have huge voter turnout, due to their immediate impact on our daily lives. However, in reality, the numbers prove that to be far from the truth. In Marion County, in our three most recent municipal cycles (2007, 2011 and 2015), voter turnout has ranged from 23% (2015) to 30% (2011).
Sitting out elections does nothing for moving communities forward. Engaging with candidates, connecting with them, asking the tough questions, and ultimately being inspired by their plans for our community does move communities forward.
A few things to consider when talking to peers about participation:
◗ Indy neighborhoods are changing, with empty-nesters downsizing, first-time homeowners venturing into the neighborhoods they can afford (for now), and new-to-Indy residents planting roots. Candidates deserve to know every single side of the story. Will you tell them yours? If you don't, can you rest comfortably knowing your issues haven't made it into your candidate's to-do list? Are you OK with your view being represented by a number as part of a demographic study of your neighborhood?
◗ This is the perfect time to engage. As candidates speed up their efforts to connect with voters ahead of the Nov. 6 general election, you will likely have the opportunity to interact with them. Your future representative will likely be present at many summer festivals, community events or, let's hope, your front door in the next month or two. The least we can do is be prepared to talk with him or her, right?
◗ For our mayoral and city councilor candidates, now is a great time to bring up what is relevant to you in your neighborhood or in areas you frequent and to ask what's being done or is proposed to be done. Have you seen progress on various campaign promises? Have there been storm-damage, trash-collection, snow-removal, or road-quality problems in your area? Are the city resources you'd expect to have access to available as they should be? When you contact the city for services you pay for as a taxpayer, are you getting them?
If the answer is "no" to any of these, this is a great time to share your concerns with the candidates vying to represent you. Issues aren't monolithic, and candidates know only what and whom they know. It's up to engaged citizens to help the candidates see the city through their eyes. Uncovering issues and hidden gems alike can bring new awareness to the place you call home.
What to do next? Offer support and continual engagement to the candidates of your choice. Remember, they're human just like you. And if they are running for the first time or are not currently an elected official, they are volunteering their time aspiring to make a difference. Engage with them and share your ideas as equally as your concerns. We each have to do our part to encourage our sphere of influence to participate. No one wins when any voter or interest group chooses not to engage.
When elected officials and their electorate are on the same page in regard to who we (as a community) are and what we (as a community) want from them, cities win and businesses in those cities prosper.•
__________
Slash is a diversity and inclusion consultant in the health care industry and is president of The Exchange at the Indianapolis Urban League. Send comments to ibjedit@ibj.com.
Click here for more Forefront columns.
Please enable JavaScript to view this content.