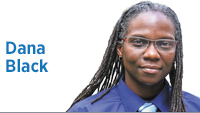 It was 1971 when James and Katherine decided to increase the size of their small, middle-class family. James and Katherine had tried for a decade to have children on their own but with no success. In 1968, they brought home their first child, a boy via adoption, and now they were looking to add a little girl into their home. Working with Homes for Black Children right here in Indianapolis, James and Katherine added little Dana—an undernourished, talkative 18-month-old—to their family.
Adoption for many couples is the only way to have the children they desire. With more than 14,000 children in the Indiana foster care system, there is a dire need for families with a little extra love in their hearts to adopt these children. Many of the children have special needs or are victims of our state's growing and unresolved opioid crisis. But for some reason, the party of "family values" has stripped funding for adoption subsidies that would provide a little financial assistance.
State Sen. David Niezgodski, D-South Bend, authored Senate Bill 398 to help adoptive children and families by creating mandatory adoption subsidies for foster parents. Alas, this bill, like so many introduced by Democrats in the Republican supermajority General Assembly, was never given a hearing. The Indiana Senate Democratic Caucus stated on March 15, "We … believe that families should not go bankrupt caring for the child they love. We believe that a true adoption subsidy program is necessary to promote permanency for vulnerable children. And most of all, we believe that DCS needs to give necessary funding to all adoptive families with special-needs children."
With adoption funding stripped from the budget signed this year, foster parents would lose their helpful state per diem if they chose to adopt the child. As Niezgodski said, "They are not doing it for the money, but in some cases, they can't afford it because of the ongoing needs of the children and that should not be an obstacle for those parents who are wanting to love those children."
Now, mind you, this party is the same group of individuals who work tirelessly to remove a woman's right to choose, work to limit access to birth control, and continue to defund public education that would provide every child an opportunity once they are born.
We already know worker wages in Indiana are stagnant and not keeping up with inflation, and people are still having babies even if they are not capable of caring for them. DCS is still underfunded and not meeting the needs of foster families. Adoption fees and court costs—plus assuming the total cost of health care for a child with special needs—can be a deterrent for families if there isn't some assistance. We see corporate tax rates decreasing annually but very little help for everyday working Hoosiers and the children they love. As the saying goes, you know what people care about by where they spend their money. By their actions, it is quite clear our legislators are not interested in helping families.
I am grateful my parents wanted and could afford a child to love; otherwise, I, too, could have moved from place to place, never having any real roots, never really having a place to call my home, and never having a family of my own. There is power in providing stability to a child and our state should do more, not less, to make that a reality.•
__________
Black is deputy chairwoman for engagement for the Indiana Democratic Party and a former candidate for the Indiana House. Send comments to ibjedit@ibj.com.
Click here for more Forefront columns.
Please enable JavaScript to view this content.