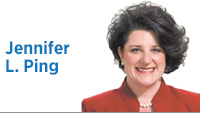 You cannot watch the local news in central Indiana and not see a story about crime in Indianapolis. This is a municipal election year and we are sure to hear more about crime.
In November, we will vote for mayors and for councils in Indianapolis and in excluded cities of Lawrence, Beech Grove and Southport. We will elect individuals who campaigned to make our communities safer.
But a safer community starts at home, right in your own neighborhood.
I learned a lot by watching children's television programs as a young child. I learned letters, numbers, colors and so much more. But I have experienced a few moments recently that reminded me of what Mr. Rogers taught—to be a good neighbor.
Two curious dogs found a way out of their yard the other day in a neighborhood near mine. I found out about the puppy excursion through a neighborhood app on my cell phone. I was near the neighborhood and thought I would help retrieve the four-legged friends. As I turned onto the street where the dogs were last seen, I noticed a group of mature power walkers. I rolled down my window and asked the power walkers if they had seen the two dogs. They, indeed, had seen them and had caught them.
This was wonderful news: The dogs had been missing less than 15 minutes. The power walkers did not have an app on their phone to know the dogs were missing. They were present in their neighborhood and realized the two dogs belonged to someone and helped return the dogs to their owner. What good neighbors.
The very next day, the same app on my cell phone informed me that a person was arrested for allegedly breaking into vehicles near my neighborhood. It was the quick action of neighbors hearing unfamiliar sounds in the middle of the night that stopped the suspect from doing more damage. Glad those folks are my neighbors.
As I write this column late in the evening, I notice my neighbor's garage door is open. I am reminded of a television news story about a home break-in during which the offenders did not have to work hard to get into the house. The garage door was left open. It is now my turn to be a good neighbor. I called my neighbors to inform them their garage door was open. They were grateful that I noticed the open door, and we agreed to keep an eye on each other's houses. Neighbors working together to keep our street safe.
Be watchful in your neighborhood. If you see something, say something.
It is easy to get caught up in our busy schedules. Don't be too busy to be a good neighbor, and let's all help Indy to be a safer community. Will you be my neighbor?•
__________
Ping is a principal at Bose Public Affairs Group and former chairwoman of the Marion County Republican Party. Send comments to ibjedit@ibj.com.
Click here for more Forefront columns.
Please enable JavaScript to view this content.