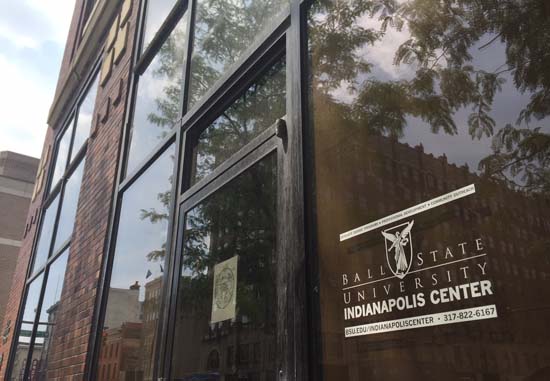 Ball State University's downtown Indianapolis outpost has moved out of its longtime home in Meridian Centre following the expiration of its lease and is shopping for a new home in the city, the university confirmed Thursday morning.
And Centier Bank, which has been involved in a legal battle with its downtown landlord at 1 N. Pennsylvania St., is preparing to take over at least part of the space being vacated by Ball State.
The Ball State Indianapolis Center, which has been housed at the corner of South Meridian and East Maryland streets since 2006, allowed its lease to expire in recent weeks, university spokesman Marc Ransford told IBJ in an email.
He didn't say when the university moved out of the building. Most of the signage and red awnings advertising the center have already been removed.
The college is not leaving the city altogether, Ransford said, noting it is "investigating other options for space" and remains "committed to having a presence in Indianapolis."
A source told IBJ the university is in negotiations for another space on the east side of downtown, but declined to provide additional details.
Ball State has had a presence in Indianapolis since early 2001, when it began offering classes through a branch of the school's College of Architecture and Planning. BSU opened the Indianapolis Center in the mid-2000s to offer additional master's degrees and other programs to professionals in central Indiana.
When Ball State University moved into Meridian Centre, it occupied about 11,000 square feet on multiple floors, but it's unclear how much space the center occupied under its latest lease. 
The departure comes less than one year after the 50,000-square-foot building was purchased by a joint venture for about $3.1 million.
St. Louis-based Integris Ventures and New York-based Starlight Equity Partners bought the building in August and said it would make upgrades, including contemporizing the building's main lobby and improving corridors and signage.
It appears as if the building won't be without an anchor tenant for long.
A building permit was filed by Merrillville-based Centier Bank this week, allowing for a remodel of 3,668 square feet on Meridian Centre's first floor.
Starlight principal Jason Litwack, who was at building Thursday morning, confirmed the university will be replaced by Centier Bank, but said he was not yet able to discuss the matter in detail.
He did not respond to a request for additional information.
It's not clear how soon the Centier expects to move from its current location at the northeast corner of Pennsylvania and Washington streets, but the bank has been in a legal battle with the building's owner, local developer Loftus Robinson, for more than seven months.
A Centier spokesperson, who did not respond to a request for comment for this story, told IBJ in April the bank planned to vacate its current space no later than Sept. 1.
Centier will have more space in its new branch than it does right now, adding about 800 square feet. It's not clear if the bank will move its other operations—which have been housed in an additional 2,200 square feet at the One North Penn building—to the new building.
The bank has been in dispute with Loftus since November, when the developer filed suit against Centier alleging it violated the terms of its lease.
Centier initially agreed in 2017 to negotiate a lease for locating the branch to another Loftus building, as the developer began efforts to redevelop One North Penn into a Kimpton Hotel—a project the developer and hotelier said they remain committed to.
However, the parties did not come to an agreement on the new lease, and Loftus Robinson sued Centier for failing to negotiate in good faith. The bank rejected its claims and filed a counterclaim alleging breach of contract.
According to joint court filings, the parties participated in mediation in February and reached an agreement in principle for a settlement the following month.
Please enable JavaScript to view this content.