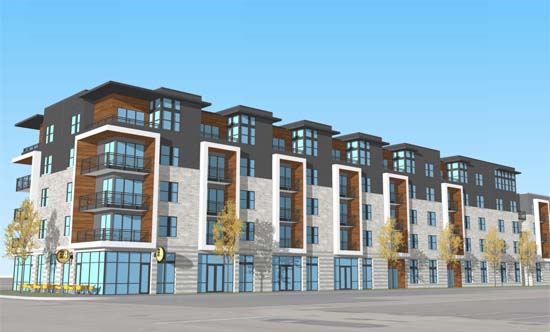 An Indianapolis-based apartment developer that plans to build a $17.5 million complex on the southern edge of downtown is requesting a long-term tax break from the city that would save it $1 million.
BWI LLC has earmarked a 1.1-acre parcel that runs along the south side of Morris Street between Illinois and Meridian streets for the 97-unit project, to be called 1202.
The units would break down as 18 studio/efficiency apartments, 53 one-bedroom units, and 26 two-bedroom units. Nineteen of the units would be reserved for renters who make up to 80 percent of the area median income.
BWI also is planning 4,000 square feet of amenities, including a fitness center and roof-top terrace, and 2,000 square feet for retail.
The land has been largely vacant over the years, except for an L-shaped apartment building on the southwest corner of Morris and Meridian streets. An affiliate of BWI purchased the apartment building in 2015 for $170,000, according to county assessor records.
The Indianapolis Metropolitan Development Commission will consider BWI's request for a 10-year real property tax abatement during its meeting on Wednesday afternoon.
Over the course of the 10-year abatement, BWI would save $1,026,974 in real property taxes but still would pay $669,998. After the abatement expires, the owner would pay an estimated $169,687 in annual real property taxes.
BWI has told city officials that the project would create five jobs at an average wage of $17.50 per hour.
Department of Metropolitan Development staff have recommended approval of the tax abatement.
Founded in 2005, BWI is a minority-owned real estate development firm that specializes in multifamily development, construction and property management.
Its recent projects in Indianapolis include the 49-unit Overlook at the Fairgrounds on East 38th Street and the 38-unit Penn Place at 1415 N. Pennsylvania St. for formerly homeless residents.
Please enable JavaScript to view this content.