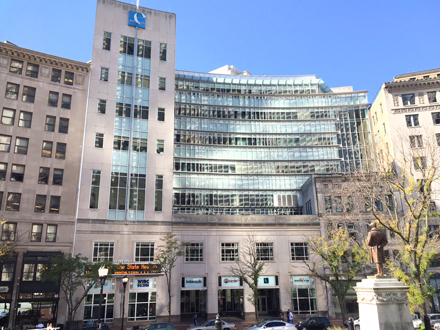 The rapid-fire transformation of Indianapolis-based Emmis Communications Corp. continues.
Emmis announced Monday it has signed a deal to form a new public company, Mediaco Holding, with New York City-based investment firm Standard General LP. Mediaco Holding will acquire two of Emmis' three New York radio stations, urban adult contemporary WBLS-FM 107.5 and hip-hop powerhouse WQHT-FM 97.1.
In exchange, Emmis will receive $91.5 million in cash, a $5 million note receivable, and 23.72% of the common equity of Mediaco. Emmis said it plans to distribute the common equity of Mediaco to its shareholders in pro-rated taxable dividends. Plans call for Mediaco to be listed on the NASDAQ stock exchange and Emmis to remain a separate public company.
The deal, which must be approved by the Federal Communications Commission, is expected to close later this year, company officials said.
Emmis shares rose 24 percent Monday after the announcement, to $5.90 each.
Emmis will remain active in the management of WBLS and WQHT and provide corporate services to Mediaco pursuant to a management agreement between the parties. Smulyan will be the CEO of Mediaco and continue to serve as chairman and CEO of Emmis.  
Officials for Emmis emphasized that the deal is not an attempt to set the company to be sold or for Emmis Chairman Jeff Smulyan, 72, to exit the company.
"This move frees up space for new opportunities," Smulyan told IBJ in a phone call Monday. "Radio right now is an industry without a lot of growth characteristics. We're looking for opportunities with more growth characteristics."
Smulyan said he expects Emmis to announce its next investment by this fall. Emmis will not likely invest in radio or even in media, he added.
Smulyan also said he is not thinking about selling any of Emmis' Indianapolis stations or its headquarters on Monument Circle.
"This is home," he said. "We've been asked about selling this building, but we like it here."
Standard General will appoint a majority of the board of directors of Mediaco. Soohyung Kim, CEO, managing partner and chief investment officer of Standard General, will be chairman of Mediaco. 
"This is a landmark day in the 40-year history of Emmis," Smulyan said in a written statement. "We look forward to continuing to manage two of the world's most iconic radio brands in [WQHT] and WBLS and employ our award-winning New York team as we partner with Soo Kim and Standard General to form a new public company to invest in media opportunities. The transaction provides Emmis significant capital to aggressively pursue new business opportunities that align with our entrepreneurial spirit and management skills." 
No personnel changes are planned, the companies said, and all New York employees will continue on as Emmis employees, receiving Emmis benefits as part of an employee leasing agreement with Mediaco.
Emmis has been downsizing operations over the past few years by selling off radio and publishing properties, mostly in an effort to pay off debt. The effort has left the station mostly debt-free, but much smaller than it was just a few years ago.
Earlier this month, Emmis announced the sale of its 50.1% controlling interest in six Austin, Texas, radio stations and two FM translators to its minority partner, Norfolk, Virginia-based Sinclair Telecable Inc., for $39.3 million.
In 2018, it sold all four of its St. Louis stations and also closed its NextRadio and Tag Station operations. 
In 2017, Emmis sold four of its five magazines and its powerhouse Los Angeles hip-hop station. In 2016, the company sold four radio stations in Terre Haute.
The company's revenue fell from $238 million in fiscal year 2015 to $148.5 million in fiscal 2018.
Emmis said it will have zero net secured debt after the sale of the Texas stations closes, and will have an additional $90 million in its coffers for investment after the New York deal is finalized.
Smulyan said Emmis was "excited to work with Soo and Standard General to grow Mediaco Holding. We have already been evaluating great investment opportunities and I'm incredibly excited about the future. Today is a great day for the future of Emmis."
Locally, Emmis owns country station WLHK-FM 97.1, news-talker WIBC-FM 93.1, soft rock station WYXB-FM 105.7 and sports-talk station WFNI-AM 1070.
It also owns a controlling interest in Digonex, which provides dynamic pricing solutions across multiple industries, and Indianapolis Monthly magazine.
Smulyan said he wasn't planning on selling the local properties.
"You never say never, but I think we'll keep all of our properties here," he said.
He also said he wasn't ready to retire.
"I am so focused on re-building this company, it's just not something I think about," he said.
Emmis retains full ownership of one New York station, WLIB-AM 1190.
"Our team is excited about partnering with Jeff and the Emmis management team in forming Mediaco Holding," Soo Kim said in a written statement. "We're thrilled to acquire two of New York's legendary radio brands in [WQHT] and WBLS, and work with Emmis to build on each brand's success. These stations will form the foundation for a new public company that will invest in media assets and build on our successful track record of media investments."
Please enable JavaScript to view this content.