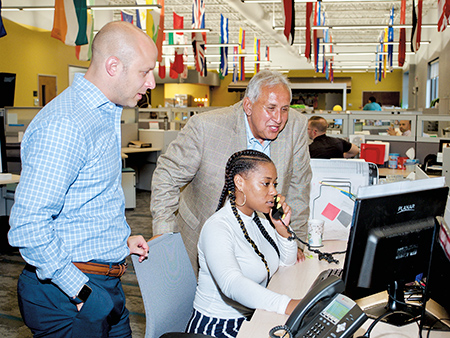 When David Lothamer immigrated to the United States from Venezuela seven years ago, he had no idea how to start a career in a new country. He held an accounting degree from back home, but his job prospects seemed dim.
A friend told him about an opening at Morales Group Inc.'s Accion Performance facility, a 60,000-square-foot warehouse owned by the company and run by a team of 400 highly trained Morales Group employees who complete tasks outsourced by other companies.
"They offered me what they had in that moment, but with time they started to notice all of my skills," said Lothamer, 31. "They noticed I was learning English at that time; they could see that, and they helped me to advance in this company."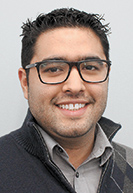 Lothamer
In his six years since starting out on the line in the warehouse, Lothamer has moved up to warehouse team lead, payroll department employee, administrative assistant, recruiter, accounting clerk and, earlier this year, was promoted to business analyst at Morales Group headquarters in Indianapolis.
It's the type of advancement Morales Group—primarily an Indianapolis-based staffing agency—is trying to foster, both within its own company and in the companies that are its clients.
The family-owned firm—which specializes in staffing manufacturing, warehousing and logistics positions—has a three-step strategy: Place associates in a job, move them to a better job, then help them develop a career.
And it's not just about helping individuals. It's also about helping companies—Morales Group's clients—find the workers they need to grow.
Experts anticipate the U.S. manufacturing industry will grapple with a monumental 2.4 million unfilled positions through 2028, in part because the people unemployed in this tight labor market often don't have the skills for available jobs.
But Morales Group is taking a different approach. It's trying to combat the skills gap by training workers and then making its associates feel valued and part of a team, thus making such careers more desirable and attainable.
And the effort has been successful, expanding from its Indianapolis headquarters to nine locations in Indiana, North Carolina and Kentucky. Last month, the company signed a lease for a Dallas office.
Morales Group landed on IBJ's Fast 25 list in 2017 after two-year growth of 89%. And last year, it generated $125 million in revenue, a 37% increase from $91 million in 2016.
Humble roots
Tom Morales started Morales Group in 2003 with a partner who has since been bought out. Since its founding, the company has placed more than 50,000 associates in temporary, temporary-to-permanent and performance-based positions at manufacturing and light-industrial companies throughout the Midwest.
Morales, 65, remains the firm's CEO. But day-to-day operations are run by his son, Seth Morales, 40, who is chief operating officer and president.
The firm's success has come despite—or maybe because of—a labor market that has more manufacturing jobs available than the number of people actively seeking them. Morales Group has had to adjust its approach to accommodate that tightening labor market, and it's done so by integrating diversity and career-building.
Tom Morales said that gives it an edge over the 200 or so staffing agencies in central Indiana.
"We utilize a very diverse workforce, more than any other staffing company here in the Midwest," he said. "Diversity allowed us to know that we were drawing from a different pool, but we had to take extra steps."
Diversity is ingrained in Morales Group's humble beginnings. Born to immigrant parents, Tom Morales grew up in a time Indianapolis had few Hispanic families. He witnessed and experienced the hard work necessary to achieve success.
Seth Morales said his grandfather "really challenged my dad to make a difference and give back, and not just cut a check to some philanthropic non-profit or offer up service hours. One way that [my dad] felt he could make a difference was to provide somebody a job."
In the beginning, Morales Group focused primarily on serving the Hispanic community, but it has expanded to work with people of all backgrounds and countries, frequently immigrants and refugees.
Thirty-seven countries are represented by Morales Group's internal employees and the associates the company has placed. Its website offers users seven language options.
"It's a really cool opportunity to lift up those that are underserved and want an opportunity," Seth Morales said. "We'll provide a pathway to allow you to skill up and eventually build a better future."
Eugene Blue, 47, experienced that firsthand. Four years ago, he came to Indianapolis from Louisiana, trying to put bad decisions behind him. A friend referred him to Morales Group.
Today, he's a forklift operator in a warehouse—where he's worked for two years—and owns a house and car.
"If you don't know what you're doing, they give you a helping hand," Blue said. "They saved my life, to tell you the truth."
Operating with 'a heart'
Seth Morales said the company's approach—to look at its temporary employees as full team members—is considered unorthodox.
"We're really trying to shift the way people look at staffing agencies," he said. "There are a lot of agencies that miss an opportunity there. We've got this new strategy to go all in, to really empower and enrich the working-class workforce that we help provide jobs to."
He said it's about having "a heart about how we operate."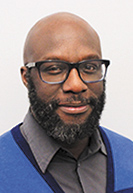 Darku
That means expanding help to its associates, for whom getting a job solves only one of several daily barriers—like transportation to work, language and child care.
Two years ago, Morales Group launched several workforce-development initiatives to help employees beyond their initial work placements. The program includes a coach who "looks to meet them where they are," said Kofi Darku, who directs the programs.
The coach's  role is to provide resources—everything from language courses to bus passes.
Morales Group also pays for employees' training and certifications—a key differentiator from other firms. Certifications in forklifting operations or other skills can allow employees to earn 20% to 30% more hourly.
"We've been working with high-potential individuals," said Jackie Morales, the company's chief marketing and innovation officer and Seth's wife. "If we could just get them a little more training, they'd be making more per hour and then could reach a management role even."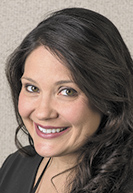 Jackie Morales
Generally, Morales Group places workers temporarily into companies. During that time, they are Morales Group employees.
The manufacturer or logistics company is a Morales Group client and sets the wage it is willing to pay. Morales Group makes money by applying a markup on that amount.
Morales—and other staffing agencies—use the markup to cover administration, workers compensation, unemployment and other benefits.
About 20% of workers get hired over time by the companies—ususually after at least 90 days. Only about 5% of workers placed by Morales Group are hired full-time immediately by a company.
Others continue to work on a contract basis with employers until they find something long term.
A societal and generational shift is largely to blame for the shortage in manufacturing employees.
Baby boomers are retiring—by the thousands daily. And with more millennials attending college than any generation in history, fewer people are pursuing blue collar careers.
Not to mention that advancing technology means the types of skills employees need are quickly evolving.
For the past 17 years, Deloitte LLP and The Manufacturing Institute have tracked manufacturing employment—or the lack thereof.
"Filling open jobs has been an ongoing challenge in recent years, but the current conditions are reaching serious levels," the 2018 report states.
"Manufacturing's health, and its success, depends on the quality of its workforce," said Gardner Carrick, vice president of strategic initiatives for the Washington, D.C.-based Manufacturing Institute. "If we're not able to attract individuals to careers in manufacturing and prepare them to be successful in those careers, then we certainly are jeopardizing the health of the industry."
Outside the box
The strain is forcing U.S. companies to think outside the box on recruiting and hiring strategies. That's why Morales Group and other companies are paying for employees' training. More programs—including some in Indiana—are focused on moving ex-offenders into manufacturing and other industrial jobs.
"There's a focus on recruiting of populations where folks haven't recruited in the past as much," said Paul Wellener, vice chairman of U.S. products and construction products at New York-based Deloitte. "They're looking to try to provide better benefits, better pay, various different things to attract and retain the talent once they get it."
Morales Group knows all about the industry's skills gap.
"There are those positions that, even if we had the people, they would have to have a certain amount of skill in order to fill those positions," Tom Morales said. "Not only is the associate—the body—needed, but also the skills."
Morales Group leaders say the company's level of investment in the community is also rare; it partners with 17 not-for-profits and invests more than 3,000 volunteer hours.
Key partners include Project Stepping Stone, a pre-college program for Hispanic high school students in Indiana; Immigrant Welcome Center; and Exodus Refugees.
For Project Stepping Stone, Morales Group hosts resume workshops, provides speakers for conferences, and participates in the career mentorship program.
"Other companies are helping us and working with us, but they, in particular—and being a Hispanic-owned business—really step up and support," said Kathy Cabello, program director at Project Stepping Stone.
"This is a pillar of how we built the business," Seth Morales said. "Our job is to build long-standing, sustainable relationships with community partners. Our competitors will cast a net that's very wide and narrow and they won't go deep in some of their relationships in the community."
Employees receive 25 hours of paid time off for volunteering at a partner organization and can qualify for a company service trip to Mexico to build houses with Youth with a Mission.
And Morales Group leaders said they want to continue increasing their community impact.
"The more we grow, the more we can give," Jackie Morales said. "By lifting up others, we're living out our mission. And it's neat being able to see the multiplying effect of that impact."•
Please enable JavaScript to view this content.