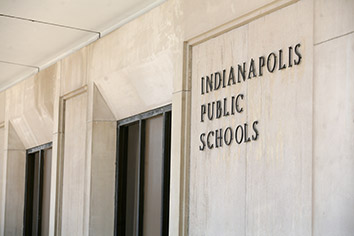 Teachers could get an average 3% raise this school year and another 3% in 2022-'23, based on a tentative agreement their union has reached with Indianapolis Public Schools.
The district board heard a summary Thursday of the proposed pact with the teachers union.
Later in the evening, the board approved a separate agreement that will award support staff a 2% raise this year.
Both agreements are retroactive to July and signal an end to two years of more significant pay increases intended to make up for years of frozen salaries.
If the board approves and members of the ​​Indianapolis Education Association ratify the agreement, this school year teacher salaries would range from $49,100 to $91,300, and next year would bump up to $50,400 to $92,600. The agreement also improves some health and welfare benefits.
No one spoke at the public hearing Thursday, and board members did not offer any comment.
"We've worked very hard on compensation," board member Diane Arnold said before the meeting, noting that the district has lost veteran teachers to other districts offering higher pay. "We've made great progress."
The two-year contract for support staff, represented by Local 661 of AFSCME Council 962, awards an across-the-board increase, plus will raise pay for instructional assistants by roughly 6% by allowing them to jump up three levels on the salary scale, in an attempt to adjust wages to market level, according to a district presentation.
For example, a non-teaching assistant currently earning $10.58 an hour would rise to $11.23 an hour this school year.
Three years ago, Indianapolis' largest school district reached a pact with the city's Chamber of Commerce to finance teacher raises. Before placing a referendum on the ballot to raise school taxes, the district agreed to scale back its request and trim spending in return for chamber endorsement and advice.
That formal agreement just ended. The district will reap referendum funds until 2026, but is on track to fall 20% short of its chamber-designed goals to cut costs. While the district recently erased an $18 million deficit this year, it must make similar-size cuts in each of the next several years, Superintendent Aleesia Johnson warned this month.
Indiana teacher salaries have ranked the lowest in the nation, spurring mass protests in 2019. The district pledged $31.2 million in staff raises over two years, giving teachers 9% in 2019 and 5% last year.
Teacher and district negotiators met three times this month and reached the tentative agreement Sept. 23.
Chalkbeat is a not-for-profit news site covering educational change in public schools.
Please enable JavaScript to view this content.