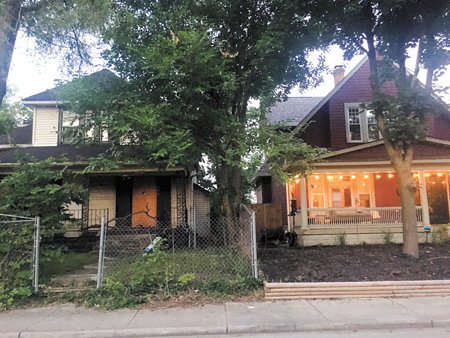 Correction: This story has been corrected to say the Near East Area Renewal has developed 122 affordable homes in the St. Clair Place neighborhood over 10 years.
Judith Essex, a faithful cheerleader for growth in Indianapolis' burgeoning Old Southside neighborhood, once adorned red bows on rundown properties to market them to developers. Years later, property values are rising, and development is in full swing.
But recently, Essex has been looking around her neighborhood and seeing something other than just success: She's worried about what the growth and higher property values will mean for longtime neighbors—cash-strapped renters and owners who can't afford spikes in their property-tax bills.
"We promoted the neighborhood," Essex said. "Now, we've just about priced our families out of being able to live in the neighborhood where they grew up."
She is considering a new strategy. In a quest to create permanently affordable housing, Essex and others from the Old Southside Neighborhood Association have joined with a network of about 25 community groups and development corporations—including Near East Area Renewal, the Kheprw Institute, Edna Martin Christian Center, Westside CDC, Big Car and Southeast Neighborhood Development—to form the Community Land Trust Coalition.
"I think we feel we owe it to our community to explore all possibilities to maintaining a level of affordable housing in the neighborhood," Essex said.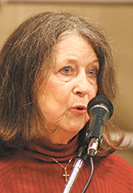 Essex
A land trust is a homeownership mechanism that became popular in the United States during the civil rights movement as a way to secure access to land for African American farmers. The coalition hopes to use trusts today as a tool to fix a concerning modern-day problem: Middle- and lower-class people are increasingly finding it unaffordable to live in popular near-downtown neighborhoods.
"Property values are going up and up and up," said Cottage Home resident Andy Beck of his neighborhood. "You can't move in if you're middle class. We all deserve to have a nice neighborhood, decent infrastructure, a park, a library close by, a decent school. Yet all of those things mean higher property values and higher housing costs, and that means it's not available to a lot of people."
Mayor Joe Hogsett's administration says it is listening to the conversations—and trying to help organize the best path forward. The city recently gave Near East Area Renewal a $15,000 grant to help fund an analysis of how community land trusts could be deployed in Indianapolis.
Deputy Mayor Jeff Bennett said it is too early to say how one—or multiple—land trusts would be set up, or if their formation would require changes to local or state code. But he said the city is interested in finding out.
"This is the next chapter in affordable-housing development: How do you keep it affordable long term?" Bennett told IBJ. "It's the golden age of near-downtown neighborhoods. That creates a unique tension between new investments and longtime residents. It's not too late in virtually all of these neighborhoods to enhance the neighborhood through new investment while protecting long-term residents."
'A disaster'
Community land trusts are typically not-for-profits controlled by residents that offer affordable homeownership and rental opportunities in perpetuity. Advocates say they offer a better alternative to the city's existing affordable-housing strategy, which is to create affordable units on a temporary basis.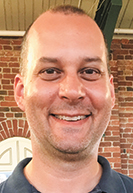 Beck
"It's not very good stewardship of public tax dollars," Beck said. "If we want economically integrated neighborhoods, those affordable units need to be permanent."
Typically, in exchange for offering government subsidies on housing projects, developers set aside a portion of the units or homes for residents who meet a certain threshold of area median income. But that housing is required to be affordable for only a set period, depending on the program. After that, the owners can resell the homes or lease the units at market-rate prices.
Beck pointed to the impending loss of affordable artist apartment units at the Wheeler Arts Community building in Fountain Square as a prime example of the problem with that approach. Southeast Neighborhood Development renovated the building in 2000 to contain the affordable artist housing but sold it to a developer after the 15-year tax credits that helped finance the project expired.
Fall Creek Place experienced the same transition. When it was built, leveraging millions of public dollars, a majority of units in the first phases were required to be sold to lower-income families for a certain amount of time. The later phases didn't have that requirement. Now that the affordability period has expired, nearly all the properties in Fall Creek Place are market-rate.
"Losing affordable units in a neighborhood that's getting much more expensive is a disaster," Beck said.
Bennett said the city's most commonly used tool during the Hogsett administration is requiring affordable apartments to be "set aside" in market-rate rental housing development, the terms of which are tied to the duration of public financing. So far, across eight projects the city has supported in some way, the Hogsett administration has netted an additional 376 affordable units for some period of time, depending on the financing mechanism.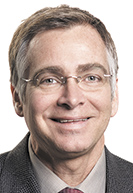 Hay
"It's not affordability in perpetuity," Bennett said. "It's very much not forever, but at the same time, we are requiring set-asides in Fountain Square and Broad Ripple. Having tools that create longer-term affordability is what we'd like to test now and that's why we're supporting the work" of researching community land trusts.
How it works
Under the community-land-trust model, the homes or apartment units are kept permanently affordable due to their unique structure: The home or apartment building is legally separated from the land underneath it.
The underlying land, which is more likely to increase in value as the neighborhood develops, is owned forever by the land trust, and leased, typically in 99-year increments, to homeowners with certain income requirements or to building owners that rent to low-income people.
Affordable-housing advocates say the more than 250 community land trusts in 47 states nationwide offer an alternative, affordable path to homeownership for residents—and the ability for residents to control at least some of the development that happens in a neighborhood. The largest group is in Burlington, Vermont, which owns the land under more than 5,000 units, according to Grounded Solutions Network, a Portland, Oregon-based organization that helps communities form the entities.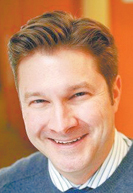 Bennett
"There are none in Indiana as of now, but we're hoping that the Indianapolis area will spawn the first for the state," said Jason Webb, senior community and capacity building specialist for the group. "We've been having conversations with a number of community groups that are thinking about the model."
Webb said land trusts offer "affordability for generations to come" and a more efficient investment for government subsidies. "Most community land trusts make the case that, instead of putting a 30-year deed restriction [on a property], why don't they invest those same subsidy dollars into a community land trust and make the homes permanently affordable?" Webb said.
One common criticism of the model is that it doesn't offer as much of an opportunity for wealth-building as owning a traditional home. When a homeowner in a community land trust decides to sell, he or she agrees to do so at a restricted price, which keeps the property affordable for the next buyer. The land lease is then transferred to the new owner.
However, Pambana Uishi, a founder of the community-empowerment-focused Kheprw Institute, said wealth-building through real estate isn't currently available to most low-income people. The land-trust model, she said, is for people for whom homeownership is otherwise "not even approachable."
"For us to say we can't have other options to provide people with quality affordable housing, to help them save money and do other things with that money, doesn't make sense," Uishi said. "You have to have options for everybody."
Beck said the group has "definitely had some pushback and skeptics."
"There's some people who would like to maintain the status quo of temporary affordability, and using affordable housing as a windfall wealth-building mechanism instead of a providing-housing mechanism," he said.
On its way
John Franklin Hay, executive director of Near East Area Renewal, which has developed 122 affordable homes in the St. Clair Place neighborhood over 10 years, said his group is the closest to launching a community land trust. He said maintaining affordability on the near-east side became a concern about two years ago when the private market started working.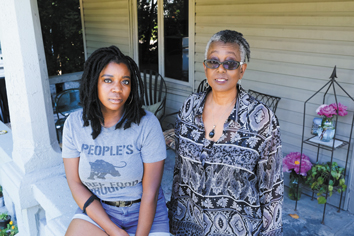 The Kheprw Institute's Leah Humphrey, left, and Pambana Uishi say community land trusts are one tool that can empower neighborhoods to fight gentrification and displacement. (IBJ photo/Eric Learned)
"Our concern for the longest time was, 'Let's try to get private developers to do something here,'" Hay said. "Our focus shifted. If the housing market is working, one challenge we have is to preserve affordability."
NEAR's board voted last July to develop a community land trust, and it is using the grant money from the city to partner with Burlington Associates in Community Development, a Vermont-based consultancy, to study its feasibility.
NEAR expects to form a not-for-profit with an independent board before the end of the year that would act as a citywide community land trust.
Hay said NEAR hopes to designate nine homes it recently acquired in the Willard Park neighborhood as the first in an Indianapolis community land trust to "serve as the guinea pig so that we can work out the kinks, we can get it stabilized, and then expand it to other neighborhoods."
Hay acknowledged that other groups in Indianapolis are interested in developing land trusts, but he said, "NEAR is the only entity that has voted as [a] board of directors to develop a CLT, pursued research, explored challenges with mortgage lenders, established relationships with funders, and secured funding for a consultant to guide the development of a CLT.
"NEAR is also the only entity pursuing CLT development that has demonstrated capacity in affordable-housing development," he told IBJ.
One or many?
Hay's comments are part of a larger discussion about whether the city needs one community land trust or several, representing geographic areas.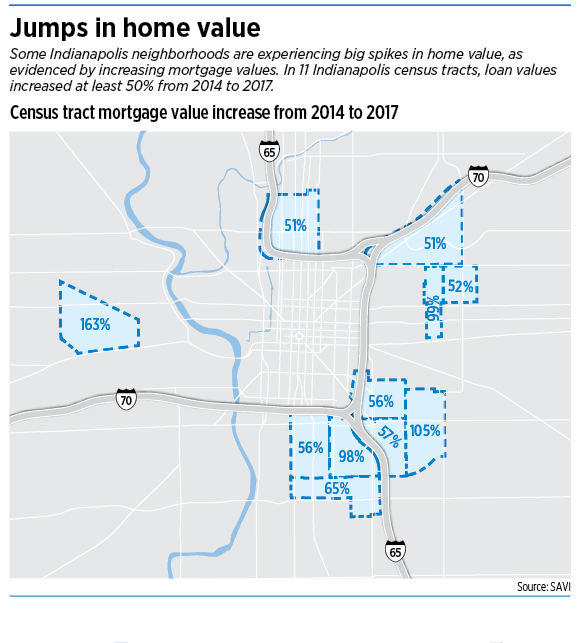 Beck said his "dream is that every neighborhood has a CLT and it's fairly local."
"That's a focus of mine, to ensure they're local and it's not one office in the City-County Building saying, 'Haughville, you get this,' or 'Cottage Home, you get this,'" Beck said. "It needs to be determined by the community."
But Hay said having multiple CLTs would be tricky "because it takes a number of properties in a CLT to make it sustainable."
"We are committed as an organization to pilot it in the community and then to make sure we have something that is expandable and useful across the city," Hay said.
Bennett said the city is "open-minded on what the land-trust model looks like" and said the city's decision to help fund NEAR's consultant work doesn't mean it's endorsing that group's vision.
"I don't know [that] any of us know enough about the model to see whether there's a one-size-fits-all approach or whether it's neighborhood by neighborhood," he said. "I think the educational exercise of having a consultant look at the model is going to be valuable no matter who's leading it. I don't know that this turns any CDC into some sort of land baron."
Coalition members have experimented with other ideas in their own neighborhoods. Arts organization Big Car, for example, has created affordable-housing ownership opportunities for artists in the Garfield Park neighborhood.
Founder Jim Walker was inspired to create permanent affordable housing because he and his wife were among the first residents of the Wheeler Arts Community. Now that it's turning market rate, he's concerned a new generation of artists won't have the same opportunity.
In that model, qualified residents, who have to make less than 80% of area median income, will purchase 49% ownership in a home costing $49,000 to $72,000, while an entity controlled by Big Car and Riley Area Development Corp. owns 51%. Residents who decide to eventually sell their homes will sell their 49% share back to the Big Car/Riley collaboration to start the process again with another owner.
Homes for All
Meanwhile, housing advocates are also thinking about other structural changes to create affordable housing and prevent displacement.
The land trust coalition formed under a recently launched Indianapolis chapter of Homes for All, which at a national level also advocates for renters' rights and "development without displacement."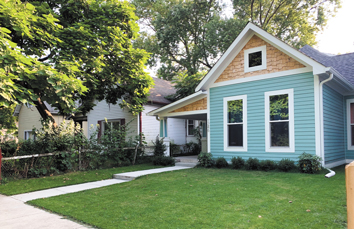 About 25 community groups, including some representing south-side neighborhoods like this one, have formed the Community Land Trust Coalition. (IBJ photo/Lesley Weidenbener)
Homes for All is being led by the Kheprw Institute, and leaders said it will advocate for a range of renter and affordable-housing protections, such as stronger eviction laws, helping tenants organize, and providing legal counsel and support to low-income renters.
Uishi said the new Homes for All chapter came out of a desire "to establish an organization that's led and directed by the people [that are] most impacted by [housing policy] and being able to share what they need and hopefully being able to bring about policy change so they are the ones that are driving it."
"It's a toolbox," Uishi said. "It's not that [land trusts] are the end-all, be-all."
Leah Humphrey, who is leading the group as part of her work for the Kheprw Institute, said she is a renter in the Mapleton-Fall Creek neighborhood who started seeing gentrification there. She wants to equip low-income renters with the same knowledge.
"They're experiencing it, but they don't know how to fight against it," Humphrey said. "I would like to be able to take this to the community to get them more aware of ways to fight against gentrification, displacement and rising housing prices."
Walker said time is of the essence.
"If you think about places like Portland or Seattle, it's too late to acquire properties along transit lines, close to downtown, that you could preserve as affordable community land trust homes. Properties are so expensive," he said. "We don't have to be that kind of city. Here, we do have a really good opportunity now before these prices go way up. Now is the time to do it. If we take a wait-and-see approach, it could be too late to do something with much impact."
Please enable JavaScript to view this content.