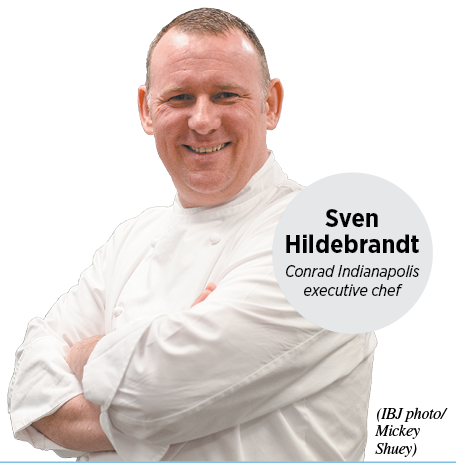 As the Conrad Indianapolis' new head of kitchen, Sven Hildebrandt has big plans for the hotel's food service. The 47-year-old told IBJ he hopes to make the most of what he learned in Germany—where he grew up and got his start in hospitality—as well as in Dublin, Phoenix and Virginia, with hopes of adding some authentic German flair to the hotel's specialty menus.
What are your responsibilities as executive chef?
I oversee the catering and in-room dining departments. That includes everything from payroll to overseeing production and execution of our events.
I'm here to make sure we have the highest-quality food, and to help the [12- to 13-person] crew make sure it's on time and delivering the best visuals and the best tastes for our guests.
What has it been like starting your job at a busy time for conventions and events in Indianapolis?
It's been good. The support I get from the people here has been incredible; they've been very welcoming and supportive. I think because of my background and all the experience I've gained over the years, you know, working on different continents and in all these different kitchens, that's made it a lot easier for me to hit the ground running.
Have you always wanted to do what you do now?
I didn't grow up wanting to be a chef, necessarily, but I did grow up wanting to be in the kitchen. I spent a lot of weekends at my grandma's house and … she made me help in the kitchen. I didn't like that as a kid, but I didn't really have a choice.
But I enjoyed going to her house, in part, because the food was always good, and I got exposure to proper cooking. I wanted to give it a try, too.
Do you like to infuse any of your German heritage into your recipes?
I typically do that for custom menus, particularly in the fall when festivals and a lot of German celebrations are going on. It's always been nice for me to fall back on what I learned growing up in Germany.
It's been great that I've always been given the freedom to do German food the way I was taught, make it authentic—proper recipes, proper ingredients and just proper techniques. No shortcuts.
Are you hoping to continue that here?
Yes, definitely. I have some ideas that are going to be incorporated into new catering menus. It's not something you can just put on an everyday lunch menu.
What do you look for when you're selecting a restaurant in Indianapolis?
What makes me go to a place is, if I see different things. So the first thing I look at is the menu and the dishes the restaurant serves. I also pay close attention to the wording, what kind of ingredients they use. I want to get acquainted with their style.
I've been pleasantly surprised by the diversity of food in Indianapolis and by the ingredients and the way the food is put together and presented.
Any local favorites you can tell me about?
So, the absolute favorite is Black Market. We also like Hedge Row on Mass Ave. Bluebeard is wonderful, too.
What's the most challenging thing about working in hospitality?
We might only get one chance to impress our guests, so we must make sure it's perfect. Guests here really expect the best, and we need to be sure we are delivering that—whether it's for those staying at the hotel for business, or we're hosting an important event. First impressions are critical.•
Please enable JavaScript to view this content.