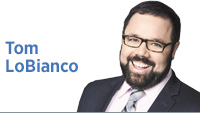 In politics, there is often no greater enemy than anonymity.
Political hacks of all stripes will tell you, if you decide to run for office at any level, getting your name known is the bedrock of success. (You can drop some serious campaign cash on TV spots later, if you get to that point.)
One small miracle of the 2020 Democratic primary so far for South Bend's surging mayor is that average Democratic voters in New Hampshire have no problem spitting out "Buttigieg" when asked about their favorites. Sometimes it comes out "BOOT-uh-judge," other times "BOOT-edge-edge." But the point is, it sticks with the voters.
But even with that, Buttigieg still faces a hurdle of relative invisibility. The most recent CNN/SSRS poll taken after the first, back-to-back Democratic debates showed 77% of likely voters had never heard of him at the end of January; now, only 40% say they haven't heard of him.
When he took the debate stage, you could see him wrangling with a dilemma. Candidates vying for any attention at all had to blurt out their personal stories in 60 seconds or less. But well-known candidates, like Vermont Sen. Bernie Sanders, had to decide what specifically to focus on—and whether to take shots at other candidates.
Buttigieg's performance was measured, and he largely avoided getting in scraps—indicative of where he stands, somewhere between known and unknown.
But sometimes, often after a lifetime in politics, a different problem emerges—the opposite problem. The politician isn't just known, but now the image is set. It is the political equivalent of the event horizon, so to say. There is no escaping from the caricature, for good or bad.
Former Vice President Joe Biden caught a whiff of that last week in the first Democratic debate, with a helping hand from California U.S. Sen. Kamala Harris. Biden got in trouble with some Democratic activists after he remarked about his ability to work with former Democratic senators who were segregationists decades ago. It was meant to be an example of his ability to work with opponents, but was spun by other Democratic candidates to sound like he supported segregation.
Then, standing on the debate stage in Miami, two podiums down from Harris, set a devastating image of Biden in the public mind. Harris recounted how Biden's opposition to busing hurt her, because she was just the second class of students bused to integrate her public school in Berkeley, California, decades ago.
"That little girl was me," Harris said, in a statement sure to be remembered as a defining moment of the 2020 race. Biden only made it worse when, a few days later, he mentioned that any young black man wearing a hoodie is not destined to become a "gangbanger."
There's a pretty powerful Hoosier who's lived on both sides of the anonymity divide: Vice President Mike Pence. Early in his career, he was beset by being unknown, and now he is beset by being firmly defined in the public mind.
Ironically, the time to really understand him was earlier in his career, before he put up his guard and public facade, and not later, once he had carefully honed his public image. In my upcoming biography of him, "Piety & Power: Mike Pence and the Taking of the White House," I explore this evolution and more, and how it (ironically) landed him in the White House. Please consider buying a copy; it publishes Sept. 24.•
__________
LoBianco has been a political reporter for The Indianapolis Star, CNN and AP and is author of "Piety & Power: Mike Pence and the Taking of the WhiteHouse." Send comments to ibjedit@ibj.com.
Click here for more Forefront columns.
Please enable JavaScript to view this content.