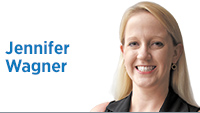 The premise of this column is cheesy: Our country is beautiful, diverse and so incredibly big.
If you've driven from sea to shining sea, you see that beauty and diversity unfold slowly as you move from state to state. When you see it from above, you realize just how much land our land really is—and how difficult it is to select a chief executive from 30,000 feet in the air.
I recently flew from Indianapolis to Las Vegas for a conference on an evening route where there were few clouds.
I'm a window-seat gal, and I was texting with my daughter during the trip—describing our ascent out of the Circle City; endless, perfectly square crop fields in the heartland; the shift from lush green to imposing mountains to desolate khaki; the sudden appearance of the Grand Canyon in all its glory; and our landing in Sin City, which similarly pops up out of nowhere.
Watching that changing landscape unfold over three hours got me thinking about the people who live in those places—and just how different they are.
What does a farmer in rural Kansas have in common with a third-shift blackjack dealer in Vegas? Do families in Indiana face the same challenges as families in Colorado or Utah? How do we design a health care system—for example—that meets the needs of everyone along that nearly 2,000-mile journey? Is anyone even listening?
My trip was the week after the Democratic presidential primary debates, where 20 candidates took the stage to compete for headlines and momentum. They tackled some big issues, but it's pretty hard to sum up a comprehensive climate-change or immigration-reform plan in 90 seconds.
And let's be honest: The debates, which earned record high ratings compared to last cycle, weren't designed for deep policy discussion. Politics has become more contact sport than ever, and lots of viewers tuned in to see a knockout.
It's little wonder that just 17% of Americans say they trust the government in Washington to do what is right "just about always" (3%) or "most of the time" (14%), according to Pew Research polling from April.
Before you point out that there are two branches of government beyond the White House—yes, our Founding Fathers were brilliant to design a nation that's the sum of its parts—Congress earned itself a whopping 20% job approval rating in Gallup polling in May.
I'm not proposing a different political system. I guess in some ways I'm asking to go back to a bygone era—before 24-hour news and social media gave us an endless feedback loop that highlights our differences with constant commentary that blurs into actual coverage.
We're connected more than ever before, but it somehow makes us feel further apart. My advice to candidates: Get out of your campaign jets and back on the road.
That doesn't mean live-streaming your meetings with farmers in Kansas or third-shift dealers in Vegas or families in Utah. Just go there and listen and let those discussions guide you.
We're thousands of miles apart, but we still have a lot in common. If we're ever going to revive trust in government—whether Congress or the president—we have to remind people that, despite our geographic vastness, we're all in this together.•
__________
Wagner is a lifelong Indianapolis resident and vice president of communications at EdChoice. Send comments to ibjedit@ibj.com.
Click here for more Forefront columns.
Please enable JavaScript to view this content.