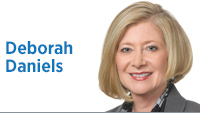 Fifth District U.S. Rep. Susan Brooks recently announced that she will not run for re-election in 2020.
While I'm sorry to see this, I don't find it surprising that anyone would decide to leave today's House of Representatives. The role of a congressperson has become more and more trying over the years, and today it is tremendously difficult to accomplish anything in Congress, given the extreme polarization between the parties and even within them.
The position is more demanding than ever, too. In these days of 24/7 availability, the formerly somewhat genteel role of the congressperson has changed. It has become one requiring 15- to 18-hour days each week culminating in quick weekend trips home, the time there consumed by constituents meetings that can easily turn into shouting fests.
House members must campaign continually: They no sooner win election than they must immediately begin raising funds and campaigning for the next election. In the case of a team player like Susan Brooks, it also involves raising funds for other Republicans' campaigns and helping to recruit good candidates. In fact, the congresswoman's abilities in this regard led to her selection by House leadership as chair of candidate recruitment across the country.
Early on, she was recognized by the majority leadership as a smart, articulate, hardworking member and was awarded a subcommittee chairmanship in her first term. Early in her tenure, she was asked to assume the chairmanship of the House Ethics Committee. This is a thankless job in any year, but she took it over in the midst of multiple revelations about sexual misconduct on the part of members occurring in the height of the #MeToo movement. She agreed to take on the job not because she aspired to it, and certainly not to win friends, but because she was asked, because it is important, and because she has a strong sense of duty. She handled it professionally, firmly and with aplomb.
Despite her crushing schedule and the impact of today's polarized politics, congresswoman Brooks has notched up a record of accomplishments that, by any standard, at any point in time, would be deemed impressive. She has focused on mental health, understanding that untold numbers of people in need of help go unserved. Among other achievements, she authored a law that provides mental health services to law enforcement officers.
She has focused on the opioid crisis, disaster preparedness, and other issues of critical importance to Hoosiers. On a subject of great concern to me and on which I, too, have focused my professional efforts, she sponsored bipartisan legislation to help protect young athletes from abuse. Her bill became law in early 2018, and it will make a significant difference in how the U.S. Olympic Committee and the national governing bodies for the some 50 Olympic sports must act to prevent and respond to the abuse of athletes.
Susan Brooks has been tireless in her advocacy for Hoosiers and vulnerable populations throughout the country. But she is also a mom, a daughter of proud Hoosier parents, and a loyal friend to many. These are the roles to which she has felt unable to do justice over the past several years and to which she wishes to return. I admire her for her service, but also for her decision to be closer to those she loves at this point in her life.
We should all offer our best wishes to this selfless public servant, along with our gratitude for her service, as she enters her next chapter.•
__________
Daniels, a partner at Krieg DeVault LLP, is a former U.S. attorney, assistant U.S. attorney general, and president of the Sagamore Institute. Send comments to ibjedit@ibj.com.
Click here for more Forefront columns.
Please enable JavaScript to view this content.