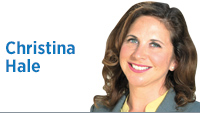 The people of our community agree; we are experiencing some fractious times, politically and also in the way we live our daily lives.
Technology is clearly changing the way we connect and build relationships and consume information. Grandparents no longer carry pictures of their grandkids in their wallet to show off to friends; no, they are on Facebook—liking, commenting, posting and more. Even my mom has a Bitmoji.
Yet the brightest minds of our generation are not quite certain what artificial intelligence and automation might mean for our economy, for the workforce or even for how wars are waged.
This year, as we celebrated the lives of Hoosier statesmen Richard Lugar and Birch Bayh, many of my friends and colleagues mused out loud about where we might find the next leaders known for such significant and selfless contributions to the success of people in our community and beyond.
Many of these same people wondered how we can better support our community by ensuring that we have a less homogenous pipeline of leadership here in central Indiana.
If you share these concerns, you'll be glad to learn of a new effort underway.
Like many successful endeavors, it started with a shared dream. Charlie Garcia, a longtime Latino leader in Indiana, is, in fact, a California transplant. He's prototypical of those talented people economic and workforce development professionals want to attract to our state.
Yet the dream he shared with his team of founders was about growing opportunity to develop leaders of Latino backgrounds already here. He turned to Marlene Dotson, president and CEO of the Indiana Latino Institute, a woman who has dedicated her career to nurturing, preparing and connecting the best and the brightest people here.
Others of significance in the business community joined them, including Mario Rodriguez, executive director of the Indianapolis Airport Authority and chair of the Indiana Latino Institute board. He has expressed a strong belief that our community will be stronger with more Latinos at the decision-making table. He believes this is not only the right moral thing, but also an economic necessity for our state to continue to flourish.
From there, the Latino Leadership Circle was born.
At the heart of this program is an opportunity to learn and be paired with a mentor of community significance. There is a rigorous curriculum focused on civic engagement that is intended for those Hoosier Latinos who have already accomplished a great deal in career and community service.
Charlie decided to take on the role of facilitator himself, and his passion for the project is palpable. He is on a mission to support more community-minded Latino leaders who will stay here and help our community thrive now, and also pay it forward in generations to come.
Recently, when I asked him why he would spend his retirement working so many long hours on this project, he reminded me of one of his favorite quotes by civil rights activist Cesar Chavez:
"We cannot seek achievement for ourselves and forget about progress and prosperity for our community. … Our ambitions must be broad enough to include the aspirations and needs of others, for their sakes and for our own."
Those words sum up the efforts of the great leaders who recently passed and are now woven into the continuing proud legacy of Indiana. Their examples make clear the urgency and importance of this new effort to lift up and support the people here today.
One day, I expect we will be similarly celebrating the life of a Lopez, a Flores, a Cuervo—and we will be able to say that it all started here at the Latino Leadership Circle.•
__________
Hale is a former member of the Indiana House and ran for lieutenant governor in 2016 on the Democratic ticket. Send comments to ibjedit@ibj.com.
Click here for more Forefront columns.
Please enable JavaScript to view this content.