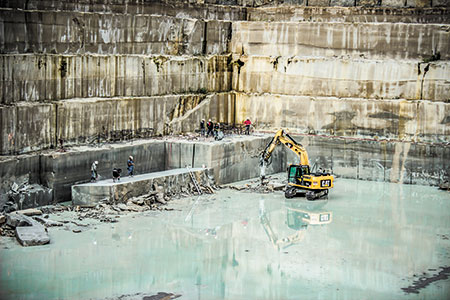 Limestone from Indiana has been used for 150 years as the foundation of some of the nation's most important buildings and landmarks—think the Empire State Building, the Pentagon, 35 state capitols and many modern corporate headquarters.
But the newly merged company that operates Bloomington-based Indiana Limestone Co. has big plans for an even broader rollout of the natural stone, which is considered superior to other types of limestone quarried throughout the world.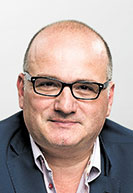 Perus
"There is nothing else like it," said Patrick Perus, CEO of Quebec City-based natural stone manufacturer Polycor Inc., which merged with 92-year-old Indiana Limestone Co. last October.
"The uniformity of color of Indiana limestone is unparalleled. It is quarried in much larger pieces, making it easier to work with [than] other limestone; it can withstand all kinds of weather—including freeze and thaw cycles; and it's very easy to carve for design purposes," Perus said.
Terms of the merger were not disclosed, but company officials said the combined company will help Indiana Limestone penetrate many new North American and global markets. Polycor officials are projecting Indiana Limestone's year-over-year growth will more than triple this year.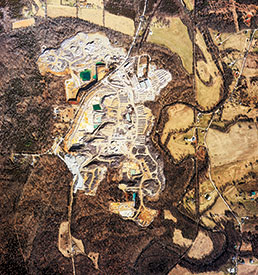 Bloomington-based Indiana Limestone, now part of natural stone manufacturer Polycor, has four quarries in southern Indiana.
Currently, only about 30% of Indiana Limestone's sales occur outside the Midwest. But Polycor has strong footholds on the East Coast and in the Southeast, as well as India, China, Korea, Europe and eastern portions of Canada.
Indiana Limestone Co. quarries a stone customers in those regions want, Polycor officials say.
"This is not something made in a factory. It's what God gave us," Perus said. "We think there will be great demand for Indiana limestone in a number of global markets."
Indiana limestone, he said, is the "perfect product" to fill out Polycor's offerings, which also include granite, marble and soapstone.
An added benefit of limestone is that it's less expensive than many natural stones, Perus said. For instance, it's less than half the cost of granite per cubic foot.
"Indiana Limestone has a great product, and Polycor has a great [customer] pipeline," said Todd Schnatzmeyer, executive director of the Indiana Limestone Institute of America. "The new markets where they are gaining exposure will help them immensely."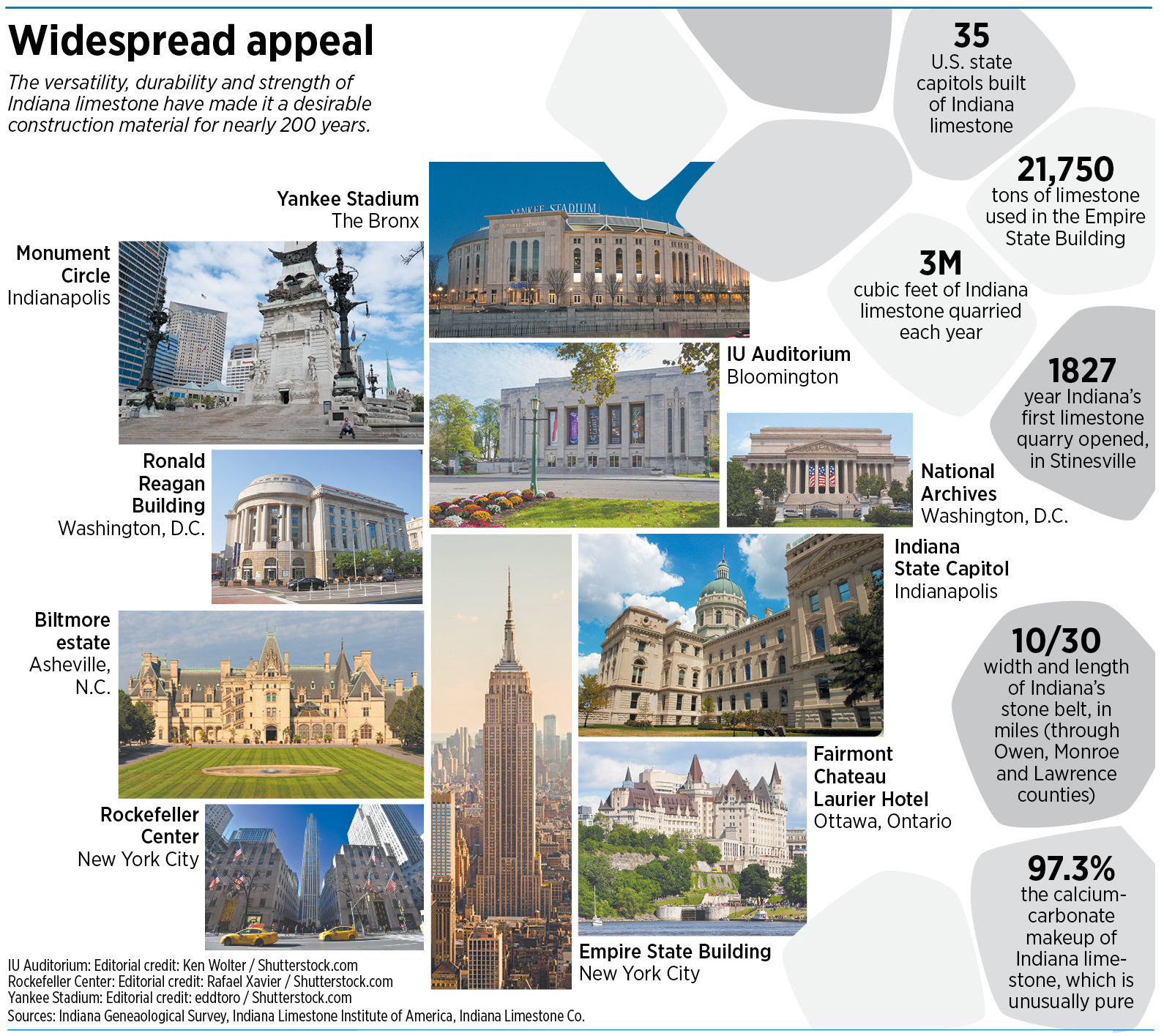 See what Indiana limestone has built.
Merger of unequals
Though both sides emphasize the deal is a merger, Polycor dwarfs Indiana Limestone Co. in size.
Indiana Limestone has four quarries—including two it opened last year—and two manufacturing plants powered by 200 employees.
Polycor, the world's largest quarry owner, has 50 quarries (including Indiana Limestone's four), 17 manufacturing plants and nine retail stores operating under the Swenson name. Before the merger, Polycor was owned by Toronto-based Torquest Partners, which maintained a major stake in the company after its merger with Indiana Limestone Co.
The Canadian company was founded in 1987 and has been expanding over the last decade. It reported $180 million in sales in 2018 with a 7% annual growth rate, about twice the market average.
"When Polycor acquires a company, it holds onto it and grows it," Schnatzmeyer said. "They're not an equity firm looking to turn these companies over for a quick profit. They're natural-stone proponents and they've built a strong reputation as they've grown the size of their operation."
And Polycor is just in the "beginning" stages of its growth, Perus said. "We hope to double the size of the company within five years," he said, adding that Polycor is "solidly profitable."
But Polycor has no interest in merely swallowing the much-smaller Indiana Limestone Co. While the Bloomington headquarters is now known as Polycor West, the Indiana Limestone brand name continues.
"Indiana Limestone is an iconic brand in this industry," Perus said. "It's like Kleenex or Coca-Cola. There's a lot of value in that brand, and it will remain with us."
Polycor intends to use its vast network of sales representatives to turbocharge Indiana Limestone revenue.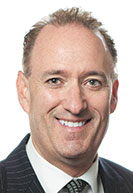 Quigley
"The market expansion into places like France, Asia and India is going to be broad and deep," said Tom Quigley, Indiana Limestone Co.'s president emeritus. "Just consider for a moment, Indiana Limestone has eight salespeople. Polycor has 110."

It's been a dramatic turnaround for Indiana Limestone Co., which was in bankruptcy just more than five years ago.
In early 2014, officials at Chicago-based Wynnchurch Capital Ltd.—which owned Indiana Limestone Co. and now has a stake in Polycor—hired Quigley as its CEO. He was then a 56-year-old building-trades veteran who had worked stints as an executive at Owens Corning, United Technologies and at Ingersoll Rand.
At the time, Indiana Limestone Co.—the largest of a handful of limestone quarries in southern Indiana—was emerging from a disastrous year in which it struggled to cover its debt and ran its quarries at 20% of their normal rate. Quigley changed operations, made new executive hires and improved efficiencies.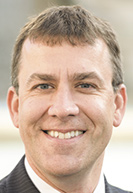 Howard
One of those key hires was Matt Howard, who in 2016 was named a top honoree in IBJ's CFO of the Year awards. Howard, 50, replaced Quigley as president earlier this year.
'Wide range of expertise'
"The staff at Indiana Limestone is one of the big reasons the company was attractive for us to merge with," Perus said. "They've brought a lot of best practices to our company."
Polycor has already dispatched Indiana Limestone quarry experts to its overseas quarries to offer expertise in core sampling—testing the earth to measure for natural stone—and in quarrying techniques. Polycor also made the Bloomington facility the company's U.S. headquarters—where it will oversee all domestic mergers and acquisitions as well as manage logistics, technology, marketing and finance.
Already, executives in the Bloomington office are working on the company's next acquisition.
The Indiana Limestone staff "brings a wide range of expertise to the company," Perus said.
Under Quigley's guidance, Indiana Limestone—which does not disclose actual revenue numbers—reported a yearly revenue increase of more than 10% for three consecutive years ending in 2016. In 2017 and 2018, the company reported annual revenue increases of 3%.
From 2014 to the end of 2018, Indiana Limestone doubled its revenue and "greatly enhanced profitability," Quigley said.
"We were in a great financial position at the time of the merger with Polycor. We still had the wind at our backs," he said. "We didn't have to merge. This [merger] was not about cutting costs; it was about growing the business."
Just before the merger, Indiana Limestone installed a multimillion-dollar stone-cutter that works faster and more accurately than others on the market. Quigley said the machinery at the firm's Oolitic facility is the only equipment of its kind in North America.
Quigley also spearheaded growth on the West Coast; with the merger, Indiana Limestone expects its revenue from West Coast builders and architects to double this year. And he spent the last four years overseeing development of two new limestone-based products designed to be lighter and easier to ship but still meet building codes. Those could be big sellers in far-flung markets.
"Could [Indiana Limestone] pick up $1 million to $2 million to $3 million in revenue? Yes," Howard said. "We do see growth coming at a rate we wouldn't have without the merger."
With Polycor's sales horsepower, Perus projects Indiana Limestone sales to increase more than 10% this year.
"With all that's going on with this company, we definitely expect our employment to grow in Bloomington," he said. "It's a vital part of our company."•
Please enable JavaScript to view this content.