If you've ever seen a drone and wondered who owns it and where it came from, you're not alone.
 
Carmel-based based Pierce Aerospace is pioneering software to provide just that type of information—and potentially a lot more—on drones and unmanned aircraft of almost any size.
 

Aaron Pierce
Many within the unmanned aircraft industry think identification technology such as that made by Pierce Aerospace is the last piece needed for companies like FedEx and Amazon to start using drones to deliver packages to doorsteps. 
 
"With drones, we think there's a real opportunity to disrupt small package delivery," said Aaron Pierce, a 30-year-old IUPUI graduate who founded Pierce Aerospace in January 2016.
 
But to make that vision a reality, Pierce said the public has to be made comfortable that drones flying overhead are safe and secure.
 
"Only by making the public more aware of and comfortable with drones will drones be able to do all the good things drones can do," Pierce said.
The company's business model focuses on government and commercial users, but it's possible that everyday citizens could access basic information about any drone flying overhead via Pierce's software.
 
The software produces a digital license plate for drones that has the ability to provide much more in-depth information on unmanned aircraft to authorized commercial entities, military officials, law enforcement and government agencies charged with regulating the skies. 
 
With a relationship with the U.S. Air Force in hand and a deal signed this month with London-based Altitude Angel, one of the world's foremost unmanned-traffic-management providers, the five-man software-as-a-service company could be in strong position for take off in the new industry.
 
"Remote ID is our industry niche, and we really only see a handful of competitors for this specialty," Pierce said. "We think we're in a unique position to serve the industry. We feel this could be a very sizable company in time." 
 
Pierce launched the company after taking master's level courses in geographic information systems, global positioning and aerial imaging.
 
In 2018 he was named entrepreneur-in-residence at Techstars' first U.S. Air Force accelerator in Boston.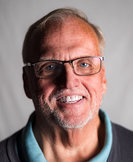 Gary Bullock
Last summer Pierce brought on Rose-Hulman Institute of Technology graduate Gary Bullock, a veteran of the autonomous defense communication sector, and made him Pierce Aerospace's chief technology officer and a part-owner. Bullock made a name for himself as a civilian working on defense technology at the Crane Naval Surface Warfare Center in southern Indiana.
 
Pierce also added Oregon-based pilot and operations and policy expert Kenji Sugahara as chief operating officer and part-owner.
 
To date, the company has had three funding sources Pierce said: "his back pocket and family contributions, the U.S. Air Force and Elevate Ventures." The Air Force, he said, does not have an equity stake in the firm.
 
Pierce and his team are in discussions with potential investors and hope to secure a round of venture capital by year's end.
 
Pierce feels good about his company's chance of corralling a strong round of investment.
 
"I think we've done a good job of explaining our company. Investors know this is a huge opportunity," Pierce said. "They can see the use of the type of technology we've developed is going to be a requirement nationally and in many places globally."
 
When it officially hits the market, Pierce Aerospace software will have commercial and defense applications, Pierce said.
 
Pierce emphasized that the information his company's software gathers—and that could include owner of drone and contact information, origin of flight, location of ground controller and even contents of the unmanned aircraft—is not intended to be used for marketing purposes.
 
Pierce sees unmanned aircraft as the future. 
He envisions a day when a hiker in a remote backwoods who forgot his sunscreen could have it delivered within minutes by a small drone using global positioning data. He has a vision of drones working with emergency responders to deliver vital medical supplies to needed locations, saving lives from the air. 
 
"The goods delivery [process] is going to completely change from what we know today," Pierce said. "And we know software like ours will be a critical part of that."
 
Please enable JavaScript to view this content.