One year after emblazoning its name on the Indianapolis Colts' mammoth new home, Lucas Oil Products Inc. has leveraged
that sponsorship into a pact with Jiffy Lube that company founder Forrest Lucas thinks will score huge profits for his company.
Last month, Lucas Oil signed a deal to be distributed through Jiffy Lube of Indiana, a franchise of 43 oil change
centers in Indiana and two in Illinois.
The Brownsburg Jiffy Lube in mid-September became the first in the United
States to begin offering Lucas Oil, followed by one in Avon. Two on Indianapolis' west side began offering Lucas Oil
early this month.
"Most people get their oil from these quick-lube centers and Jiffy Lube is the biggest,"
said Lucas Oil founder Forrest Lucas. "If we want to be the No. 1 premium oil, this is where we need to be."
Lucas expects his company's oil to be offered in Jiffy Lubes statewide next year.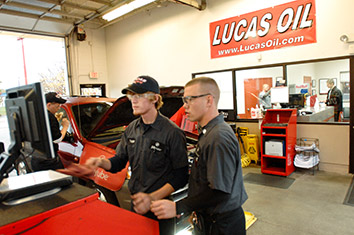 Offering Lucas Oil increased revenue
20 percent at local Jiffy Lubes. (IBJ Photo/Robin Jerstad)
"We think this could open doors for us nationwide,"
he added.
Lucas said the stadium sponsorship deal in Indianapolis made this market an ideal place to launch the
company's line of premium motor oils. Two years ago, Lucas signed a 20-year, $121.5 million naming-rights deal for the
Colts' new stadium.
"That deal has really raised our brand awareness in Indiana," Lucas said.
Lucas, a former Indiana truck driver, founded his company in California in 1988 selling a line of fuel and oil
additives. He later made a name for himself with a line of truck, motorcycle and racing oils, and other products. Now, he
hopes to stand alongside the likes of Mobile and Valvoline in the general-use motor oil category.
That may be
easier said than done, said Ed Newman, advertising director for Amsoil Inc., a Wisconsin-based premium motor oil maker founded
in 1972, which has seen double-digit growth in recent years.
"The big oil companies have huge amounts of
resources, and when a company like Lucas begins to make a name for itself, they'll target that company to try to limit
its growth," Newman said.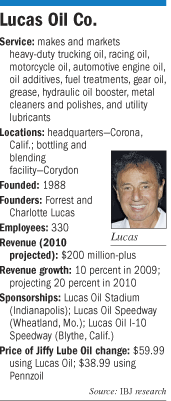 If Lucas is looking for a booster, he need look no further than Steve Sanner, who founded Jiffy Lube of Indiana
in 1985. Sanner met Lucas at Colts corporate networking activities. He said he was initially skeptical about Lucas'
ability to battle the oil-making big boys. He also noted that Lucas lacked American Petroleum Institute certification for
its motor oil.
Lucas said he didn't seek certification early on because he didn't want to reveal
his "secret recipe" for motor oil. But Lucas Oil recently has been certified, and initial sales of Lucas Oil at
Sanner's Jiffy Lubes have made him a believer.
"Right from the first day at Brownsburg, Lucas Oil
changes have been 10 percent of the business, and some days it's been 20 percent, and that's been with no advertising,"
Sanner said. "The addition of Lucas Oil at our Jiffy Lubes have also driven revenue increases of 10 percent or more,
so we're seeing a lot of new business."
Sanner is amazed how many of the customers mention Lucas'
stadium deal.
"What they've done here with the marketing of the football stadium is phenomenal,"
Sanner said. "I've never seen anything quite like it in this business."
Jiffy Lube of Indiana
also sells Pennzoil and Hoosier Penn oil. Despite a higher price—$59.99 for a Lucas Oil change and $38.99 for the other
two—Sanner thinks Lucas could become a top seller here.
"Locally anyway, Lucas Oil stands up nicely
next to those companies, even Pennzoil, which has a much bigger marketing budget and a longer history in motor oil,"
Sanner said. "I'm not trying to push one motor oil over another, but I can tell you people here know and respect
the Lucas name."
Lucas Oil officials think the impact of the local stadium deal will eventually spread
well beyond Indiana's borders.
"Wait until the Super Bowl comes to the stadium in 2012," said
Brian Smith, Lucas Oil's director of new business. "We're already making plans for a big, big buildup to
that event. I can tell you, we will be extremely aggressive in using that event as a marketing tool to increase our footprint
nationwide and even worldwide."
Entry into the quick-lube market is key for any company that wants to be
a serious player in the general-use motor oil category.
Lucas' motor oil market share has grown from about
1 percent before the stadium naming-rights deal to 3 percent, primarily through its recent deal with AutoZone auto-parts stores.
The market is dominated by the likes of Pennzoil, which has almost 31 percent of the U.S. market; Valvoline
at 17 percent; and Castrol, which has 14 percent, according to Washington, D.C.-based American Petroleum Institute. More than
80 percent of motor oil in the United States is sold through quick lubes and car dealership service centers, according to
API.
In the next five to 10 years, Lucas wants to have more than 10 percent of the U.S. motor oil business.
He added that Lucas is already seeing significant growth in Asia, Australia, Canada and Europe.
Last year, Lucas
rolled out a plan to have its own U.S. quick-lube centers. The first units are scheduled to open in Evansville and Avon in
early 2010. Lucas officials are working with zoning boards to get the businesses launched in those communities, and the company's
founder said Lucas-branded gas stations and car washes will soon follow.
"We realize they may be a competitor
of ours some day," Sanner said with a chuckle. "But we thought with the prospects for growth with this product
on the upswing, we'd get in early. This is a good deal for us for now."
Lucas said he expects revenue
to grow more than 10 percent this year. Next year's revenue, fueled by the Jiffy Lube deal, should be a record high,
he said. The launch of several products, ranging from fuel treatments designed to cut emissions to chain oils and tire shine
products, will also help ring up more sales.
Lucas no longer reveals his company's revenue, but last year
told IBJ that it grew from $30 million in 2001 to more than $150 million in 2008. Industry experts expect Lucas'
revenue to surpass $200 million in 2010.
"We're looking at a big 2010," Lucas said. "Real
big."
Still, Lucas isn't bent on being the biggest oil company.
"To be the biggest,
you have to be the cheapest," he said. "We'll never be the biggest. Just the best."•
Please enable JavaScript to view this content.